COVID has explained the need and importance of hospitals to us: Dr Narottam Puri, Advisor - FICCI Health Services Committee
Dr Arvind Lal, Advisor- FICCI Health Services Committee and Executive Chairman, Dr Lal PathLabs; Dr Narottam Puri, Advisor - FICCI Health Services Committee and Chairman - Fortis Medical Council & Fortis Healthcare Ltd; and Gautam Khanna, co-Chair -FICCI Health Services Committee and CEO, P D Hinduja Hospital & Medical Research Centre talks about COVID-19 pandemic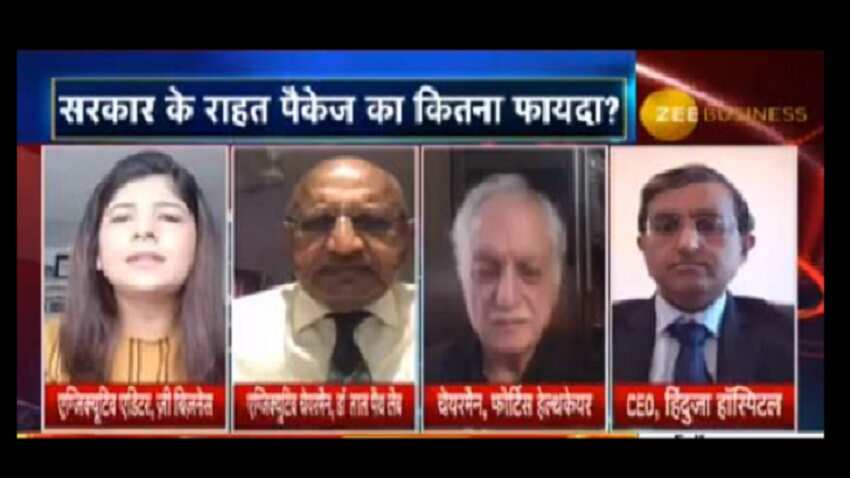 Dr Arvind Lal, Advisor- FICCI Health Services Committee and Executive Chairman, Dr Lal PathLabs; Dr Narottam Puri, Advisor - FICCI Health Services Committee and Chairman - Fortis Medical Council & Fortis Healthcare Ltd; and Gautam Khanna, co-Chair -FICCI
Written By:
Jitesh Kumar Jha
Updated: Fri, May 15, 2020
01:47 pm
Mumbai, ZeeBiz WebDesk
Dr Arvind Lal, Advisor- FICCI Health Services Committee and Executive Chairman, Dr Lal PathLabs; Dr Narottam Puri, Advisor - FICCI Health Services Committee and Chairman - Fortis Medical Council & Fortis Healthcare Ltd; and Gautam Khanna, co-Chair -FICCI Health Services Committee and CEO, P D Hinduja Hospital & Medical Research Centre talks about COVID-19 pandemic and the numbers that are going up in India as well as the ways to deal with the problems that people with other ailments are facing in being treated and consulting with the doctors during a chat with Swati Khandelwal, Zee Business. Edited Excerpts: 
Q: There is a constant rise in the COVID-19 cases in India and more than 75,000 people have been diagnosed as positive here till date. So, let us know the rate at which testing has increased and what is your outlook in terms of recoveries? Also, talk about the reasons where the testing rate is likely to go up in the near future?
Dr Arvind Lal: As far as testing is concerned then testing has played an important role across the world wherever COVID-19 disease has been brought under control. The slogan of WHO was also Test, Test and Test. So, it should be understood that you do the test, after that you track and ten treat. Accordingly, the speed of testing has increased in India and we are testing nearly 90,000 or maybe one lakh patients per day. All 330 laboratories including around 100 private labs are involved in the process. The good thing that can be said is that the sooner you test and identify the positive/symptomatic and asymptomatic patients. You have to catch them both. You have to identify them because if you miss on even a single symptomatic patient than he/she has the ability to infect around 400 people within a month and you don't have those many numbers of beds or ICUs or ventilators for the purpose. So, the government's main strategy should be, Test, Test and Test and it is being followed. India is a big country and I feel the number of per day test should be taken up to at least 2 lakh test per day. 
Q: It is being said that India's health spending is 3.6% of the GDP, which is the lowest among developing countries and private healthcare hasn't developed as it should have been. Do you think that it is an opportunity for India to create a robust healthcare infrastructure and do away the drawbacks? What is your view as a big player in the private space and what should be our goals for strengthening it?
Gautam Khanna: You were saying that India's health spending is around 3.6% of the GDP but it is around 4.8% - government spending should be added to it. Amid the two months of the pandemic, there has been special learning for private and public sectors and that is how to handle the epidemic. The two, private and public, are treating the patients together. It required many changes related to the infrastructure and the protocols and a lot of activity has taken place in this period. We have got a lesson from this that in the next hospital plan, many things should be thought afresh whether we should maintain isolation wards in advance so that we can be ready in case such a need emerges. Should the triage area should be so large that we can know whether the patient should be sent in the COVID area or non-COVID area and are they infectious or non-infectious before they admitted to the hospital.
I would like to add something to this that a lot of information has been shared from across the world from different countries as well as different hospitals within the country and I think it led to knowledge enhancement. This is an opportunity for India to improve the healthcare system can be improved for the people of the country and the government and private sector should start working together for the purpose. Similarly, the industrial houses should come forward and assist the private hospitals by providing some money from their CSR funds and ask them to upgrade their infrastructure than it will be a great service and will keep the future safe. 
Q: What is your view on unavailability or shortage of mask and PPE kits as well as ventilators which is a big matter of concern for the healthcare professionals as we are risking the lives of these corona warriors?
Gautam Khanna: There was a shortage of PPE kits at the start of the crisis because it was being imported in huge number but it is available in India now, as it is being produced in India. They are high in quality. So, they are being made available not only to the hospitals but also to the staffs. The concern arises when a person is diagnosed at COVID positive and your PPE is not adequate than all the healthcare staffs are also quarantined along with them. If they are quarantined for 14 days then it creates a problem for the healthcare services as you can't run a normal healthcare service under such a situation. If proper PPE is available with you and precautions are taken care of then they will not need to be quarantined along with the COVID patients. Situations have improved now. Our hospitals have provided several beds. We will have to understand a fact that there is a difference between a normal hospital and a COVID hospital that there is a positive pressure and a negative pressure to prevent the infection and you can't mid the two, COVID and non-COVID patients, together. So, a separate facility should be created for the purpose, which is not possible everywhere due to some medical reason or technical reason. But, can say that private hospitals have converted many facilities into COVID-facilities. 
Q: COVID-19 cases have crossed the mark of 75,000 in India. What is your view on healthcare infrastructure and India is grappling with the problem in terms of the number of beds? How big is the gap infrastructure wise and how it can be plugged in?
Dr Narottam Puri: I agree with what my two colleagues have said. The biggest thing is that the kind of expenditure India would have made on the public health segment over the years was not done, whatever the reason was. Bhore Committee report was formed in 1943 when India was not independent, and its recommendations were approved, when the republic was formed. But, the public health infrastructure was not created in the way it would have been due to which private health care came into existence. Currently, 60% of the beds and 80% of doctors are available in private healthcare. Unfortunately, private and public healthcare sectors, over a period of time, have turned into two separate railway lines, which never meet. The benefit of the co-operation and co-ordination displayed by the two, private and public, during this COVID pandemic is visible. Secondly, the infrastructure can't be created in a day and COVID has explained its need and importance to us. Till date, it was not seen in India, if one or two regions are left, that election was won on the promise that I will open a clinic or hospital in your area but these questions are arising now. But, COVID has awakened public towards health care and it will have a positive effect. 
The infrastructure that should have been built is being built due to compulsion. The lack of ventilators is being met now. India has a capability and I am optimistic that India runs good hospitals are will continue to run better hospitals in future as well. But just hospitals are not enough and there is a need to be focused on primary health care and preventive care facilities. Limiting infrastructure just till hospitals will not be enough. When it comes to health infrastructure then we should also talk about safe water, hygiene, roads and ambulances, so that a person in problem can reach the hospital at an ease. Thus, it is a whole, not an alien/ separate entity. 
Q: Cost of the test was an element that seemed to be very high, initially, but now a test-effective way of testing has been adopted now. In your view how the level of testing will increase in time to come? Secondly, the economy is being opened and people mainly the migrant labours have started moving from urban to rural areas. How big is this risk and do you think that enough check and balances are in place?
Dr Arvind Lal: It can't be replied in a simple manner. When it comes to migrant workers who are going back to their homes then there was a newspaper report that some of them were found positive. I think these migrant workers should return back to the places, like Delhi, Mumbai or some other places, they left earlier. But if they cannot come back then they must remember, that the government, that has announced a package of Rs 20 lakh crore, which becomes 10% part of our entire GDP, will defend and protect them. And that protection today is free testing. Of course, this is an expensive test but two options are available for people from the lower-income group (i) they can reach any government hospital or laboratory and get themselves tested for free. I must emphasize that the test is not free for the government and costs in thousands but the patient will not have to pay a single penny for the same and (ii) PMJAY (Pradhan Mantri Jan Arogya Yojana) Scheme is the second path for these backward class people, more than 50 crore people have been enrolled in it, to get him/herself tested for COVID-19 for free. 
Q: People struggling with different health issues/ ailments other than COVID-19 are facing problems as many hospitals are not admitting them as the beds are reserved for COVID patients. How big is the situation and what can be a solution for it and what your hospitals are doing on this issue?
Gautam Khanna: You are true that other ailment and diseases have disappeared due to COVID. Emergency cases are being admitted at our hospitals. A few days back fear of how to do was prevalent among all but things are coming back to normal now. Our consultants are preparing a protocol - by taking care of international guidelines – to deal with non-COVID patients. The protocol is ready. However, it is important to take care of a factor that we must not do anything that the patient who comes to us is admitted and later turn out to COVID positive than they will infect other patients as well. So, one has to take care of it and for the purpose, they are tested before admitting and then put in an area within the hospital till the test is completed and then sent where they should be sent. But things change in the case of emergency as they can't be tested at such a time and that's why they are treated with universal precautions assuming that the person can be COVID positive and then admitted and treated. Even the patients also have fear and that's why many hospitals including ours have started teleconsultation and video-consultation. Earlier, the process was to reach to the OPD, get the number and wait in the queue and then consults with the doctor but it has changed now, in which a person can consult a doctor via video and this facility is available from the hospital as well as the home of the doctors. The process has relaxed the patients and I feel that this technology is available now. 
When it comes to patients who are admitted in ICUs but their family members are out then we have used technology for communication and make sure that they must not visit the hospital on various occasions. These precautions have been adopted to stop the infection from spreading. 
I would like to summarize that protocols for non-COVID patients have been prepared. The hospitals are using the staffers who are not engaged in works related to COVID and start it. 
Watch Zee Business live TV below:
Q: What is your take on the ailments of non-COVID patients who are facing problems? Secondly, people are saying that hospitals have turned expensive and people are getting charged more than Rs 50,000 per day, which is unaffordable for many. What is the truth and what your clarification on it? 
Dr Narottam Puri: Costs depend on two things (i) if you are coming as an insured patient than the insurance is a package. Generally, patients coming to private hospitals especially in metros have health insurance. (ii) Every private hospital in India follows the system that was mentioned by Mr Khanna. Secondly, no emergency case has been refused and I don't have any idea about the same if something like that has happened. We don't conduct any test amid an emergency. 
This is beneficial for both the patient and the doctor. The patient is benefitted as he is aware that the doctor and nurse who are treating them are COVID positive or not and the doctor and nurse should also know that the patient reaching to them are COVID positive or not. Safety of the two is paramount in the process as it is essential for the community. This is the place that creates a problem as COVID test, as Dr Arvind Lal has said that it is expensive in private hospitals. RT-PCR test is considered as the gold standard for COVID-19 diagnosis at present, and the report comes after some time, and its pending list is available in many hospitals due to the absence of in-house facility in the form of approved labs. So, the cost has gone up due to this and the cost of PPE (Personal Protective Equipment), which is not too high, is added to it. I have read a few stories related to cost and would just like to say that exceptions prove the rule and there is no change in rates of other tests. 
Get Latest Business News, Stock Market Updates and Videos; Check your tax outgo through Income Tax Calculator and save money through our Personal Finance coverage. Check Business Breaking News Live on Zee Business Twitter and Facebook. Subscribe on YouTube.