Climate change could reduce agri incomes by 25%, says survey
Farm revenues declining for a number of crops despite increasing production and market prices falling below the Minimum Support Price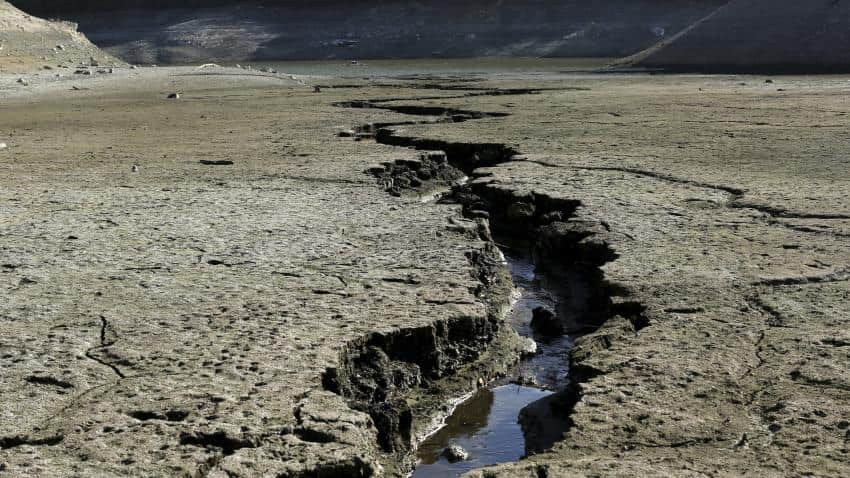 The report suggests that productivity will have to be increased, and price and income volatility reduced, against the backdrop of increasing resource constraints.Image source: Reuters
Climate change could reduce annual agricultural incomes in the range of 15% to 18% on average, and up to 20% to 25% for unirrigated areas, the Economic Survey pointed out.
Minimising susceptibility to climate change requires drastically extending irrigation via efficient drip and sprinkler technologies (realising "more crop for every drop"), and replacing untargeted subsidies in power and fertiliser by direct income support, the survey suggested. 
More broadly, the cereal-centric policy needs to be reviewed. Shortages of water and land, deterioration in soil quality, and of course climate change-induced temperature increases and rainfall variability, are all going to impact agriculture. It is therefore opportune to analyse the effects of climate on Indian agriculture.
The last few seasons have witnessed a problem of plenty. Farm revenues declining for a number of crops despite increasing production and market prices falling below the Minimum Support Price (MSP). But in the medium to long term, the ghost of Malthus (the economist) looms over Indian agriculture. 
The report suggests that productivity will have to be increased, and price and income volatility reduced, against the backdrop of increasing resource constraints.
Using district-level data on temperature, rainfall and crop production, the survey states a long-term trend of rising temperatures, declining average precipitation, and increase in extreme precipitation events. 
A key finding—and one with significant implications as climate change looms—is that the impact of temperature and rainfall is felt only in the extreme; that is, when temperatures are much higher, rainfall significantly lower, and the number of "dry days" greater, than normal. 
A second key finding is that these impacts are significantly more adverse in unirrigated areas (and hence rainfed crops) compared to irrigated areas (and hence cereals). 
Applying these estimates to projected long-term weather patterns implies that climate change could reduce annual agricultural incomes in the range of 15% to 18% on average, and up to 20%to 25% for unirrigated areas. 
First, and foremost, agriculture matters in India for deep reasons, not least because the farmer holds a special place in Indian hearts and minds. The first salvo of satyagraha was fired by Mahatma Gandhi on behalf of indigo  farmers, who were exploited by colonial rule, the survey said. 
Not unlike in early, Jeffersonian America  (Hofstadter, 1955), history and literature have contributed to the farmer acquiring mythic status in Indian lore: innocent, unsullied, hard-working, in harmony with nature; and yet poor, vulnerable, and the victim, first of the imperial masters and then of indigenous landlords and middlemen. Bollywood (and Kollywood and Tollywood) has also played a key role in creating and reinforcing the mythology of the Indian farmer (in movies such as Mother India, Do Beegha Zameen, Upkaar, Lagaan, and more recently Peepli Live). 
Updated: Mon, Jan 29, 2018
09:20 pm
ZeeBiz WebDesk