Chandigarh airport shutdown: Flights finally resume after dust storm grounded planes for days
After two days of partial suspension, air connectivity in Chandigarh was resumed on Saturday though there were flight delays reported. The partial suspension of air connectivity was due to a thick haze of dust and pollution that reduced the visibility in the region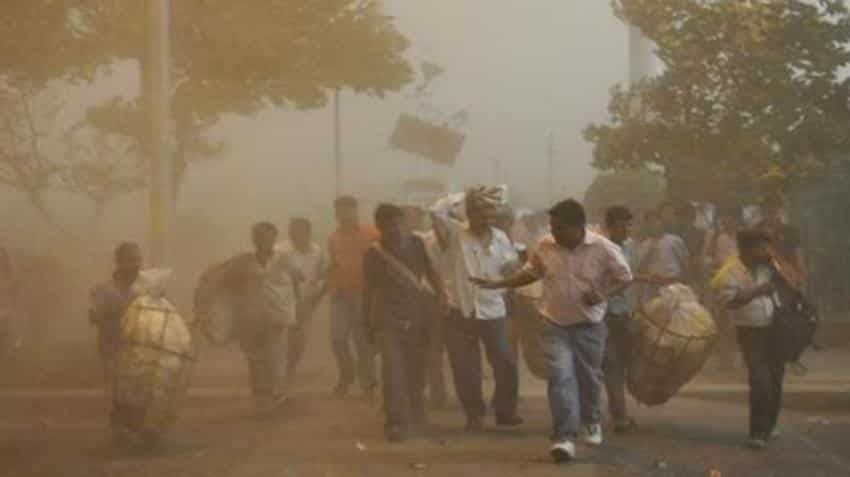 The PM2.5 particles in the air in Chandigarh also increased to the dangerous level, making lives of people with breathing problems unbearable. Image source: PTI
Updated: Sat, Jun 16, 2018
03:18 pm
ZeeBiz WebDesk
After two days of partial suspension, air connectivity in Chandigarh was resumed on Saturday though there were flight delays reported. The partial suspension of air connectivity was due to a thick haze of dust and pollution that reduced the visibility in the region. At least 27 of the 30 scheduled flights were grounded due to visibility problem on Friday.
Dubai-bound passengers were reportedly transferred to Delhi via road.  He said even the international flights were also operating. The Shimla heli-taxi services were also affected on Friday. Overnight rains in Punjab and Haryana improved visibility on Saturday morning, bringing relief from the haze of dust and pollution, according to an IANS report. According to the report, there are chances of more showers later in the day. Chandigarh and surrounding areas saw dusty weather in last two days, leading to poor visibility.
The PM2.5 particles in the air also increased to the dangerous level, making lives of people with breathing problems unbearable. Even as the normal PM2.5 level is 60 microgram per cubic metre for a 24-hour period, the PM2.5 particles count was at 572 microgram per cubic metre of air on average on Friday morning,  according to a Chandigarh Pollution Control Committee observatory.  The PM 2.5 level was highest ever in the city, according to experts.
However, the good news is the city and its surrounding areas are expected to get rains in the coming days. Even as the minimum temperature fell from 31°C on Friday to 23.5°C in the city,  a 21.6mm rain was recorded till 8:30 am in the tricity, HT reported citing IMD officials. 
The quality of air deteriorated due to dust storms originating from western India. Air quality was very bad in Chandigarh and crossed "severe" category.