Cash management agencies hope to normalise ATMs operations in 2 weeks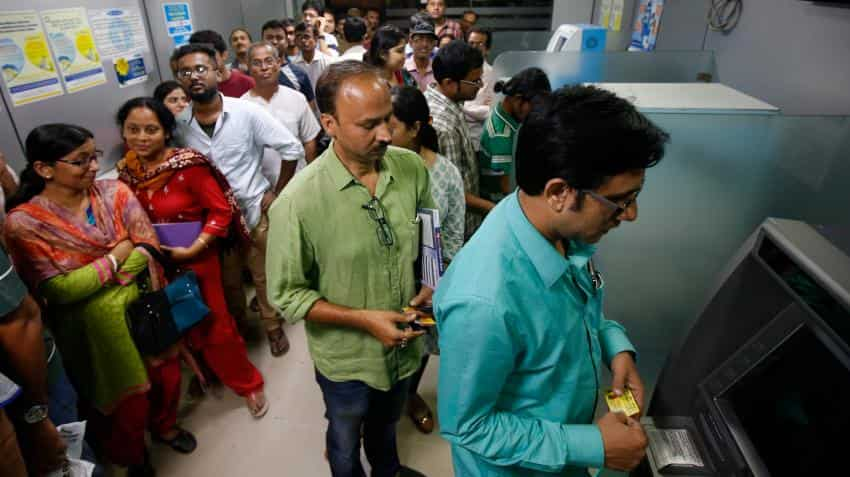 "We will put in three times normal efforts to ensure the inconveniences end at the earliest," Rajiv Kaul, Managing Director and Vice-chairman of CMS Info System, which owns over half of the cash management market, told PTI. Image Source: Reuters
Cash management agencies that move billions of rupees in and out of over 2.2 lakh ATMs across the country have started a major exercise that may see Rs 40,000 crore worth of notes being shifted around and hope to normalise operations for the public in two weeks.
"We will put in three times normal efforts to ensure the inconveniences end at the earliest," Rajiv Kaul, Managing Director and Vice-chairman of CMS Info System, which owns over half of the cash management market, told PTI on Thursday.
He said a high-level meeting was held at the Reserve Bank of India (RBI) on Wednesday, which went on till late in the evening, to draw up an action plan of reducing the distress among the public.
A senior official said the meeting was chaired by Deputy Governor R Gandhi and also had representatives from the cash logistics association and confederation of ATM management companies, apart from officials from NPCI and RBI.
ALSO READ: 9 steps you must take to exchange your old Rs 500, Rs 1,000 notes
The work to be undertaken includes removing all the Rs 500 and Rs 1,000 notes, which account for 90% of the currency at ATMs, and replenishing them with Rs 100 notes, carrying out changes at the Switch level to ensure banned notes are not dispensed and reconfiguring the machines to handle the newer Rs 500 and Rs 2,000 notes.
Asked about the cash that will be handled as part of this exercise, an official from CMS, who was present at the meeting with RBI, estimated that up to Rs 40,000 crore of high-value banknotes will be evacuated while Rs 4,000 crore of Rs 100 denomination bills will be put into the machines.
"The public will keep facing troubles as ATMs can hold only a limited number of Rs 100 notes and will have to be reconfigured. In the next three to four days, the operations will be normalised by 60% and in the next two weeks, it will be normal," the official said.
ALSO READ: RBI to provide new currency notes soon, increased production: Urjit Patel
Generally, one among the 8,000 vans visits an ATM around 12 to 15 times a month. These visits will go up to as much as twice daily, the official said, adding that a decision has been taken for using even the unclean Rs 100 notes.
While banning the Rs 500 and Rs 1,000 banknotes to act against black money, the government said over Rs 16 trillion cash is in the system, of which over 85% are held in high-value denominations.
Announcing the move, Prime Minister Narendra Modi had said there would be difficulties in the short term, but it would deliver good over the longer term.
ALSO READ: Rs 500, Rs 1000 ban: Banks to remain open on Saturday, Sunday, says RBI
Updated: Fri, Nov 11, 2016
10:39 am
Mumbai , PTI