Buyers unimpressed by price dip; India shifts to premium
In India, dealers were charging a premium of up to $1 an ounce over official domestic prices. This compared to a discount of $1 last week as the country celebrated the annual Akshaya Tritiya festival, when buying gold is considered auspicious.  However, retail demand in India, the second-biggest gold consumer after China, remained subdued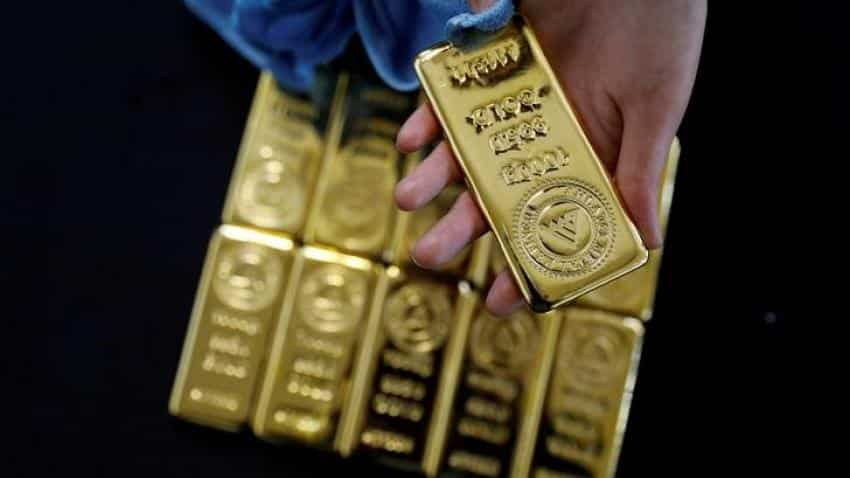 In the local market, gold futures were trading at around 31,186 rupees per 10 grams, after rising to 31,620 last week, their highest since August 2016. Image source: Reuters
Physical gold demand lacked vigour in most Asian hubs this week amid a slight dip in prices, while the yellow metal switched to a premium in India for the first time in over 1-1/2 months due to a correction in local rates. In India, dealers were charging a premium of up to $1 an ounce over official domestic prices. This compared to a discount of $1 last week as the country celebrated the annual Akshaya Tritiya festival, when buying gold is considered auspicious.  However, retail demand in India, the second-biggest gold consumer after China, remained subdued.
"Many retail consumers made purchases last week during the Akshaya Tritiya festival. Now retail buying is weak," said Daman Prakash Rathod, a director at MNC Bullion, a wholesaler in Chennai. In the local market, gold futures were trading at around 31,186 rupees per 10 grams, after rising to 31,620 last week, their highest since August 2016.  "Jewellers were waiting for a price correction. As prices are falling, they could start replenishing inventory in coming weeks," said a Mumbai-based dealer with a private bullion-importing bank.
Meanwhile, physical gold markets remained quiet in most other Asian regions, except for Singapore, which saw a slight pick-up in buying. Benchmark spot gold prices were on course for an over 1 percent decline this week, pressured by a thaw in tensions on the Korean peninsula and a stronger dollar as investors looked to riskier assets such as equities.  In China, premiums ranged between $8 and $9 an ounce over the benchmark, versus $5 to $7 previously.
"Demand in China is slow, not too much activity," said Ronald Leung, chief dealer at Lee Cheong Gold Dealers in Hong Kong. Premiums of 50 cents to $1.50 an ounce were being charged in Hong Kong, mostly unchanged from last week`s 50 cents-$1.20. "Not too many people are interested (in gold) because of the strong dollar. It`s too expensive for people to buy," said Peter Fung, head of dealing at Wing Fung Precious Metals in Hong Kong.
In Singapore, premiums inched lower to 60-70 cents from 70 cents to a dollar last week. "This week started quieter. But in the last two days gold prices came off because of a stronger dollar and we saw good demand," said Brian Lan, managing director at dealer GoldSilver Central in Singapore. "Investors and businesses find it`s a good time to enter the market to pick up some cheaper gold bar before the market goes up again."
In Japan, gold was sold at par with the global benchmark for the fourth straight week.
($1 = 66.66 Indian rupees)
Updated: Sat, Apr 28, 2018
09:08 am
Reuters