Bull run! Forget 12k, 13k marks, Nifty 50 seen at breathtaking heights - 15k-level
On Tuesday, the index finished at 11,928.75 mostly subdued compared to previous trading session. Gainers were stocks like Yes Bank, Infosys, Coal India and Power Grid.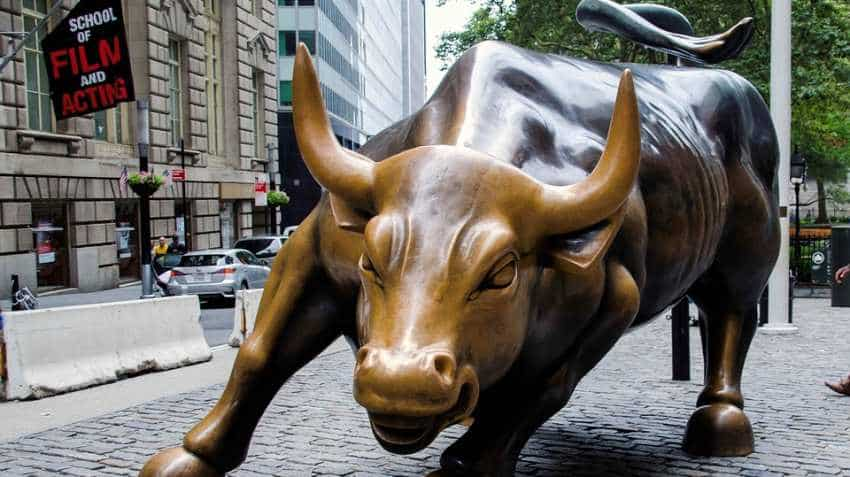 Nifty 50 has done the unthinkable by outperforming other major indicators of Emerging Markets. Photo: Pixabay
Over the last five days, Nifty 50 has done the unthinkable by outperforming other major indicators of Emerging Markets, thanks to the Lok Sabha Elections where NDA won handsomely. In fact, the index even soared to over 12,000-levels last week on the back of massive bullish sentiments. However, now markets have normalized and Nifty is trading a little lower from its new hierarchy. On Tuesday, the index finished at 11,928.75 mostly subdued compared to previous trading sessions. Gainers were stocks like Yes Bank, Infosys, Coal India and Power Grid. Now predictions and expectations are getting higher day-by-day. Many are wondering what else is in store and how far it may go. Now, bets are made for over 13,000-level in 1 year. 
But how would you feel, if we tell you that some are seeing Nifty at 15,000-mark in future. Some smart investors would surely be thinking about placing quick bets in right stocks while Nifty is still at lower ends! Well, let us tell you that a case is being made for Nifty at 15,000! 
Kashyap Pujara, MD - Head of Research along with Prithviraj Srinivas Senior VP - Economists at Axis Capital said, "India has chosen the government it deserves. While 'Modi I' was underscored by war against corruption, reforms (GST, IBC), credit push (Jan dhan, Mudra), expansion of highways, bridges, and social measures (electricity, gas connections for all), it fell short on providing an exit to surplus rural labor (construction jobs and Make in India) and not resolving banking stress on time. 'Modi II' will emphasize on creation of job opportunities for surplus farm labor, achieving universal 'housing' and piped drinking water. The election result provides policy continuity and supports improvement in investment outlook. This is likely to come in the backdrop of softening interest rates and stable currency outlook."
The duo listed out few factors which make a strong case for Nifty at 15,000. These are: 
1. Modi II is all about construction, not credit push. This believe is a far bigger multiplier for the economy.
2. Government will be able to push legislative reforms as it can now manage slender majority in the upper house. While the BJP lost crucial states recently, the presence of a fixed term in the Rajya Sabha provides the NDA with a window to obtain a slim majority in the upper house in 2020 with support from parties such as TRS and YSRCP. This provides Modi II government more leeway to pursue reforms that require legislation. 
3. In Axis Capital's base case, the duo said, "we expect GDP growth to exit FY20 at 7.5%+ and sustain (Q1 @ 6%). Higher investment-led growth will lead to upward shift in trend growth. With GDP growth surprises, foreign capital flows will accelerate taking market multiples higher."
4. This will kick start a virtuous cycle: Investment uptick => higher trend growth => more capital inflows => multiple expansion => rise in earnings => further investments.
5. By the end of Modi II tenure, India's economy will be over USD 4 trillion with a savings pool of over USD 1 trillion.
The Axis Capital duo added, "The key to the virtuous cycle (Nifty 15K) is strong public investment push over the next 2 years without any speed breakers like demonetization. Portfolios need to be recalibrated with higher allocation to capex plays (Engg/Infra) and housing, and lower allocations to consumer, exporters (IT and pharma). Inadequate job creation and rural income stress are the root causes which are leading to slower consumption growth currently. This will improve with a lag. Hence the portfolio shift. INR stability, moderate growth, and peak margins to cap multiples for IT space. Midcaps trade at 23% discount to Nifty; highest gap since 2009-10. With GDP growth likely to accelerate from H2FY20, we expect midcaps to outperform."
"We rule out the bear case for Nifty given strong mandate, fast tracking of infra creation, stable INR and softening of interest rates. We would watch progress on construction activity, monsoons and trade wars," said the duo.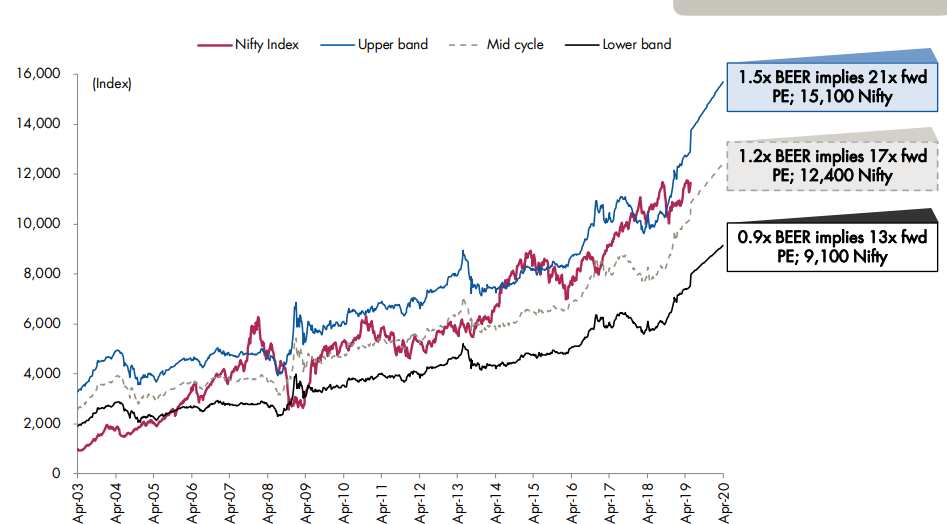 On Tuesday's trading session, Romesh Tiwari, Head of Research, CapitalAim said, "Now that euphoria over general election results is over market is waiting for signals for directional move. Today it remained in narrow range of 1%, supported by IT stocks and Reliance. For the remaining week the market may remain rangebound and will wait for domestic data of fourth quarter GDP and Industrial output data that is scheduled to be declared this week. On Nifty 11,600 level may act as support and 12,050 as resistance zone, beyond which market may enter new trend."
Sector wise, Tiwari said, "we are expecting some positive movements in Auto and FMCG stocks. Midcaps are looking attractive in comparison to heavyweights and if Nifty and Sensex sustains around these levels then we can see a rally in Mid and Small caps very soon."
Updated: Tue, May 28, 2019
06:25 pm
Mumbai, ZeeBiz WebDesk