Budgetary announcements will generate employment opportunities: Nirmala Sitharaman
Minister of Finance and Corporate Affairs, Nirmala Sitharaman, speaks about the budget and idea behind it, what it carries for the common man - particularly the middle class, expenditure that has been lined up, disinvestment and strategic sales of the PSUs and share market among others during an interview with Swati Khandelwal, Zee Business.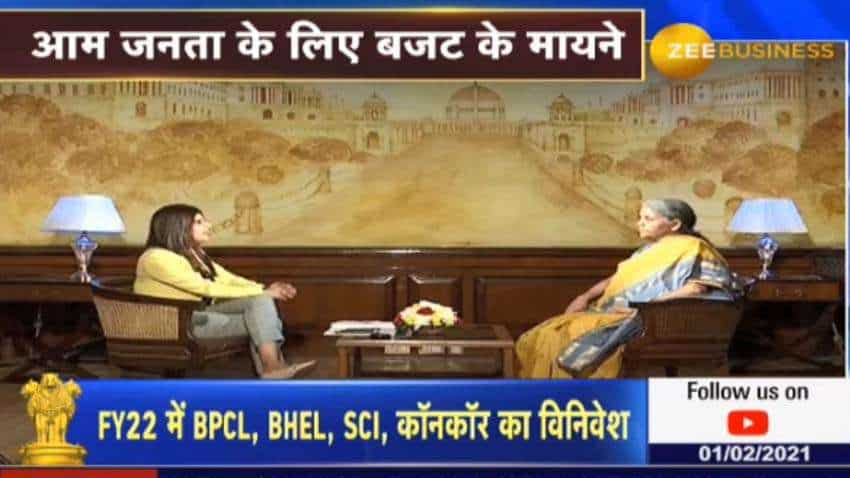 Minister of Finance and Corporate Affairs, Nirmala Sitharaman, speaks about the budget and idea behind it.
Written By:
Jitesh Kumar Jha
Edited By:
Jitesh Kumar Jha
Updated: Tue, Feb 02, 2021
03:17 pm
New Delhi, ZeeBiz WebDesk
Minister of Finance and Corporate Affairs, Nirmala Sitharaman, speaks about the budget and idea behind it, what it carries for the common man - particularly the middle class, expenditure that has been lined up, disinvestment and strategic sales of the PSUs and share market among others during an interview with Swati Khandelwal, Zee Business. Edited Excerpts:
Q: Congratulations! for presenting such a bold budget. We were going through the most challenging situation, yet we have presented the best budget to date. Is it the strength of India that we perform well in adversity and like to play from the front foot in such a situation?
A: That is why I gave an example of our cricket performance in Australia. Our youths, business leaders, entrepreneurs and traders among others try their best to perform. Particularly after the lockdown, when the process of unlocking started, everyone went out and tried to revive things, although each one of them had problems. This is why the government never had any intention to increase the taxes and it was never in the discussion. We had an intent to facilitate at this point of time, the expenditure that has to be incurred by the government - on a large scale. This expenditure will encourage demand in both small and big businesses, which will increase employment, bring money in the hands of people and it will improve the demand. This is why, we adopted this path because the public, who are working hard to improve their business, give them that helping hand by public expenditure. Due to corporate tax reduction since September 2019, businesses have offloaded a lot of their old expenditures and now they are also yearning to invest and are moving where there is a demand. Investment is moving towards export. Similarly, the government has to invest in the public infrastructure space so that everyone gets power or electricity, ports are improved, and better roads are created. So, we have the intention to spend more in the sectors where multiplier effects will be more.
WATCH FULL COVERAGE ON ZEE BUSINESS BELOW:
Q: Many people are saying that this is a good budget for the industry. But can you please simplify and tell what this budget means to the common man and how they have been rewarded?
A: We will spend such a huge amount on the creation of infrastructure building, health infrastructure, agri infrastructure. Suppose a big warehouse has to be built or a big power generating project has to be created or a big bridge or port has to be developed then it increases the employability as soon as the work starts there, job creation happens, and you get wages to maintain your house. These projects will be completed in the next 2-3 years but till then the employment of people is guaranteed. So, I am not ready to believe that the middle class has not received anything immediately. 
The second example is, people, like graduates and engineers, in skilling and consider a lot of jobs are available in Japan and you have the ability to go there but do not have the skill sets that they are expecting in you then you can't go there although jobs are available there. For the purpose, we have signed an agreement with Japan to train our youths - the skill sets that they are expecting from the - and have started training on the same, which will provide jobs immediately. We have signed such agreement with Japan, the United Arab Emirates (UAE) and it is going to happen with many other countries, where you can go directly and catch the job by meeting their expectations. 
Thirdly, flagging of Indian ships, what is that? Majority Indians and Filipinos, there are just two countries Philippines and India in the world, are only the people who are working as mariners and staff in almost every ship, cargo vessels and large container ships across the world. But they are not trained in India because, under global law, people can take training in those countries only, whose flag the cargo is carrying. Because there is no ease of doing business in India, even our investors even those who own ships and transport the goods from one place to others do not carry India flag. Registration is required, for instance, you can register the car whether, in Andhra or Mumbai, every region has its registration, like that for ships, even the owner is Indian, majority of them are getting registered in Panama and carries Panama flag or some other country like that because doing business related to ship is easy there. If India does not have a flag carrying ship, then you cannot even train the mariners here. If they are trained, then they can work in an Indian ship or a foreign ship. Currently, the youths of the country are going to international destinations to get themselves trained as mariners, if we start providing the facilities of ship flagging in India that has been done in this budget then the mariners can be trained in India, itself. Interestingly, it is not a small number around five to six lakh people move out to train themselves in two-three years and get jobs outside. Is that not for the Indians? Similarly, for shipbreaking activities, we have opened up so that more ships and liners come and that is labour-intensive work. Likewise, in the context of textile parks - you may understand the labour-intensive activity of the textile sector - seven mega textile parks within three years. Employment is the base for the same. 
Q: A question always rises for India that announcements are there, but implementation is the key and I know, the government has set stiff targets, which is a good thing. I would like to know what would you like to say on this walking the talk as the implementation of the same will be the biggest challenge? 
A: Before asking the question, you should go through the track record of this government from 2014-19 and then 2019-20. You will not get a government who has worked better in this in terms of delivery, last-mile delivery, may it be about the LED bulbs, electricity connection and Ujjwala Cylinder. We have changed the criteria of the last-mile connectivity. This is why delivery and last-mile connectivity is showing the results on the ground and the Prime Minister have a great focus on that.  
Q: There were concerns that the inflation would go up, the fiscal deficit will go up and you said wait now growth is our focus and will march ahead and there is nothing to be worried. This was new. What is that something that gives you the confidence that this is required, and we must press the buttons?
A: Since lockdown, in many consultations in which people had chats even with the Prime Minister they asked to print more currency and spend it without worrying about the fiscal deficit and this is repeating again and again. But it is the responsibility of the government not just to print currency and put it into the hands of people and, if required, we will do that as well. But we didn't walk on that path and looked forward to the areas where multipliers are available - where the expenditure can be 1 x 2.5, then do it there. We have walked on this path in a calculated manner after thinking about every aspect and decided to go for quality expenditure.  
Q: I think, you have lined up expenditure of Rs 34.8 lakh crore and healthcare are in focus, which was expected. So, healthcare and infrastructure are going to be the key pillars in the next 10 years? 
A: There are three pillars, and they are agriculture infra. general infra - which is road, power, railway, ports, airports and so on and health. So, general infrastructure, health and agri-infra. For agri infra during Atmanirbhar Bharat, I had already announced Rs 1 lakh crore and now I am also giving further better further impetus for agri infrastructure. So, infrastructure and all these aspects. 
Q: How do people from outside should now see towards. I think that the COVID provided us with an opportunity of China + 1 model. So, can we here, if not replace or substitute China but can become that massive? Tell us the way the investors are looking towards India and are they confident about India and are ready to invest?
A:  There is a confidence and there is a mindset to look at opportunities in India and for the purpose, you can have a look at the response that we received for the PLI scheme. After that, the champion sectors were announced recently clearly marking the sectors in which we want to have that lead advantage. We are getting a good response in that. PLI Scheme per se has been now the favourite of many industries they are saying please give us we also want to come to India. Even better is the question that investment even now FDI, which are coming in are finding their own, like water, find their course. Because the Indian market is allowing all kind of investors, one who wants to be in the core sector, the other who want to be only in the service sector, everybody is getting an opportunity here.
Q: The markets have given big thumbs up and I don't think that such a response was seen in so many years after the budget. So, this is displaying confidence that investors will bet on India. What is your view on this? 
A: I think, it is a reading, just not the market but the general business leadership, and when I say leadership, not just the big industries but even the small. They are saying that even during the lockdown we engaged with then and understood, where they wanted the help and extended it there and made sure that it was implemented and just not remaining on paper. So, the confidence comes that this government means that its intent will be carried further and that confidence is what I suppose the markets around are sensing and reacting accordingly, which is very good. That is why I always keep saying markets react and also Indian investors - retail investors - also see the market as one place where they can put their money. And when they see good companies transparently showing their strengths and also being accountable for the board members and also for the shareholders, you find no dearth of money coming in from the retail investors and as a result, the market should definitely be buoyant as Indian retailers are seeing a lot of opportunities. 
Q: Asset monetization or disinvestment are the two things about which I would like to talk about now. Because you have kept a disinvestment target of Rs 1.75 lakh crore for this year, which now seems realistic with all the things that you have mentioned in the budget and the way we are moving towards privatisation. Government is opening up for the private players to come in. Going forward, what is your view on this roadmap, especially when you have to give the right value to that asset? What steps will be taken on it?
A: In a way, that partly tells you as to why in spite of giving Rs 2.10 lakh crores at that time on 19 July, I could not even complete the privatisation or disinvestment at that time the economy was slowing, the markets were taped-in- before the COVID - none of us could do any fair talking about disinvestment which were announced. So, the story here, I would say is that it's one thing to announce and behave as though we have announced then we have to do it. It is public money and I have to be cautious that yes, I have to look at the time when it is appropriate to sell. If the markets are improving, yes better the opportunity is. 
Q: PSU Strategic sale has been announced. Can you tell us the timelines of the government and how their core and non-core assets will be divided?
A: It is a major step forward by stating it as a policy. During the budget, we made it clear that is the direction that the government of India would go in. So, you are giving investors not just an immediate target but also a long-term consistency in policy, saying these are there, it is upon them to show interest, whichever they think they can gradually keep coming in and once they show interest, unlike the way we handled Air India, where you kept funding it and funding it and it is only at some time that you probably would succeed the way it is going now successfully. But when you announce things like this well in time as a matter of policy buyers also look at the prospects over the years. 
Get Latest Business News, Stock Market Updates and Videos; Check your tax outgo through Income Tax Calculator and save money through our Personal Finance coverage. Check Business Breaking News Live on Zee Business Twitter and Facebook. Subscribe on YouTube.