Budget 2019: TV manufacturers demand level playing field with overseas brands, will Sitharaman comply?
There have been more than Rs 2500 crores worth of import of TVs in the past under FTA under zero percent duty. This doesn't favour the companies who support Make in India campaign of the government.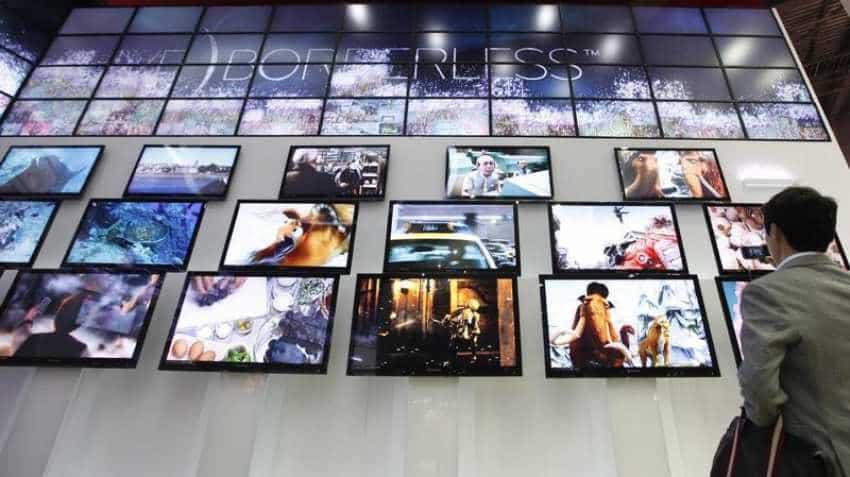 TV manufacturers have requested FM Sitharaman to reduce the GST to 18 per cent on all the TV panels as 28 per cent is the highest tax charged on televisions in the world. Photo: Reuters
Updated: Wed, Jul 03, 2019
01:52 pm
New Delhi, ZeeBiz WebDesk
Budget 2019: Indian television (TV) manufacturers have demanded a level playing field from Finance Minister Nirmala Sitharaman in the Union Budget 2019 as import duty on the parts of overseas TV brands are so low that once assembled in India, they become much cheaper when compared to the input cost of the domestic TV brands. The industry insiders are of the opinion that like assembled overseas TVs, there should be some hike on import of their parts as well because it would give domestic TV manufacturers some sustainability into the market. They are of the opinion that the move is important if the Modi 2.0 Government wants to stop the transformation of domestic manufacturers getting into the role of overseas TV assemblers.
Speaking on the needs that Indian television manufactures Vipin Malhan, Director, AV Compusoft — a Noida-based television manufacturing company said, "There is an urgent need for the Modi 2.0 Government to hike import duty on the television parts of the overseas brands because at current levels the import duty is so low on them that after assembling, it becomes much cheaper than the domestic brands. In the last decade, such an anomaly into the television manufacturing market has led to the transformation of the domestic television makers from manufacturer to assembler. You tell me where are the domestic brands like Weston, Texla, Hotline, Uptron etc. All these Indian companies had their base in Noida and all of them have today got converted into assembler." 
See Zee Business video below:
टूरिज्म सेक्टर को #Budget2019 से क्या हैं उम्मीदें? करेंसी में उतार-चढ़ाव से इस सेक्टर में होगा कैसा असर? #DilChahtaHai में देखिए थॉमस कुक के CFO बृजेश मोदी से ज़ी बिज़नेस की खास बातचीत..

पूरा वीडियो देखिए https://t.co/SLcfmu7pus#BudgetWithZEE @AnilSinghviZEE @tcookin pic.twitter.com/j74sK63M2x

— Zee Business (@ZeeBusiness) July 3, 2019
Malhan, who is president of the Noida Entrepreneurs Association, went on to add that Finance Minister should hike the import duty on the television parts of the overseas brands otherwise the entire Indian manufacturing sector would go into the hands of China, Japan and South Korea. Malhan said that if the Modi 2.0 Government takes some action in this regard, it's for sure that Make In India will get such a boost that even the policymakers behind the idea won't have ever thought.
Standing in sync with Vipin Malhan's views Avneet Singh Marwah, Director and CEO of Super Plastronics — a Kodak brand Licensee said, "As a part of the television manufacturing industry, we request FM to reduce the GST to 18 per cent on all the TV panels as 28 per cent is the highest tax charged on televisions in the world. Additionally, there has been more than Rs 2500 crores worth of import of TVs in the past under FTA (Free Trade Agreement) under zero percent duty. This doesn't favour the companies who support Make in India Campaign of the government. This agreement must be canceled or it should be confined to import of selective goods."