Budget 2019 Highlights: From doubling income tax exemption limit to EPFO benefit, check top points from Modi's budget
Budget 2019 Highlights: Finance Minister Piyush Goyal has presented the Modi government's first interim Budget today. While several populist measures have been announced, sops for farmers and doubling of income tax exemptions limit for salaried class were the key highlights of the Budget.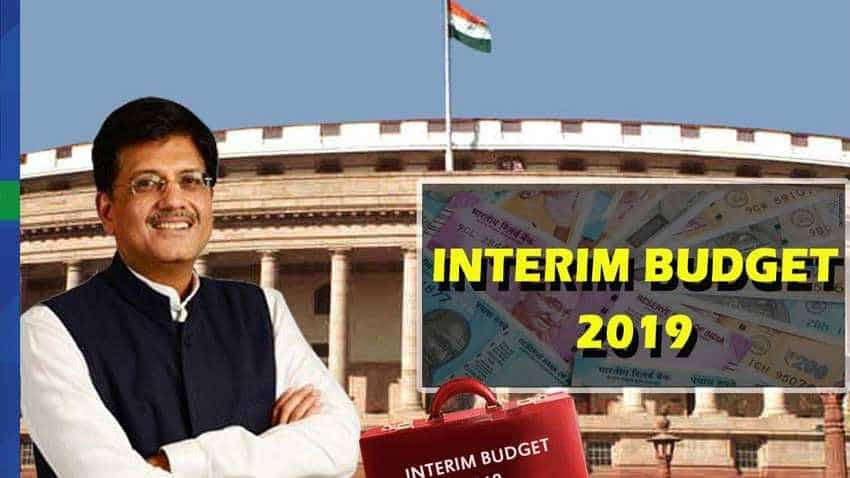 Budget 2019 Highlights: Piyush Goyal has made many key announcements that will benefit common man.
Budget 2019 Highlights: Finance Minister Piyush Goyal presented Narendra Modi government's first interim Budget today. Goyal was given additional charge of the finance ministry as Arun Jaitley is undergoing treatment. Piyush Goyal has made several key announcements in Budget 2019. The government has tried to appease and reach a large section of voters in the Budget ahead of Lok Sabha elections. Check out the big changes that wil benefit the taxpayers:
The finance minister finally came up with much awaited announcements, which brought a big cheer to a common man. Whether this was an election move to please people or a commitment for the general benefit of people is open for all to argue. Though there were no major expectations from this budget as it was an interim Budget , yet there was a pleasant surprise for the middle class income tax payers in the form of increase in rebate up to 500000 and increase in standard deduction for salaries people upto 50000. There was also some disappointments with regard to the expectations of increase in deduction limit under section 80 C.
Below are the major changes as regards to direct taxes.
1. With investments us 80C, the exemption limit becomes 6.5 lacs.
2. Standard deduction raised to 50000 from 40000 for salaries tax payers.
3. Deemed income from rent from HOUSE PROPERTY  - Exempt for 2 houses now.
4. TDS on interest fro post office deposits  raised to 40000 from 10000
5. TDS threshold limit on rental income Increased to 2.4 lacs from 1.8Lacs
6. Roll over if Capitalgains increased under section 54 to 2 Residential houses Upto  Capital Gains Of 2 Cr. To be availed once in a life time.
7.  80 IB (8) Benefit extended for 1 more year.
8. REAL ESTATE - Income Tax on Notional rental limit increased to 2 years from 1 yr.
Highlights of the budget in a nut-shell by Deloitte:  
With an eye on the ensuing elections, the interim budget was largely focused on providing relief to farmers, middle and lower middle class tax payers including salaried persons, and on enhancing infrastructure and social spend. With no changes in the Indirect tax structure, the key income tax proposals are as under:
* Increase in threshold limit to 5 lacs … this will reduce tax burden of middle and lower middle class tax payers
* Increase in standard deduction for salaried class from 40000 to 50000
* Increase in TDS threshold limit for interest income from 10000 to 40000
* Exemption from notional rent for two self -occupied house as against one
* Exemption from long term capital gain arising from sale of house property under section 54 is extended towards investment in two houses instead of one
* No changes proposed in the tax rates for corporates
In a nut-shell, it was a balanced budget, partially populist but phenomenally pragmatic as it did not significantly disturb the FRBM mandated fiscal deficit targets. The interim budget did engender a good feel factor for the urban small taxpayer and the distressed small farmer, which were impacted by the demonetisation and the teething troubles in the wake of GST.  The increase of income in the hands of this large segment of the populace is aimed at putting extra disposable income in their hands which should result in increased consumption. Increased levels of consumption would provide a fillip to the  domestic manufacturing sector. Growth in production should substantially augment GST revenue, in the near future. Also, the 2030 vision shared by the Government shows their firm intent to transform the country into a modern, clean and prosperous India. 
Point-wide budget highlighgts:
1. Finance Minister Piyush Goyal thanks PM Narendra Modi and former FM Arun Jaitley as he starts presenting interim budget 2019. Says PM Modi has envisioned an India free of poverty. "India is solidly back on track and marching towards growth and prosperity," said Goyal. FM Goyal says NDA government has brought down the inflation to an all time low in last few decasdes. Inflation in December 2018 was just 2.1%, he said.
2. Fiscal deficit for FY18-19 has been at 3.4 per cent, says Piyush Goyal. Current account deficit is expected to be 2.5% this year. He said that the NDA government has been free of corruption.
3. Around two lakh seats will be provided in the education institutions under 10% EWS Quota: Piyush Goyal
4. Almost 3 lakh crore has already been recovered in favour of banks and creditors, big defaulters have also not been spared by our government: FM. The 4R approach and a number of measures have been implemented to ensure clean banking : FM Piyush Goyal 1.Recognition 2.Resolution 3.Recapitalization 4.Reforms.
FM #PiyushGoyal on #Budget2019 pic.twitter.com/r8BtSjvm6O

— PIB India (@PIB_India) February 1, 2019
5. We have built 1.53 crore houses under affordable housing scheme in last five year: Goyal. Pace of construction of rural roads has been tripled under our tenure, he said. Construction of rural roads has been tripled; 15.8 lakh out of a total 17.84 lakh habitations have been connected with pucca roads under PMGSY. PMGSY allocated 19,000 crore rupees in 2019-20(BE): FM Piyush Goyal. India is the fastest highway developer in the whole world, 27 kms of highways built each day, projects stuck for decades completed; Sagar Mala will help faster handling of import and export cars: FM Piyush Goyal
6. After the distribution of 1.43 crore LED bulbs, houses are saving almost 50,000 crore on electricity bills: FM Goyal.
7. 1,70,000 crore spent for bringing food at affordable rates to poor people: FM.
8. To provide assured income support for small and marginal farmers, Pradhan Mantri Kisan Samman Nidhi has been approved. The farmers will not get Rs 6,000 per annum in their account in three equal installments of Rs 2,000 each. The scheme will come into effect retrospectively from December 1, 2018. The amount will be credited into the account of farmers directly. It will cost Rs 75,000 crore to the government. This initiative will benefit 12 crore small and marginal farmers. For the welfare of farmers and for doubling their income, historic decision was taken to increase MSP by 1.5 times the production cost for all 22 crops, said Goyal. 
9. Increased allocation for Rashtriya Gokul Mission to 750 crore in current year: FM.
10. 2% interest subvention to farmers pursuing animal husbandry and fisheries: FM Goyal.
11. High growth and formalization of economy has resulted in increased EPFO membership by 2 crore in last two years: Goyal. Gratuity limit has been increased to Rs 20 lakh. || Due to increase in the threshold limit of Esi scheme,  industrial workers drawing a salary of upto Rs 21000 will now be eligible for health care at clinics and hospitals run by ESIC: Sanjay Agarwal of TASS Advisors.
FM #PiyushGoyal on #Budget2019 pic.twitter.com/UTopbYhjL9

— PIB India (@PIB_India) February 1, 2019
12. Mega Pension Yojana, namely Pradhan Mantri Shram Yogi Mandhan, to provide assured monthly pension of 3000 rupees per month, with contribution of 100 rupees per month, for workers in unorganized sector after 60 years of age: Goyal. Will benefit 10 crore workers in unorganized sector, may become the world's biggest pension scheme for unorganized sector in five years.
13. To ensure cleaner fuel and health assurance, we embarked on PM Ujjwala Yojana, a programme to give 8 crore free LPG connections to rural households, 6 crore connections given already: FM Piyush Goyal.
14. Committee under NITI Aayog to be set up to identify and denotify nomadic and semi-nomadic communities; Welfare Development Board to be set up under Ministry of SJ&E for welfare of these hard-to-reach communities and for tailored strategic interventions: FM Piyush Goyal
15. 75% of woman beneficiaries under PM Mudra Yojana, 26 weeks of maternity leave and Pradhan Mantri Matritva Yojana, are all empowering women: FM Piyush Goyal
16. Within a short time of launch of Ayushman Bharat, the healthcare scheme, nearly 10 lakh people have benefited and have saved around 3000 crore rupees of their hard earned income: FM Piyush Goyal
17. Our soldiers are our pride and honour; OROP, pending for last 40 years, has been implemented by us: FM Piyush Goyal. Already disbursed 35,000 crore rupees for our soldiers under OROP, substantial hike in military service pay has been announced: FM.
18. Defence budget enhanced beyond 3 lakh crore rupees: FM Piyush Goyal.
19. Vande Bharat Express will provide speed, service and safety to citizens and will give a boost to Make In India: FM Piyush Goyal. Rs 65,000 crore allocated to railways.
20. Cost of data and voice calls in India is now possibly the lowest in the world; mobile and mobile part manufacturing companies have increased from 2 to 268: Goyal.
21. Single window clearance for filmmaking to be made available to Indian filmmakers, anit-camcording provision to be introduced to Cinematography Act to combat film privacy: FM Piyush Goyal
22. In the last 5 years under all categories of workers, minimum wages increased by 42% which is the highest ever: FM Piyush Goyal
23. 99.54% returns have been accepted without any scrutiny. Direct tax collections from 6.38 lakh crore rupees in 2013-14 to almost 12 lakh crore rupees; tax base up from 3.79 crore to 6.85 crore. Simplification of direct tax system will benefit taxpayers; direct tax reduced and tax interface made simpler and faceless to make life easier; resulting in increase in tax collections and return filings: FM Shri Piyush Goyal. Within almost two years, almost all assessment and verification of IT returns will be done electronically by an anonymized tax system without any intervention by tax officials, he said.
24. Group of Ministers examining how prospective house buyers can benefit under GST: FM Piyush Goyal. GST has been continuously reduced, resulting in relief of 80,000 crore rupees to consumers; most items of daily use for poor and middle class are now in the 0%-5% tax bracket: FM Goyal.
10 Dimensions of Govt.'s vision 2030 for India

1) Physical & Social Infra
2) #DigitalIndia
3) Clean & Green India
4) Rural Industrialization
5) Clean Rivers
6) Oceans & Coastline
7) Space
8) Self-sufficiency in Food Production
9) Health
10) #MinGovtMaxGovernance
- #Budget2019

— PIB India (@PIB_India) February 1, 2019
25. Committed to eliminating the ills of black money; anti-blackmoney measures taken have brought undisclosed income of about 1.30 lakh crore rupees to the surface; 3.38 lakh shell companies deregistered: FM Piyush Goyal
26. GST registered MSME units to get 2% interest subvention on loan of 1 crore: FM Piyush Goyal
27. Piyush Goyal: We are poised to become a 5 trillion dollar economy in the next 5 years and we aspire to become a 10 trillion dollar economy in the next 8 years
28. FM underlines 10 most important dimensions that will guide the Government in Vision 2030 --
          1) To build next-gen infrastructure - physical as well as social - for a 10 trillion dollar economy and to provide Ease of Living
          2) To build a Digital India that reaches every citizen, our youth will lead us in this, by creating innumerable startups and jobs
          3) Clean and Green India - an India that drives electric vehicles, with renewables becoming major source of energy, bringing down import dependence and increasing energy security for our people
          4) Expanding rural industrialization using modern industrial technologies, based on Make In India approach, using grassroot MSMEs and startups across the country
          5) Clean Rivers - with safe drinking water to all Indians, sustaining and nourishing life, using micro-irrigation techniques; long coastline can be pivotal for the economy, using strength of blue economy and Sagar Mala
          6) Oceans and coastlines is the sixth dimension of our vision for 2030
          7) India becoming launchpad of the world, placing an Indian astronaut in space by 2022
          8) Self-sufficiency in food and improving agricultural productivity with emphasis on organic food
          9) Healthy India, with distress-free and comprehensive wellness system for all is the ninth dimension of our vision for 2030
          10) Minimum Government Maximum Governance, with proactive, responsible and friendly bureaucracy, electronic governance is the 10th dimension of our vision for India for 2030
29. FM announces fiscal deficit as a proportion of GDP - 3.4% for the coming year, considering need for income support for farmers
30. Capital expenditure - 3.36,292 lakh crore, says FM Piyush Goyal 
31. 56,619 crore made in BE 2018-19 for welfare of SCs and STs, increased to 62,474 crore in RE 2018-19 has been further increased to 76,800 crore in BE 2019-20: FM Piyush Goyal
32. Along with completion of fiscal deficit consolidation programme, we will now focus on debt-to-GDP ratio consolidation: FM Piyush Goyal
33. On behalf of all the people of India and our Government, thank all our taxpayers for their valuable contribution to nation-building and for providing a better quality of life to poor and marginalized:FM Piyush Goyal
34. Amendments proposed to ensure streamlined system for levy of stamp duties, to be imposed and collected at one place, seamlessly: FM Piyush Goyal
Individual taxpayers having annual income upto Rs 5 lakhs will get full tax rebate. Individuals with gross income up to 6.5 lakh rupees will not need to pay any tax if they make investments in provident funds and prescribed equities :FM Piyush Goyal#Budget2019#BudgetForNewIndia pic.twitter.com/4LgxrCK9u3

— PIB India (@PIB_India) February 1, 2019
35. Individuals with gross income up to 6.5 lakh rupees will not need to pay any tax if they make investments in provident funds and prescribed equities. Around 3 crore middle class taxpayers will get tax exemption due to this measure. Standard tax deduction for salaried persons raised from 40,000 rupees to 50,000 rupees. TDS threshold on interest on bank and post office deposits raised from 10,000 to 40,000 rupees. TDS threshold on rental income raised from 1.8 lakh to 2.4 lakh rupees: Goyal
36. Benefit of rollover of capital tax gains to be increased from investment in one residential house to that in two residential houses, for a taxpayer having capital gains up to 2 crore rupees; can be exercised once in a lifetime: FM Piyush Goyal 
37. Individual taxpayers having annual income upto Rs 5 lakhs will get full tax rebate. Individuals with gross income up to 6.5 lakh rupees will not need to pay any tax if they make investments in provident funds and prescribed equities :FM Piyush Goyal
Get Latest Business News, Stock Market Updates and Videos; Check your tax outgo through Income Tax Calculator and save money through our Personal Finance coverage. Check Business Breaking News Live on Zee Business Twitter and Facebook. Subscribe on YouTube.
Updated: Fri, Feb 01, 2019
02:05 pm
ZeeBiz WebDesk