Budget 2019: Govt falls short of Rs 45,857 crore in meeting disinvestment target in 2018-19; what to expect ahead?
 In a major spoiler alert, it is known that forget the disinvestment target, the government has not even managed to achieve half of its trajectory in Budget 2018, despite bringing many IPOs, buybacks, and Bharat ETF this year. 
Representational Image: Photo: Reuters
The Finance Minister Arun Jaitley boldly increased India's disinvestment target for the fiscal year 2018-19 during the previous budget. This was fueled by a blockbuster performance in this section during fiscal 2017-18. However, now that tables are being set for Union Budget 2019, a report card is being formulated to see whether this time the Prime Minister Narendra Modi led government has managed to achieve its disinvestment target of Budget 2018. In a major spoiler alert, it is known that forget the disinvestment target, the government has not even managed to achieve half of its trajectory in Budget 2018, despite bringing many IPOs, buybacks, and Bharat ETF this year. With this, the government is seen to fall short of its disinvestment target. 
According to the data given by Department of Investment and Public Asset Management (DIPAM), so far only Rs 34,142.35 crore has been achieved via disinvestment which is just 42.66% of the overall budget target of Rs 80,000 crore. 
A report card was provided by DIPAM on its website, to the list of disinvestment made by the government in 2018-19. 
Among the data, it was known that major disinvestment came from CPSE-Exchange Traded Fund where the government bagged a whopping Rs 17,000 crore. Whereas, from Bharat 22 ETF trading, the government managed to achieve Rs 8325.26 crore. This index involves state-owned companies like ONGC, Coal India, National Thermal Power, Indian Oil, Bharat Electronics, Oil India, NBCC, NLC India, REC and Power Finance.
Apart from this, it was offer-for-sale (OFS) made in Coal India, which bagged a massive amount of Rs 5,218.30 crore to the government. 
(Image Source: DIPAM)
There four IPOs made in this fiscal involving Mishra Dhatu Nigam Ltd. (MIDHANI), RITES, IRCON Technologies and Garden Reach Shipbuilders and Engineers Ltd, from which the government only received Rs 434.14 crore, Rs 460.51 crore, Rs 466 crore and Rs 342.90 crore respectively. 
Also, four buybacks were made by the government in KIOCL, National Aluminium Company, NLC India and CLS from the centre bagged Rs 205.34 crore, Rs 260.41 crore, Rs 989.86 crore and Rs 137.30 crore respectively. 
With this, the government falls short of Rs 45,857.65 crore to fulfill its Budget 2018 disinvestment target. 
In Budget 2018, the FM announced that 2017-18 disinvestment target of Rs.72,500 crore has been exceeded and expected receipts of Rs.1,00,000 crore.  He set disinvestment target of Rs.80,000 crore for 2018-19.
Disinvestment in 2017-18 fiscal was the best in over a decade that government managed to achieve. In FY18, the disinvestment target was set at surprisingly Rs 1 lakh crore from which about Rs 100,056.91 crore was achieved. 
(Image Source: DIPAM)
From 2011-12 till 2016-17, the government has failed to achieve this disinvestment target. Looks like even, 2018-19 will be the same period as well. 
Coming back to Budget 2019, CLSA says, "Large disinvestment programmes (Rs1.8trn over FY18-19) and repeated off-balance
sheet spending (c.Rs1.2trn over FY18-19) have created a high base effect of on-budget spending."
In CLSA's view, "The large disinvestment target has seen government adopt multiple measures such as creation of cross holdings in PSUs, selling stakes in several PSUs via ETFs, etc."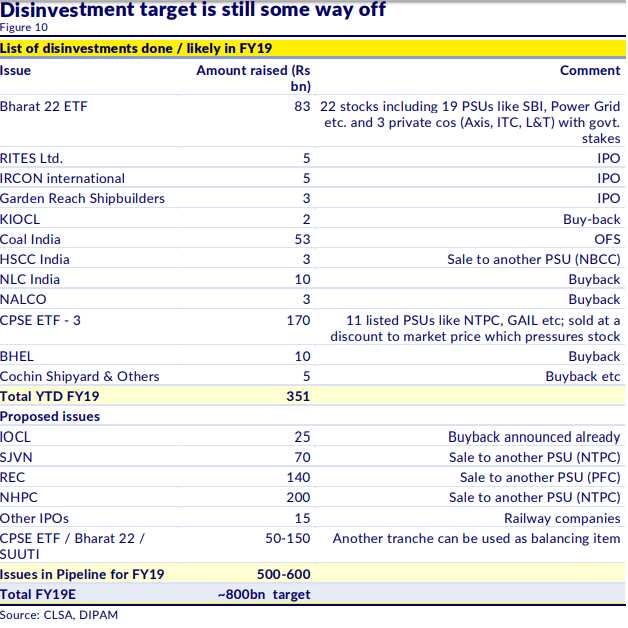 Few of the proposed measures that are expected to take place for meeting budget 2018 target are - Indian Oil buyback which is already announced, further SJVN-NTPC merger, REC-PFC merger and NHPC - NTPC merger are some of key developments to take place. 
According to CLSA, government's REC sale to PFC and NHPC sale to NTPC is seen to bag them about Rs 14,000 crore and Rs 20,000 crore respectively. Further, another tranche of CPSE ETF / Bharat 22 / SUUTI can help the centre bag between Rs 5,000 crore to Rs 15,000 crore. 
Overall, the upcoming pipeline for disinvestment in  FY19 is valuing between Rs 50,000 crore to Rs 60,000 crore. If this does take place, then government will manage to overshoot disinvestment target for the second-consecutive year. 
CLSA says, "As such, mean reversion to better-quality fiscal will take time and FY20 could still see another Rs0.8-1.0trn disinvestment being targeted."
Disinvestment can also be defined as the action of an organisation (or government) selling or liquidating an asset or subsidiary. It is also referred to as 'divestment' or 'divestiture.' In most contexts, disinvestment typically refers to sale from the government, partly or fully, of a government-owned enterprise.
 
Updated: Wed, Jan 16, 2019
05:17 pm
Mumbai, ZeeBiz WebDesk