BrahMos to attain 76% localisation in six months
BrahMos, the world's fastest supersonic cruise missile, will be achieving 75 per cent localisation in the next six months from the current 65 per cent domestic components that goes into its production, a top BrahMos Aerospace official has said. As of today 65 per cent of the value (in BrahMos) is created in India. We started with a very low 10-12 per cent indiginsation and today we have reached 65 per cent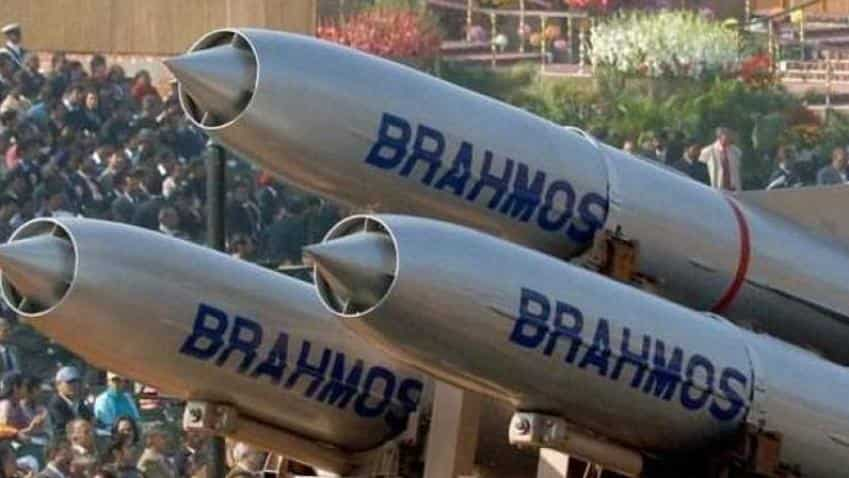 The new Quad launcher is suitable for warships which have space constraints to accommodate a vertical launch module. Image source: PTI
BrahMos, the world's fastest supersonic cruise missile, will be achieving 75 per cent localisation in the next six months from the current 65 per cent domestic components that goes into its production, a top BrahMos Aerospace official has said. As of today 65 per cent of the value (in BrahMos) is created in India. We started with a very low 10-12 per cent indiginsation and today we have reached 65 per cent. In another six months, we would be close to 75 per cent," BrahMos Aerospace managing director and CEO Sudhir Mishra said at the handing over ceremony of the prototype Quad launcher manufactured by L&T Defence, the defence arm of Larsen & Toubro (L&T) in Puune over the weekend.
"Last March, we flight tested the indigenously made seeker, and booster also would be shortly tested in about two months. We would be reaching to a localization of about 85 per cent in this," he said. The Quad launcher is designed for supersonic cruise missiles in an inclined configuration on-board our navy ships. The launcher provides superior firepower as compared to the twin cannister, deck mounted launchers and has the capability to support and launch four missiles in a single or salvo mode.
The new Quad launcher is suitable for warships which have space constraints to accommodate a vertical launch module. "With this smart launcher, eight missiles (four on the right and four on the left side of the ship) can be launched simultaneously. Though we are yet to get the order from the navy we have started work. We have invested in technology, knowledge and future business. We are just waiting for the order," Mishra said.
He said the Quad launcher can go not only to INS Delhi class of ships but to any ship in the world where it can position the quads launcher with a bit of tweaking in the mechanism. "With some tweaking here and there, tomorrow when we export BrahMos, which we wish happens soon, we would be integrating the launcher on foreign vessels also also," he added. "We have been associated with the development of BrahMos programme since 2000, when as part of the composite team led by the DRDO, we engaged with the Russia and embarked on this vast project. As proven partners of all variants of naval missile launchers for BrahMos, we took up the design of the unique Quad Launcher and realised the prototype in 18 months. The Launcher underwent rigorous testing prior to receiving of production clearance. L&T will now take up the bulk production of the Quad Launchers," Jayant Patil, whole-time director (Defence) and member of L&T Board said.
As a leading industry partner of BrahMos Aerospace, L&T has been closely involved in the design, development and production of the launchers and fire control systems for naval platforms as well as development and production of key aero-structural sections of the formidable BrahMos Weapon System. 
Updated: Sun, May 06, 2018
05:00 pm
PTI