Bitcoin not a legal tender in India, says Finance Minister Arun Jaitley
The Finance Minister of India has openly refuted the acceptance of Bitcoin as legal tender in India.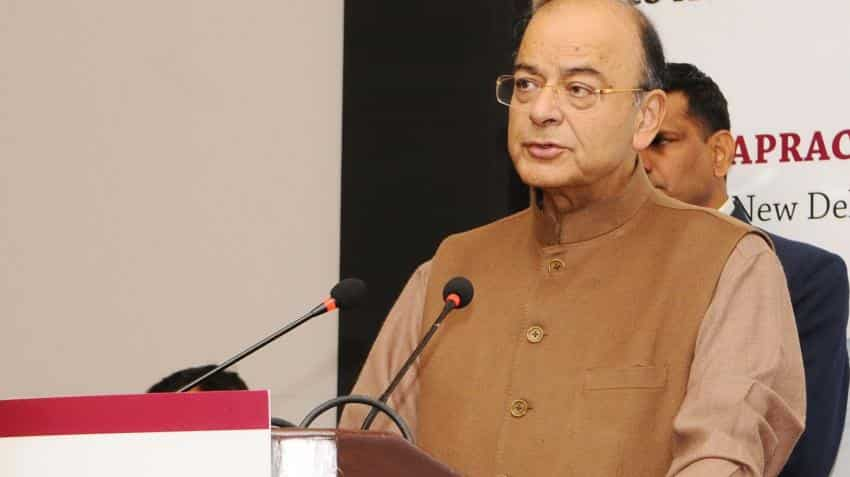 Union Finance Minister Arun Jaitley addresses at International Forum on Role of Rural and Agricultural Finance. Image Source: IANS
Key Highlights:

Jaitley said 11 cryptocurrency exchanges have been identified.
RBI also cautioned against dealings in Bitcoin.
Value of the Bitcoin crossed $19,000 in December last year. 
Finance Minister Arun Jaitley, speaking in Parliament which is currently in session, on Tuesday disproved of the acceptance of Bitcoin as legal currency in India.
Bitcoin is not a legal tender in India, Jaitley said adding to previous disapprovals by the country's Central bank that have agreed on the same.
Jaitley added that 11 cryptocurrency exchanges have been identified in India and the government will not take knee-jerk decisions on crypto currencies, as per Bloomberg alerts.
The government panel is also awaiting a report on tackling cryptocurrencies in India, Jaitley said.
सुनिए Bitcoin पर वित्त मंत्री अरुण जेटली का बड़ा बयान | https://t.co/3VU0GumbVx pic.twitter.com/AVAgERZbsU

— Zee Business (@ZeeBusiness) January 2, 2018
The Reserve Bank of India (RBI) has also cautioned from time to time about the risks of dealing with Bitcoin.
Bitcoin are a cryptocurrency with a worldwide payment system which is decentralised. This implies that the currency operates separate from the currency of the central bank of any country or a single administrator.
Through its press release dated December 24, 2013 and February 1, 2017 and once again on December 5, 2017, the RBI reiterated caution of dealing with Bitcoin.
"Attention of members of public is drawn to the Press Release issued by the Reserve Bank of India (RBI) on December 24, 2013, cautioning users, holders and traders of Virtual Currencies (VCs) including
Bitcoins regarding the potential economic, financial, operational, legal, customer protection and security related risks associated in dealing with such VCs," RBI said.
Value of the Bitcoin crossed $19,000 in December last year. As of today, January 2, 2018, the value of the Bitcoin converted to Indian National Rupees by Google is stated as Rs 8,51,073.40.
In reply to a question tabled in Lok Sabha on December 29, Ministry of Finance had this to say about Bitcoin dealings in India. "The Department of Economic Affairs had constituted an Inter-disciplinary committee to examine the existing global regulatory and legal structures governing Bitcoin; to take stock of the present status of Bitcoin both in India and globally; suggest the frame work for regulation of Bitcoin if among others etc. The committee has submitted its report which is under consideration of the Government."
The risks outlined by RBI in its December 2013 release read as follows:
1. VCs being in digital form are stored in digital/electronic media that are called electronic wallets. Therefore, they are prone to losses arising out of hacking, loss of password, compromise of access credentials, malware attack etc. Since they are not created by or traded through any authorised central registry or agency, the loss of the e-wallet could result in the permanent loss of the VCs held in them.
2. Payments by VCs, such as Bitcoins, take place on a peer-to-peer basis without an authorised central agency which regulates such payments. As such, there is no established framework for recourse to customer problems / disputes / charge backs etc.
3. There is no underlying or backing of any asset for VCs. As such, their value seems to be a matter of speculation. Huge volatility in the value of VCs has been noticed in the recent past. Thus, the users are exposed to potential losses on account of such volatility in value.
4. It is reported that VCs, such as Bitcoins, are being traded on exchange platforms set up in various jurisdictions whose legal status is also unclear. Hence, the traders of VCs on such platforms are exposed to legal as well as financial risks.
5. There have been several media reports of the usage of VCs, including Bitcoins, for illicit and illegal activities in several jurisdictions. The absence of information of counterparties in such peer-to-peer anonymous/ pseudonymous systems could subject the users to unintentional breaches of anti-money laundering and combating the financing of terrorism (AML/CFT) laws.
WATCH:
Also Read:
Updated: Tue, Jan 02, 2018
05:46 pm
Mumbai, ZeeBiz WebDesk