Banks seen increasing deposit rates in near term: Icra
The rating agency also expects the incremental bank credit offtake to surge in the current quarter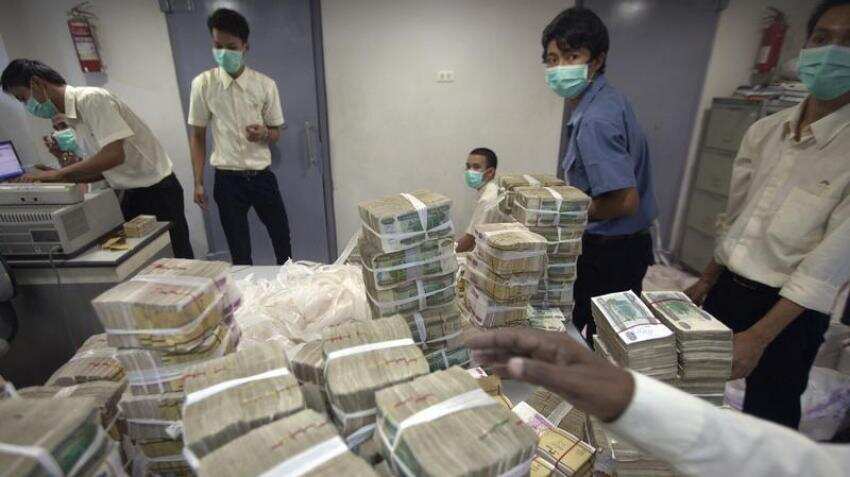 The slow accumulation of deposits can partly be attributed to the continued increase in currency with the public. Image source: Reuters
With banks' credit outpacing deposits in the last few months, pushing up the credit-deposit ratio, lenders are likely raise deposit rates in the near-term, says a report.
The incremental credit in the current financial year (till January 5) stood at Rs 2.02 lakh crore, far outpacing the additional deposits of Rs 1.27 lakh crore.
Rating agency Icra in a report today said the recent capital allocation of Rs 88,139 crore into state-run lenders by the government under the recapitalisation programme will improve the ability of public sector banks to pursue credit growth in the coming months.
While banks have an option of reducing their excess SLR holdings and deploying the same towards incremental credit, they may prefer not to do so, as it may trigger an upward movement in bond yields and add to their treasury losses, it said.
"Therefore, we anticipate an imminent increase in competition for deposit mobilisation and an upward movement in deposit rates," the rating agency said in the report.
Between September 29, 2017 to January 5, 2018, the incremental credit of Rs 1.85 lakh crore, was significantly higher than the accretion of deposits of Rs 0.30 lakh crore.
The slow accumulation of deposits can partly be attributed to the continued increase in currency with public (CWP), which increased by Rs 1.36 lakh crore from September 29, 2017 to January 5, 2018, reaching almost 96 per cent of the pre-demonetisation levels, the report said.
It said while the bulk deposit rates have recently seen an upward trend, the retail deposit rates continued to witness some cuts, albeit at a lower pace, with the median one-year deposit rate declining by only three basis points during January 2018, despite the 20 bps cut in various small saving schemes of the government effective from January 1.
"With the cumulative cut of 240 bps in 1-year deposit rates during the last three years, the deposit rate cut cycle has reached an inflexion point, with an increasing likelihood of deposit rate hikes in the immediate term," the report said.
The rating agency expects the incremental bank credit offtake to surge in the current quarter.
In order to support the same, the banks will need to mobilise additional deposits as the credit deposit ratio has increased to 74.6 per cent as on January 5, 2018, from the lows of 68.5 per cent in December 2016 and 73 per cent each at end of FY17 and the second quarter of FY18, it said.
With the government announcing the bank-wise capital allocation during January 2018 under the PSB recapitalisation plan, the banks will have some clarity on the magnitude of capital they would received by March 2018, which would improve their ability to pursue credit growth and push up the credit deposit ratio, the report added.
Updated: Tue, Jan 30, 2018
09:08 pm
PTI