ATM cash crisis: Supplies improved but crunch persists
ATM cash crisis: Bank officials said that banks are keeping a close vigil on money supply to ATMs on daily basis to ensure that customers do not face any problem. Currency shortage, however, still persists in the system, a banker said on the condition of anonymity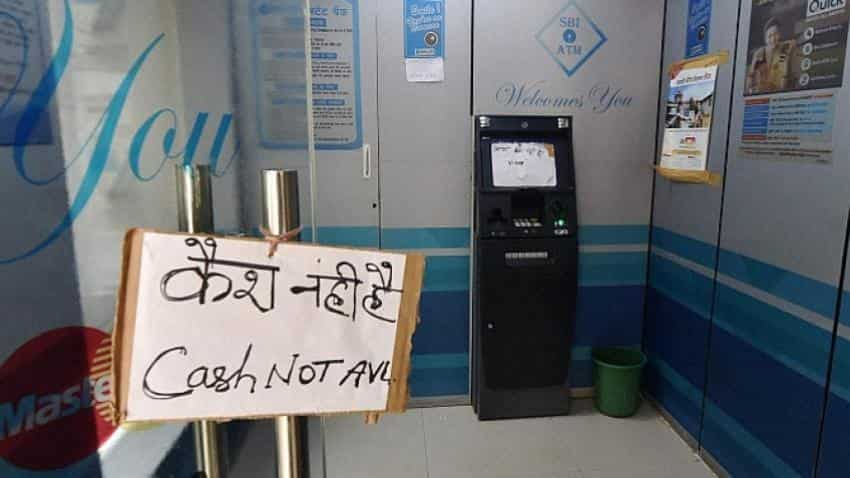 ATM cash crisis: An official of a big private sector bank on the condition of anonymity said that cash shortage is there in the system, however, the bank has requested the Reserve Bank for more supplies. Image source: PTI
Currency supply to ATMs and branches has improved but cash crunch still persists in the system which would be normalised soon, bank officials said. The officials said that banks are keeping a close vigil on money supply to ATMs on daily basis to ensure that customers do not face any problem. Currency shortage, however, still persists in the system, a banker said on the condition of anonymity. "With allowance of free-of-charge withdrawals from our PoS terminals across the country, the bank has given an additional option to customers to withdraw money. We hope the short supply of currency at ATMs will be normalised soon," an official of the State Bank of India said. In poll-bound Karnataka, a Canara Bank official said the situation has improved in the state in the last two-three days.
"We are better than any other bank (in cash dispensation from ATMs), our position has been good in the last 2-3 days and there has been a very good improvement. We hope the situation to be normalised by this week itself.  "Even though the shortage is there, but the cash supplies to ATMs have improved across our network in the states as well as other affected areas," the official said. Another Canara Bank official highlighted that even as Rs 2,000 currency notes are being supplied to the system, a major portion of that is not getting back into the banking channel through deposits.
An official of state-owned Bank of India said it is keeping a strict vigil if money intended to be dispatched to its ATMs is reaching the destination or being diverted to ATMs of private banks. "We are keeping a track whether the handler is supplying the cash meant for our ATMs or is being routed to some other bank ATMs, specially to private lenders," the official said. Punjab National Bank said cash supply to its ATMs has reached normalcy.
An official of a big private sector bank on the condition of anonymity said that cash shortage is there in the system, however, the bank has requested the Reserve Bank for more supplies.  The finance ministry and the RBI had swung into action this week after several states such as Telangana, Andhra Pradesh, Karnataka and Bihar had flagged currency shortage at ATMs and bank branches. While RBI denied any cash shortage in the system except for few geographies, it asked its four mint presses to ramp up printing of notes. 
SBI Chairman Rajnish Kumar yesterday expressed hope that the problem would likely to be resolved by today. "It is not a uniform cash crunch problem. It is there in geographies like Telangana and Bihar. We are hoping that the problem will be resolved by tomorrow because cash is in transition and it is reaching these states by today evening," Kumar had said.
Besides, SBI also allowed people in smaller towns to withdraw up to Rs 2,000 and Rs 1,000 a day from its PoS machines at retail outlets free of charge to ease cash crunch from across its 4.78 lakh point of sale (PoS) machines across the country. 
Updated: Sat, Apr 21, 2018
10:14 am
PTI