Asked Government to increase budgetary allocation to Rs 1 lakh crore for fertilizer sector: Chhabilendra Roul, Secretary
Chhabilendra Roul, Secretary, Department of Fertilizers, talks about increased demand and consumption of urea and fertilizer, subsidy, expectations from the budget 2020.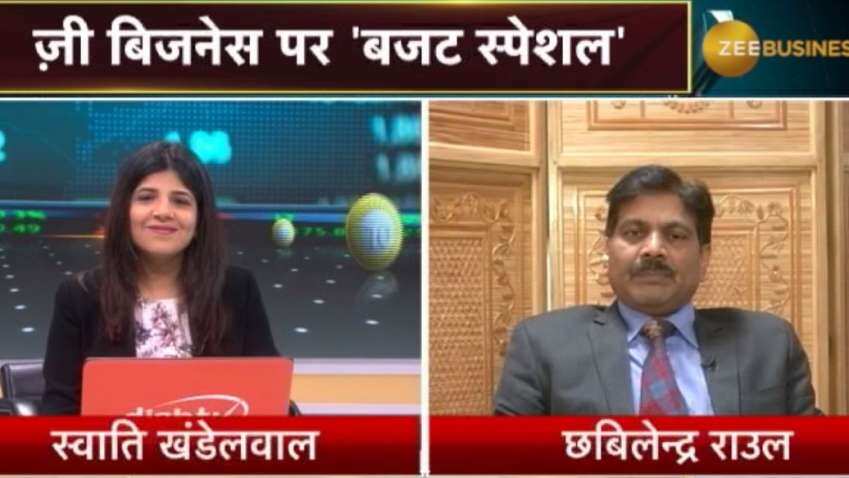 Chhabilendra Roul, Secretary, Department of Fertilizers, talks about deregulation of urea prices and CapEx among others during a candid chat with Swati Khandelwal, Zee Business.
Written By:
Jitesh Kumar Jha
Updated: Tue, Jan 14, 2020
02:14 pm
New Delhi, ZeeBiz WebDesk
Chhabilendra Roul, Secretary, Department of Fertilizers, talks about increased demand and consumption of urea and fertilizer, subsidy, expectations from the budget, deregulation of urea prices and CapEx among others during a candid chat with Swati Khandelwal, Zee Business. Edited Excerpts: 
Fertilizer industry has seen an unprecedented increase in demand and consumption of urea and fertilizer. Can you tell us the kind of impact it will have on the industry?
Fertilizer consumption has gone up significantly this year as compared to the previous year. Fertilizer and urea consumption - despite rain and floods - has remained almost the same during Kharif season in 2018 and 2019. But, good rainfall, moisture content and availability of water in the reservoir has helped in increasing the cultivation area of different Rabi crops, significantly. Sowing area has gone up by 15 per cent and the pattern of the crop has moved in the direction of wheat. This has happened due to the availability of water. Wheat needs more fertilizers as compared to other crops like legumes and this led to more consumption of fertilizer. Urea consumption has gone up by 10 lakh tonnes from the corresponding period. It has had an impact on the industry, which faces capacity constraints and can't they can't increase their production suddenly. So, they have to go for a full capacity production and at times beyond rated capacity production. This has forced us to import urea this year. 
See Zee Business Live TV streaming below:
Update us about the working capital of the industry and the pending subsidy?
It is true that the budget allocated to us and subsidy as compared to the industrial requirement was bit low and that's why the government, finance ministry and our department are trying to improve the working capital needs of the same. Besides, we have also asked for an additional budget from the finance ministry and hope that the additional budget will be provided to us in the revised budget. Apart from this, the fertilizer companies are also trying to make additional arrangements to make sure that problems related to working capital don't prop up.
Please elaborate it in terms of extra allocation as well as other arrangements?
A sum of Rs84,000 crore was allocated to us in Budget 2019-20 and we have asked the government to increase it to Rs1 lakh crore. Apart from this, we are trying to collaborate with the banking sector to improve the temporary working capital situation of the sector. The talks are on with finance ministry and that's why I can't provide more information related to the same. 
Any timeline by which a solution may come be announced?
It may be announced before the budget or maybe a part of the budget. 
Let us know about the government's view on the public service units of fertilizers and the kind of decisions that are being taken to unlock their value?
The government is trying to make the public sector stand of its own. They have enough resources, like land and other assets, that can be leveraged to create a CapEx, which can be used for modernisation and capacity enhancement purposes. We are making efforts to do so, for instance, Fertilisers and Chemicals Travancore Limited (FACT), Cochin, has been given the permission - approved by the Union Cabinet - to dispose of its land resources. It has disposed it to Kerala government and raised Rs900 crore of which Rs838 crore will be used as capital expenditure to increase its capacity and modernise itself. Similarly, other PSUs include Madras Fertilizer Limited, National Fertilizers Limited (NFL) and Rashtriya Chemicals & Fertilizers (RCF) and they are being encouraged to dispose of the surplus land resources that are lying with them. The proceeds generated from the asset can be used for modernisation of the plant and to increase its efficiency and energy norms. It will help them to increase their productivity and lessen the cost of production. 
You have also decided to shut down certain loss-making companies. What is your view on it?
We haven't heard about shutting down/closure of any plant yet. The hand-holding process is on, particularly in the Urea sector. So, the cost of production is being compensated and that's why there are possibilities of their closure at present. However, there is a periodic shutdown, which is caused due to a certain problem that emerges at their end as the technology being used by them as well as the plants are old. They restart the plant after rectifying the issue. So, there is no such news related to shutting down. But, there is one to two plants whose gas supplies have been stopped just because they haven't made payment to GAIL. Thus, it is their specific issue but the industry as a whole is quite comfortable because of the government hand-holding particularly it is the pricing which takes care of their cost of production. 
Is the government planning to deregulate urea prices, if yes, then by when?
It is a big policy reform and no such decision has been taken in this regard yet, however, it is being discussed in different forums.
Any timeline by which a concrete decision will be made on it or you feel that it is premature till date?
I think it is too premature.
Can you tell us about the impact and effectiveness of the Direct Benefit Transfer (DBT) scheme that was launched in your department? And, what are the additional plans in that direction?
The existing direct benefit transfer is a hybrid DBT and is not an actual one. Actual DBT is LPG model in which the subsidy amount is credited into a buyers/beneficiary bank account by the government. The DBT in fertilizer is different in which farmers buy fertilizer from the dealer through bio-metric authentication via Point of Sale (PoS). Based on the same data, the companies, later, submit their claims of subsidy - which is a difference between the cost of production and recoveries - that has been granted by them to the farmers. Then the subsidy is provided to the companies itself. Thus, this is a hybrid DBT model. Earlier, the NITI Aayog appointed an organisation named MicroSave Limited to evaluate this process. The report has been submitted and the company in their findings have found several positives things about the process. Even the farmer community has appreciated the scheme.
Let us know about the kind of focus that you have on the new type of fertilizers and how are you incentivising the companies to grow and come up with new and better fertilizers?
There are two aspects to the same. The first is related to the new types of fertilizers that are being produced by the manufacturers, entrepreneurs and start-ups. They should be registered with a Central Fertilizer Committee under the department of agriculture corporation and farmers welfare by mentioning it as a fertilizer with the specifications. They will also have to inform the evaluation conducted by the state-agriculture university or ICR institutions and the results of the same. On this basis, they are registered and the specifications are notified under the fertilization control order. The new type of fertilizers like customized-fertilizer, nano-fertilizer and bio-fertilizer should be mentioned on the result. 
Secondly, when it comes to subsidy on these fertilizers then the existing subsidy schemes are mostly in favour of the chemical and traditional fertilizers. That's why discussions are on the ways to bring these non-traditional or new and innovative fertilizers into the subsidy regime. The government is also trying to bring it into the existing subsidy scheme. The first step in this direction is to increase the usage of the biodegradable compost, which is generated from the biodegradable waste, in the urban area. And for the purpose, we are paying Rs1,500 per metric ton to the city composter in the form of market development assistance and it shall continue. And, we wish to provide similar support to the new types of fertilizers. 
Tell us about the kind of subsidy payment due to that will remain at your end at the end of the financial year?
We have asked for maximum budget allocation and if the amount doesn't reach to us via the revised budget then the number of carryover liabilities will be more then what we had last year on March 31, 2019, as more fertilizer has been consumed this year. Last year, the carryover liabilities stood at Rs30,000-32,000 crore and we expect that the number of liabilities will cross the Rs40,000 crore mark this year. 
Rabi season has been a good one, which led to demand and consumption of the fertilizer sector but it is not reflecting on the company's growth prospect. What are your expectations on it and what is your outlook on the prices can they move northward in recent future? 
It is not reflecting in their balance sheet or profit is a different question. The prices have been kept under control in the case of the non-urea fertilizer and that's why there is no reason behind its reflection in it. When it comes to the urea sector then cost-plus pricing is provided in it in which a return on equity of 12 per cent is provided on the cost of production as a compensation. Possibly, non-revision of the fixed cost, which hasn't done for many days, would have had an impact on it. But, they have built that calculation in their balance sheet. There will be no problem after a decision is taken in it. 
Do you think that the financial year 2020-21 can be an important transformational year for the fertilizer industry amid fleet movement and agri-push by the government? What is your expectation from the industry and the sector?
You were talking about fertilizer movement then we have done a record fertilizer movement in which 67 racks were moved in a day in the first week of December. On average, the direct movement stands at 58-59 racks per day. So, it is a gigantic task and we are making efforts jointly by the railway ministry to make the right fertilizer available across India. And, we are not making sure that no problem emerges in the segment and fertilizer supply position and availability position is comfortable. 
When it comes to fertilizer sector then I think several promising situations will be created in the sector as the work on 2-3 new gas pipelines is likely to be completed by March 2020 and June 2020. This will help in converting the feedstock of two Naphtha-based fertilizer units into gas-based feedstock. It will also help in restarting Matix, a fertilizer plant in West Bengal. Thus, there are possibilities of increasing the production and capacity in the sector. Similarly, we are trying to bring transformative reforms in the policy area but will not be able to elaborate it at this stage.
You have said that measures will be taken for capacity expansion and to increase production. So, let us know the CapEx that will be used for the purpose? Also, update us about Ramagundam Fertilizers and Chemicals Limited?
Commercial production is likely to be stared at the Ramagundam Fertilizers and Chemicals Limited by March-end. Systems of the company are being tested at present. When it comes to the CapEx of the sector then I can provide details of the public sector and urea sector. Work is on at Ramagundam, and three plants of Hindustan Urvarak & Rasayan LTD. (HURL) at Sindri, Barauni and Gorakhpur. Besides, a coal-based plant is coming at the Talcher Fertilizer Unit and their major contracts have been added to it. An investment of Rs40,000 was estimated for 4 years, which means an investment of Rs10,000 crore will be made in a year. Old plant-like Fertilisers and Chemicals Travancore Limited (FACT) has a plan of Rs838 crore in the next 2-3 years. Similarly, the non-urea sector that is in the private sector is also provisioning a CapEx for themselves. So, the rough estimate is that around Rs15,000 crore is likely to be invested annually in this fertilizer sector.