As sugar prices plunge, PM Narendra Modi set to meet industry leaders
A delegation led by former Union agriculture minister Sharad Pawar, comprising representatives from the private and cooperative industry, will seek the Centre's intervention to stay afloat. The industry will demand an increase in  export  limit to 8 million tonnes in the next 18 months, considering a record production of 32 million tonnes in crushing seasons of 2017-18 and 2018-19, leaving (higher) inventory of 11 million tonnes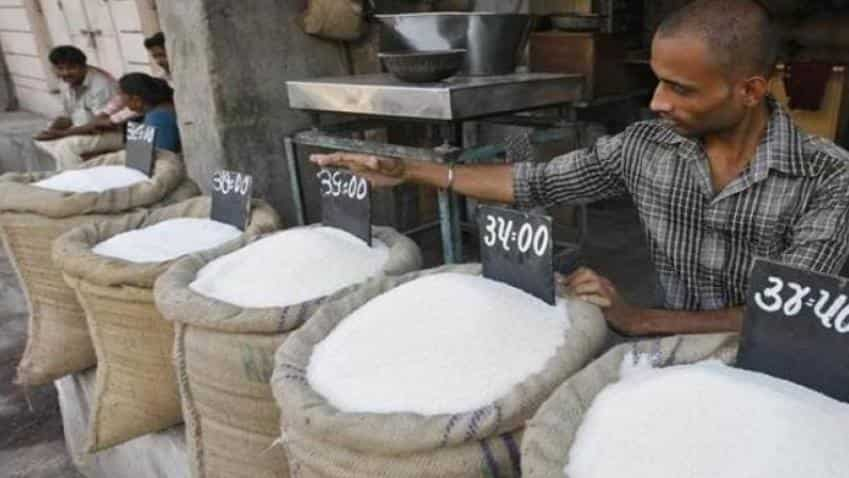 The Centre needs to allow increase sugar export limit to 8 million tonnes from the present 2 million tonnes. Image source: PTI
Amid rapidly falling prices, rising inventory and inflow of sugar, especially from Pakistan, Prime Minister Narendra Modi will soon meet representatives of the ailing industry. A delegation led by former Union agriculture minister Sharad Pawar, comprising representatives from the private and cooperative industry, will seek the Centre's intervention to stay afloat. The industry will demand an increase in export limit to 8 million tonnes in the next 18 months, considering a record production of 32 million tonnes in crushing seasons of 2017-18 and 2018-19, leaving (higher) inventory of 11 million tonnes.
Besides, the industry will press for a rise in sugarcane incentive (for export) to Rs 100 per tonne from the present Rs 55 per tonne, rise in ethanol procurement price by oil companies to Rs 55 per litre from Rs 40.85 per litre, and introduction of quarterly sugar release mechanism in order to curb distress sale. Further, the industry wants that direction from the Centre to Reserve Bank of India and National Bank for Agriculture and Rural Development to grant the much needed working capital term loan to sugar factories, so that they can participate in the next year's crushing season.
Furthermore, the issue of sugar from Pakistan, which has landed in Navi Mumbai, will be taken up by the industry, demanding a relook at the import policy. Already, the Nationalist Congress Party (NCP) and Maharashtra Navnirman Sena (MNS) have announced that the sale and distribution of sugar from Pakistan won't be allowed.
Industry sources told DNA, "The Centre's help is essential as the sugar industry is passing through a major financial crisis. Against the country's consumption of 25 million tonnes, production will be 32 million tonnes in 2017-18 and 2018-19. Already, prices have bottomed out at Rs 25 per kg, against a production cost of Rs 33 per kg. There is a cash loss of Rs 8 per kg and this has led to cane arrears at a whopping Rs 22,000 crore at the national level.
Therefore, the Centre needs to allow increase export limit to 8 million tonnes from the present 2 million tonnes." Sources cited that banks are reluctant to provide loan to mills as most of them turn non-performing assets. This would make it difficult for most of the sugar mills to join the next crushing season as cane will remain in the fields, causing a law and order problem.
(By Sanjay Jog, DNA) 
Updated: Tue, May 15, 2018
02:29 pm
ZeeBiz WebDesk