Arun Jaitley sees GST rate cut on cement, ACs, TVs with rise in revenue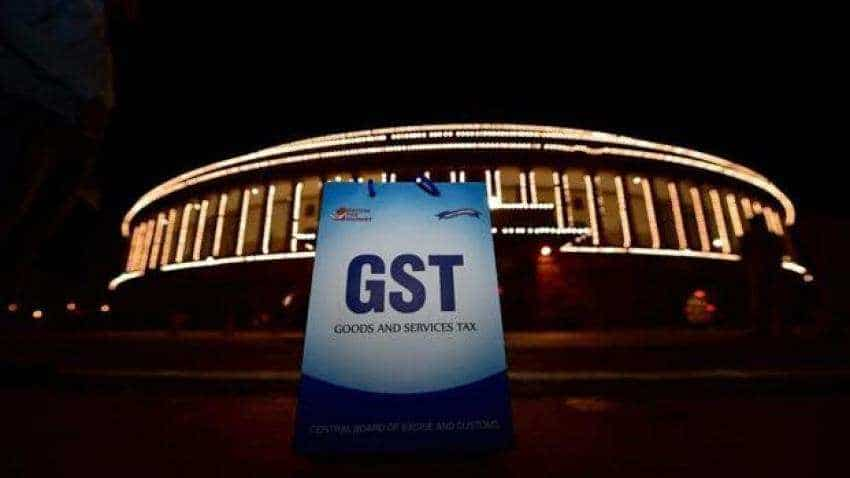 Goods and Services Tax (GST), which subsumed 17 local taxes, was rolled out on July 1, 2017. Image source: Zee Business
Union Minister Arun Jaitley today exuded confidence that GST rates on cement, ACs and televisions will be cut as tax revenues increase, and only luxury and sin goods will attract the highest slab of 28 per cent.
In a Facebook post, Jaitley termed the pre-GST indirect tax regime, during which most of the household items attracted a levy of 31 per cent, as "Congress Legacy Tax".
The past one year, he added, has seen rate reduction in 384 commodities. 
Goods and Services Tax (GST), which subsumed 17 local taxes, was rolled out on July 1, 2017.
"Today, the 28 per cent category is being phased out. Bulk of these items remaining in this category are only luxury items or sin goods. The other items outside the luxury sin goods category are cement, air-conditioners, large screen televisions and a handful of others," Jaitley said. 
"Hopefully, with further expansion of revenues, these few items may also witness a change of category. Thus within a record period of thirteen months, the GST Council has almost phased out the 28 percent category. It is only a matter of time that the final obituary of the Congress Legacy Tax' is written. Only the luxury-sin tax would remain," he said. 
Referring to services sector, he said 68 different categories of services have witnessed their rate reduction. 
"The net revenue loss which Government have suffered on account of the reduction of tax on goods and services is about Rs 70,000 crore. Since State Governments have been guaranteed a 14 per cent increase over their pre-GST revenues for the first five years, this burden has entirely been borne from the share of the Central Government," Jaitley said.
The tax reduction has reduced the cost to the consumers, increased his purchasing capacity and added to the increased consumption in the economy. 
WATCH ZEE BUSINESS VIDO HERE
He said taxes on all household items stand reduced from 28 per cent to 18 per cent and 12 per cent. 
"All items of construction, except cement, stands reduced. Most white goods stand reduced. There is no better opportunity for consumers to make purchases than in the environment which the GST has created.
It is an opportunity to celebrate the biggest tax reform since Independence, which has replaced Congress Legacy Tax' with a 'good and simple tax'," Jaitley said.
The GST Council in its meeting last week had decided to reduce taxes on 88 items, like sanitary napkins, fridge, small screen TV, washing machine, footwear, among others. The new tax rates became effective from today.
As of today, only 35 goods, including cement, automobile parts, tyres, automobile equipments, motor vehicles, yachts, aircrafts, aerated drinks, betting and demerit items like tobacco, cigarette and pan masala, attract highest GST rate of 28 per cent. 
Updated: Fri, Jul 27, 2018
04:50 pm
PTI