Anil Singhvi decodes ESG theme with Quant MF CEO and CIO Sandeep Tandon
The ESG index has outperformed the MSCI Emerging market index by 40 to 60%.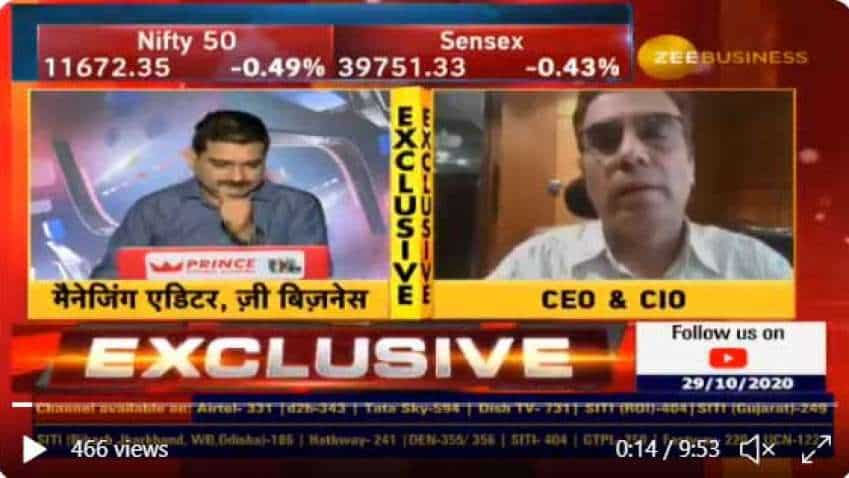 ESG rating identifies the environmental, social and governance score of the companies: Zee Business
Updated: Thu, Oct 29, 2020
04:51 pm
Mumbai, ZeeBiz WebDesk
In conversation with Zee Business Managing Editor Anil Singhvi, Quant Mutual Fund CEO & CIO Sandeep Tandon said that people should begin to understand the importance of ESG (Environment, Social and Governance) space. He added that better returns are expected from ESG index Scheme for 10 years.
#ZBizExclusive | लोगों ने ESG की अहमियत को समझना शुरू किया, 10 साल तक ESG स्कीम में इंडेक्स से बेहतर रिटर्न की उम्मीद: संदीप टंडन, CEO & CIO, क्वांट म्यूचुअल फंड

देखिए नए म्यूचुअल फंड पर पूरी बातचीत: https://t.co/kvJKTr41I0#MutualFund #SandeepTandon @quantmutual @AnilSinghvi_ pic.twitter.com/FMq0kKuExH

— Zee Business (@ZeeBusiness) October 29, 2020
Singhvi highlights that Quant Mutual Fund has been into Indian markets from 2008. They became a big player in the equity and commodity market in 2011. In 2018, they purchased Escort Mutual Fund and started their money management business. He adds Sandeep Tandon has experience of over 27 years and has worked with Kotak group, ICICI Securities and has been a Journalist as well in the past. The name of the new fund is "Quant ESG Equity Mutual Fund". This is the first time in India, that kind of fund has been launched; however, it is popular in other countries. Anil Singhvi asked Sandeep Tandon why Quant Mutual fund has chosen the ESG theme and even launched this fund.
Sandeep Tandon says he has been into markets for the past 27 to 30 years and like others has always focused on Financial Data in form of market data, Balance sheet data, trade data, volume data and economic data. Globally ESG has become more popular as it focuses on Non-financial data.
Companies had not been investing the required amount to protect the environment; also there has been social abuse and Governance issues had happened in the past. So there was a trend where companies were not able to get good funding if they are not ESG compliant, also the rating will be low for a non ESG compliant company. This concept started in Europe, 30 years ago. S&P 500 will not see any outperformance on the ESG front as the majority of these index component companies listed on S&P 500 are ESG compliant.
In India, companies say they are ISO certified, similarly ESG is also a tag given to ESG certified companies. In the last decade, the ESG index has outperformed the MSCI Emerging market index by 40 to 60%. Nifty has launched the Nifty Index this year in the month of September. If we compare Nifty Index to ESG Index, then there is an outperformance of 60% by the ESG Index. This clearly shows there is enough interest in the Emerging markets for ESG Index.  Sandeep Tandon believes like the U.S. at least for next 10 to 15 years there is a good opportunity for ESG index or ESG Index companies to outperform the normal index or normal companies.
ESG rating identifies the environmental, social and governance score of the companies, the process if followed globally as well. Infosys will not have more environment related issues when compared to a manufacturing company which poses more risk of damaging the environment. This process is relatively new experience for all as here via rating one is trying to quantify the Quality of the company. This will be a good source of outperformance.   
Anil Singhvi asks Sandeep Tandon how to evaluate the performance of their fund? What should be benchmark to monitor their performance?
To this, Sandeep Tandon said Nifty did launch "Nifty 100" in the month of September this year. Quant ESG Equity Mutual Fund performance should be compared with the Nifty 100 Index to monitor their performance. Many specialised vendors and consultants have entered the space of ESG rating. Many private equity investments coming into India, do their ESG due diligence and then invest in Indian companies. In India many companies are undergoing the process of getting evaluated on ESG front as it helps them to source funding easily from Europe and U.S. without much complications. If the ESG score is less or not upto the required mark then the probability for Investment in the company is ruled out. Indian companies have realised the importance of ESG and this will not help India but also the world. ESG implementation focuses on Environmental health, Social responsibility and Corporate Governance issues. Companies which have governance issues or low social responsibility will find it difficult to get funding. ITC once the market leader has not been performing well as their ESG score is low, Similarly NTPC and ONGC also have low ESG score. All those companies whose scores are below PAR when compared to the required scale of ESG are underperforming.
Digital Centric companies which include Banks, I.T. Centric Companies and Consumption sector companies have witnessed their PE multiple or any other valuation parameter has expanded in the past 5 years. 
Anil Singhivi then said that returns given by ESG compliant companies are much better when compared to other companies.
This fund should be compared to large blue chip companies as volatility in these companies are extremely low and downside is also protected. These companies are ESG compliant companies which makes it attractive for Investors. Relative risk of these quality companies is relatively low when compared to other companies. This fund is more attractive and beneficial for Risk averse investors and Senior citizens who prefer to play safe in the markets. This fund is different to other equity schemes in the market as this fund focuses more on Quality of the company.
See Zee Business Live TV Streaming Below:
In future, rating agencies and banks may tell companies if they are not ESG compliant they will have to pay higher interest to avail funding. Many organisations will not lend funds to companies if ESG score is relatively low. Companies whose ESG score is higher will also get higher valuation in the market. Emerging markets will take more time when compared to other countries to adopt the change. It is possible that the Mutual Fund Industry may also come and say in future that their Fund is ESG compliant.
The ESG theme is not lifelong but can do meaningfully well in the next 10 years and can beat the performance of Benchmark index Nifty 100.
Get Latest Business News, Stock Market Updates and Videos; Check your tax outgo through Income Tax Calculator and save money through our Personal Finance coverage. Check Business Breaking News Live on Zee Business Twitter and Facebook. Subscribe on YouTube.