Allowing FPIs directly in domestic stocks not possible: UK Sinha
Finance Minister Arun Jaitley will also join the seminar today later in the evening.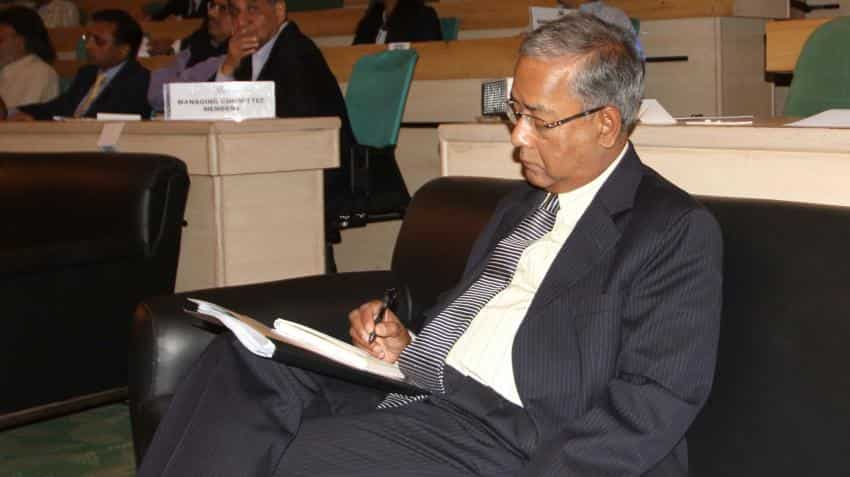 The taxation on income from corporate bond market is very high which needs to be reviewed, Sinha said. Photo: IANS
Allowing Foreign Portfolio Investors to invest directly in domestic stocks is not possible, said Securities and Exchange Board of India (Sebi) Chairman, UK Sinha today.
Last week, with an aim to deepen corporate bonds market by attracting more overseas funds, Sebi allowed well-regulated FPIs to trade directly in these securities without any broker. 
Several media reports quoted sources saying that depending on the response in the corporate bonds market, the FPIs could also get direct access to other segments of the capital markets at a later stage. But on Tuesday, Sinha said direct access to stocks to foreign investors wasn't possible. 
The investment by insurance, Employees' Provident Fund Organisation (EPFO), and Pension Fund Regulatory and Development Authority (PFRDA) is more towards Public Sector companies as compared to private sector issues, said Sinha.
Sinha, was speaking at a seminar on "Challenges in Developing the Bond market in BRICS", organised by the Department of Economic Affairs (DEA), Ministry of Finance, Government of India in partnership with Confederation of Indian Industry (CII). 
Speaking at the event, Sinha said the demand from corporate bond markets is only from institutions. He said that the banking sector is still playing a predominant role in the developing markets.
He pointed out that the taxation on income from the corporate bond market was very high which needed to be reviewed. He pitched for one uniform taxation to attract more corporate bonds. Following this, the retail participation in bond market is minimal despite government's effort to make tax free bond. 
Further, he said that the corporates find it easy to get finance from banks rather than the bond markets due to overdraft of the system for them to enter in the bond markets. To make it more flexible, earlier the listed companies had to disclose bond market issuance, but now Sebi has removed all the issuance. 
"Companies need to follow discipline of the market when they issue bond", Sinha said.
On a positive note, Sinha mentioned that, in the last two years, an upward trend has been seen in the bond market. He said that in the last financial year (FY16), $75 billion fresh issuance and yet a lot needs to be done to enhance the bond market.
The Reserve Bank of India's (RBI) proposal also pushed the markets, Sinha said. Last month, RBI had announced set of measures to encourage companies to borrow from the bond market, allowed lenders more freedom to give credit enhancements to lower-rated issuers, permitted foreign investors to trade directly in bonds and introduced a repurchase facility for corporate bonds. 
From next month, the complete repository information will be available in the bond market. The government has made changes in Debt Recovery Tribunal, Sinha said.
"In matters of bond holder protection no of steps have been taken", Sinha added.
With New Development Bank (NDB) functioning, the BRICS leadership is focusing on developing a vibrant bond market, seeing it as essential for infrastructure building.
Finance Minister Arun Jaitley will also join the seminar today later in the evening. 
"The one-day seminar is to provide a platform to share the best practices from BRICS countries and to explore the global best practices which may be adopted to develop this market," Jaitley said in a statement on Monday.
Updated: Tue, Sep 27, 2016
12:37 pm
Mumbai, ZeeBiz WebDesk