Air India Disinvestment: Jayant Sinha says only an Indian will have control of the airliner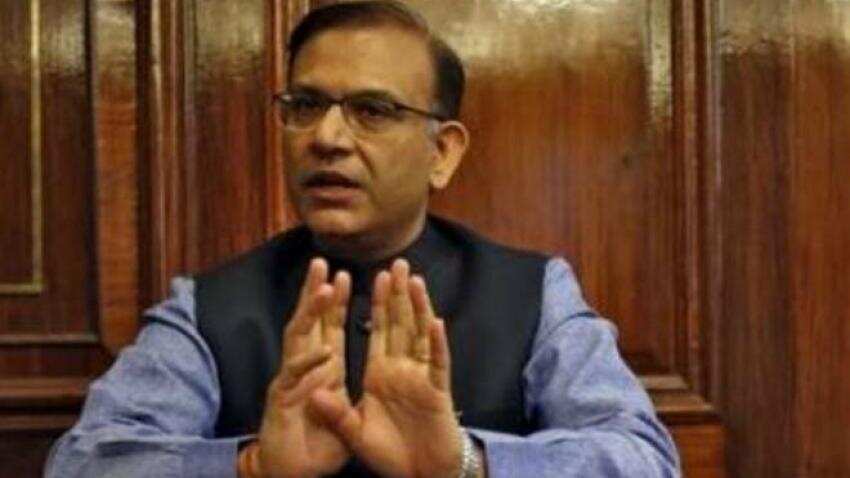 Union Minister of State for Civil Aviation Jayant Sinha said the NDA government is planning to come up with an employee stock ownership plan (ESOP) from its own stock in Air India. Image source: Reuters
Union Minister of State for Civil Aviation Jayant Sinha, in an exclusive talk with Zee Business's Sameer Dixit, said the NDA government is planning to come up with an employee stock ownership plan (ESOP) from its own stock in Air India. Citing the example of Maruti, he said, "You will have seen what happened to it. Today, it has a market cap of nearly Rs 2.5 lakh crore to Ra 3 lakh crore. It has turned up to be a valuable company under private ownership."  Sinha said that the government thinks that Air India will do exceedingly well after being transferred to the hands of new owners. He added that the Centre has faith that the new owners will take Air India to great heights and make it a great airline in the coming times. Sinha added, "There will be tremendous value creation."
The government on Wednesday gave an in-principle nod to sell 76 percent stake in the national carrier, Air India. Here are the edited excerpts from the interview:
Q: What is special for an AI bidder? Can you please inform us about the rules that have been laid down to attract bidders?
A: I feel, the government has developed an attractive transaction structure for bidders. Under the structure, the loan amount along with the unutilised land, which is not a part of operations, has been shifted to an asset holding company. This means only operational core land assets will go to the new Air India and all non-core land assets will be transferred to the holding company. 
In addition, the government will be selling 76% stake in the budget arm of Air India (national and international) and Air India Express (the discount career between Kerala and Gulf nations) - will be selling 50 percent in the ground handling unit. 
Q: Government wants to sell 76 percent management control of the national carrier to a private player. Can you explain about the voting rights that will be available to the government? What will happen when the issue of National interest crops-up? 
A: On the national interest front, I would like to inform you about the existing law. Under the law, the government can ask any airline, private as well as Air India, to come forward and help it in the name of national Interest like at times of earthquakes, cyclones as well as when any citizen is stuck in international locations. 
Q: There is no clarity on AI debt. According to statistics, everyone presents a different picture. Please provide a real picture of the debt and the formula to end it?
A: The formula is very simple. You can understand it with an ease if you know the process of dividing a subject into two parts. Our plan is to divide the loan of Air India, which is of about Rs 50,000 crore, into two parts. The first part will be with the government and the second part will go to the bidder, who successfully wins the bid for Air India. Exactly one division will come out to be Rs 24,576 crore. 
The government will be absorbing one part of the debt because it has a stake in Air India and the earnings from this stake will be used in paying off loans. 
Q: There is a confusion related to existing employees. Talks are there that the government may retain them on the job. What will happen to the employees of Air India? Secondly, what will happen with the brand name of Air India?
A: The government is currently considering the possibility of retaining its employees, even after the share sale. Employee means existing and retired staff of Air India. A consultation process with respect to their protection is currently underway.
For the purpose, we will be creating an employee stock ownership plan (ESOP) from its own stake (24 percent) in Air India. Once created, the ESOP pool will provide, employees a chance to take part in the future of Air India. He informed that this creation of ESOP pool will reduce the government's stake in Air India to 20 percent or less. 
In addition, we will be paying all back wages that the Justice Dharmadhikari Committee had recommended for the employees in its report 
When it comes to brand name Air India, I would like to talk about the kind of transaction structure that was prepared by us. Under the structure, Air India will be functioning as an independent company. That's why we have asked to keep Air India at an arm's length distance for three years and allow it to function freely. Similarly, we have also instructed to carry the brand name Air India for at least 3 years.
Q: What about the consortium that will be developed? You say companies with net-worth of Rs 5000 crore can only bid for the stake in Air India. It seems that no domestic airlines will be able to bid for it. Can you tell something about the rules that will allow Indian control over the airliner? Also, tell something about the percentage of share a foreign airline can have on Maharaja?
A: Let me be crystal clear about it. Under the new structure, Air India will always function as an independent company and only Indians will be allowed to govern it. 
It is an Indian company and will always continue to be an Indian company. 
We have a cap of 49 percent on Foreign Direct Investment (FDI) that the same capping will be there in the consortium. 
Air India has always been a crown jewel for India, since 1934, the year when it was created by Shri JRD Tata. And it will continue to be a jewel. 
Secondly, you asked will we allow foreign investors in the consortium. Yes, they are welcome but their ownership will be limited to maximum 49 percent. 
Thirdly, you were talking about the net worth and said that the domestic airlines will not be able to participate in the race. Definitely, net worth is essential to make sure that the next owner runs Air India with the same respect. 
When it comes to domestic airlines than I would like to inform you that airlines with negative net worth are also allowed to bid for the consortium. We will consider their negative net worth as zero and allow them to bid for an ownership of 51 percent. 
Q: My last question is related to the interest that has been displayed by other players. So far, Indigo is the only airlines that have displayed its interest in Air India. Can you please let us know about some other companies (if any) that has shown its interest in the bidding process or will be able to get the names directly in May?
A: It is a confidential process and thus the government can't provide the names. The bidders have all rights to go to the public and announce the same like Indigo.
Updated: Thu, Mar 29, 2018
05:46 pm
New Delhi, ZeeBiz WebDesk