After 14 years! New norms of classification of MSMEs for Aatmanirbhar Bharat - All you need to know
Modi government-led Ministry of MSME is gearing up to implement the New Norms of classification of MSMEs.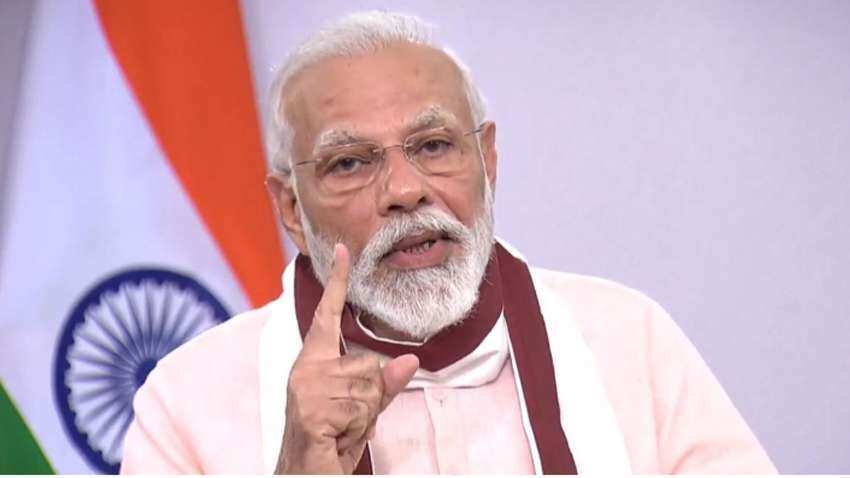 The existing criterion of definition of MSMEs is based on the MSMED Act, 2006. PIB photo.
Updated: Sun, Jun 07, 2020
12:40 pm
ZeeBiz WebDesk
Modi government-led Ministry of MSME is gearing up to implement the New Norms of classification of MSMEs. New definition and criterion have been notified and will come into effect from 1st July, 2020. As part of new definition, exports will not be counted in turnover for any enterprises whether micro, small or medium. Also, handholding mechanism named "Champions" is in place to assist MSMEs. Issuing a gazette notification, Union Ministry of Micro, Small and Medium Enterprises has paved way for implementation of the upward revision in the definition and criteria of MSMEs in the country.
 
After 14 years since the MSME Development Act came into existence in 2006, a revision in MSME definition was announced in the Aatmanirbhar Bharat Package on 13th May, 2020. As per this announcement, the definition of Micro manufacturing and services units was increased to Rs. 1 Crore of investment and Rs. 5 Crore of turnover. The limit of small unit was increased to Rs. 10 Crore of investment and Rs 50 Crore of turnover. Similarly, the limit of medium unit was increased to Rs. 20 Crore of investment and Rs. 100 Crore of turnover. The Government of India on 01.06.2020 decided for further upward revision of the MSME Definition. For medium Enterprises, now it will be Rs. 50 Crore of investment and Rs. 250 Crore of turnover.
The existing criterion of definition of MSMEs is based on the MSMED Act, 2006. It was different for manufacturing and services units. It was also very low in terms of financial limits. Since then, the economy has undergone significant changes. After the package announced on 13th May, 2020, there were several representations saying that the announced revision is still not in line with market and price conditions and hence it should be further revised upwardly.
"Keeping in mind these representations, Prime Minister Narendra Modi decided to further increase the limit for medium Units. This has been done in order to be realistic with time and to establish an objective system of classification and to provide ease of doing business," Ministry of Micro, Small & Medium Enterprises said.
Reacting to the MSME related developments, Meghna Suryakumar, Founder and CEO, Crediwatch, a credit intelligence firm, said, "In our view, some of the measures which should be welcomed by small businesses in India are - New definition for MSMEs - As per the new regulation, the new categorization of investment of Rs 1 cr and turnover of Rs 5 cr being classified as micro-units. Units with an investment of Rs 10 cr and turnover of Rs 50 cr will be classified as small units while those with an investment of Rs 50 cr and turnover of Rs 250 cr will be classified as medium units.the new definition will promote them into growing further in size and scale. The infusion of Rs 50,000 crore equity scheme for MSMEs with an excellent export track record will help them in getting listed, this move to further push – India's step onto becoming self-reliant."
Moreover, Meghna Suryakumar adds, "Collateral-free automatic loans - While this extends the previous loan moratorium benefits, the new terms should benefit as many as 45 lac businesses and help with working capital requirements in coming days. We believe, setting the threshold for eligibility (Rs 25 cr outstanding and Rs 100 cr turnover) is helpful. This would help the small businesses meet some immediate working capital needs like salaries, rents etc and would help kickstart the business after the lockdown.  The distressed asset fund of Rs 4,000 crore, will aid 200,000 distressed MSMEs with loans of up to Rs 75 lakhs."
Rajesh Gupta, Founder and Director, BUSY Infotech, a firm for business accounting software for MSMEs, "It's been a long time that the government was planning to finalize a new definition of MSME sector that aims to benefit small businesses. Recently, the government announced a new definition that will be based on turnover as well as an investment too. As per the new definition of MSME, now companies with turnover of up to Rs 250 Crore comes under the ambit of MSME. It will help several businesses remain in the priority sector lending list of banks. More businesses can also enjoy incentives announced for the MSMEs in the economic relief package of Rs 20 lakh crores by FM Nirmala Sitharaman."
Kiran Dham, CEO, Globus Infocom Ltd. said, "The announcements made by the Government to provide relief to the MSME & SME sectors who are greatly affected by the Covid-19 pandemic are well thought of & will surely help streamline the business operations. This will act like working capital for cranking up their business again by helping them to perform functional and operational tasks with a little ease. Now with the announcement of collateral-free loan for MSME, banks are also finding it risk free to lend such small scale businesses loan to re-establish their businesses & streamline the operations."
Dham adds, "Also the initiative of Aatmanirbhar Bharat Abhiyan will only boost the business of around 45 lac MSMEs in a big way. Our industry also provides ample opportunities for this sector , which will help them get back in the market. The MSMEs & SMEs are quite agile & flexible & with a little support from the Government and they are bound to bounce back with more power & strength." 
Sandip Chhettri, COO, TradeIndia.com, an online B2B marketplace, said, "The Cabinet's decision to further upward the investment and turnover limits for medium enterprises is a welcome one. After 14 long years since enactment of the MSME Development Act, a revision in MSME definition was announced last month, according to which limit of medium units was increased to Rs. 20 Crore of investment and Rs. 100 Crore of turnover. Now on June 1, it has been decided that for medium enterprises the limits will be Rs. 50 Crore of investment and Rs. 250 Crore of turnover."
"After the May 13 decision, objections were raised that the Rs. 20 crore/100 crore limit was not enough considering market and price conditions, and it is great to see the Centre taking a positive step so promptly. Time has changed, and so is the market, and the latest move is a realistic and big step forward. We are also very positive about the new composite formula of classification for manufacturing and service units as now there will be no difference between the manufacturing and service sectors,"  Sandip Chhettri added.
Ashwajit Singh, Managing Director, IPE Global, said, "A stimulus package of INR 5.9 lakh crore – the first tranch of the INR 20 Lakh crore for the Atmanirbhar Bharat Abhiyan (Self-reliant India movement) – has given a booster shot to the MSME sector. Of the 15 measures announced, there were six for the MSME - collateral-free loans up to INR 3 lakh, INR 20,000 crore subordinate debt for stressed units, INR 50,000 crore equity infusion, revised MSME definition, clearance of all MSME dues in 45 days and disallowance of global tenders up to INR 200 crore. The other two measures related to NBFCs/MFIs/HFCs would also indirectly help the MSMEs. The measures look at giving a boost to liquidity in the sector."
 
Ashwajit Singh adds, "Most of the MSMEs in India want to continue as dwarf enterprises and do not want to grow primarily due to a fear of losing out on benefits enjoyed. They manage their turnover within the low limits. Revealed in the Economic Survey 2018-19, these dwarf MSMEs contribute 8% to productivity and account for 14% of the employment. In contrast, large firms with more than 100 employees account for 75% of the employment base and contribute close to 90% of the productivity. Yet, large firms only make up 15% of the total number of enterprises in the country. The change in MSME definition with a much higher turnover limit of up to 100 crore (a new criterion) besides the investment limit revision to 20 cr. will incentivize them to grow. Added to this, the disallowance of global tenders up to INR 200 crore will support their growth."
Sonam Chandwani, Managing Partner at KS Legal & Associates, said, "India's backbone, the MSME sector which contributes about 1/3rd to the GDP has jeopardized livelihoods of over 11 crore people in the pretext of the COVID-19 outbreak. To ease liquidity woes and jumpstart production and sales for the sustenance of the small and medium enterprises, it's definition has been amended to pass increase the quantum and spread of beneficiaries throught the country. Pursuant to the new definition, turnover limit for Medium Enterprise went up from Rs 100 crore to Rs 250 crore thereby enabling larger number of companies to take advantage of measures accorded to MSMEs. With the amended definition in effect, more enterprises will qualify for the government's economic package, including personal guarantees upto 85% and a Rs  50,000 crore equity infusion. The new string of beneficiaries under the amended definition will provide respite to more companies but is likely to spread the government treasury thin and grim."
Get Latest Business News, Stock Market Updates and Videos; Check your tax outgo through Income Tax Calculator and save money through our Personal Finance coverage. Check Business Breaking News Live on Zee Business Twitter and Facebook. Subscribe on YouTube.