Adventure tourism on your mind? Play safe, check out these 29 new guidelines
Tourism Minister KJ Alphons said these guidelines are a beginning to building adventure tourism in India. The Minister also added that for India to be a well sought after destination, the facilities and support staff should be developed according to global standards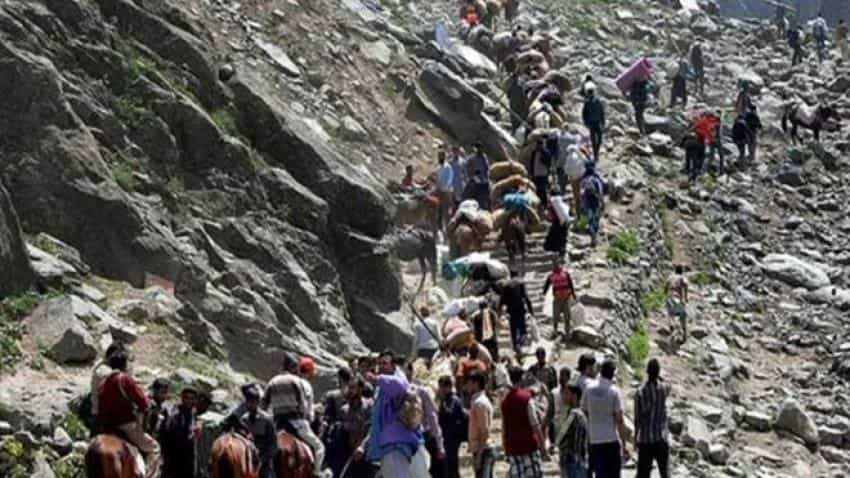 Tourism Secretary Rashmi Verma said the guidelines have been issued seeing the expansion of the sector and respective states will be taken actions against those who don't follow the guidelines. Image source: PTI
Updated: Fri, Jun 01, 2018
01:28 pm
ZeeBiz WebDesk
Tourism Minister KJ Alphons launched government guidelines on adventure tourism in India. Releasing the guidelines in New Delhi on Thursday, Alphons said, "India has immense potential for adventure tourism ranging from the Himalayas to the coastal regions." These 29 guidelines cover land (15), air (7) and water-based (7) activities which include mountaineering, trekking, bungee jumping, paragliding, kayaking, scuba diving, river rafting and many other sports. 
He said these guidelines are a beginning to building adventure tourism in India. The Minister also added that for India to be a well sought after destination, the facilities and support staff should be developed according to global standards.  Tourism Secretary Rashmi Verma said that the guidelines have been formulated in consultation with all stakeholders like State Governments, Adventure Tour Operators Association of India and now they need to be adopted so that India could be an internationally acclaimed adventure tourism destination. She added, the guidelines have been issued seeing the expansion of the sector and respective states will be taken actions against those who don't follow the guidelines. 
The initiative aims at helping adventure tour operators to understand and execute safety guidelines in a better way. Not only this, the guidelines also codify the standard operating procedures and instructions for risk mitigation and emergencies as well as provide for details like safety precautions, training required and insurance. It covers the role of a guide, important equipment required, inspections and maintenance process, operating instructions and medical safety and others.
Guidelines for various activities: 
Bungee Jumping - 
The jump staff particularly the jump masters should be properly trained and have vast experience in this activity. They should possess a calm and mature attitude and have an eye for detail/errors. They require a very high level of physical fitness, self-discipline, excellent communication and risk management skills and also the motivation to perform these activities. 
Equipment - The equipment used for bungy jumping should be certified and procured from reputed companies. The storage and maintenance of the equipment have to be proper. Regular inspection of the equipment should be carried out and a record should be maintained. No unauthorized person should have access to the equipment. All the discarded equipment should be removed from the site and destroyed. 
Camel Safari - 
Camel Guides: Basic minimum qualifications and experience:
a) The animal should be healthy and of a good size. The camel should not be too young since a young camel is often not strong enough to carry the weight of a rider. 
b) All camels in Rajasthan are Dromedaries (with a single hump) and the saddle used on safaris seats, two people. Two persons should get on the same camel only if their combined weight is below 65 kgs. 
c) The tack used on the camel must be of good quality and comfortable for both camel and rider. 
d) Stirrups must be provided with the saddle for the riders. 
e) The girth must be secured properly, otherwise, the saddle might slip and it is a long way down for the rider. 
Training Programmes for Camel Guides should include: 
a) Good desert knowledge and field training in desert ecosystems. 
b) Provide vernacular medium literature for local guides. 
c) Training in soft skills like communication, hospitality & hygiene. 
d) Importance of being well turned out. 
e) First Aid training to handle medical emergencies and also scaled viper bites and scorpion stings. 
f) For multiday camel trips, it is recommended to limit distance per day to under 20kms on camelback. 
Suggested Minimum Qualification and Experience for Camel Guides: 
a) First Aid certification. 
b) Should have comprehensive knowledge of desert ecosystems. 
c) Minimum five years experience of working with animals. 
Equipment required during a camel safari 
a) Good Binoculars/ Spotting Scope. 
b) Optional - Good camera. 
c) Books and Field Guides for Desert Birds/Mammals/Snakes/Insects etc are a must. 
Rock climbing: 
Guides and instructors who are supervising climbing and abseiling activities should, as a minimum, hold valid certificates for the following: 
a) A minimum 8 hour (1 day) first aid course provided by a recognised and qualified provider. 
b) Basic Mountaineering Course from any of the National Mountaineering Institutes and be certified by an MOI Qualified Instructor to have assisted climbing and abseiling activities for a minimum of 100 hours OR Indian Mountaineering Foundation (IMF) recognised Sports Climbing Instructors course or should have sufficient experience certified by suitably qualified Coaches/Instructors duly recognised by IMF. 
Equipment
a) The correct use and proper maintenance of climbing equipment are essential for conducting safe climbing and abseiling activities and should never be taken lightly. 
b) Although these standards do not cover the fitting or construction of fixed protection systems, these systems should be rated by the manufacturer and have a quantifiable safe working load. As a minimum standard for such systems, operators must adhere to a safety factor of 3 in accordance to the operator's' weight limitations. In addition, fixed protection systems must be proven to withstand 10KN (1 ton) without displaying any visible deformation or damage. In order to fully understand appropriate fixed anchor/ protection systems, an operator must also have sound knowledge of static/dynamic load and fall factors. 
By Shiv Prakash Yadav
Get Latest Business News, Stock Market Updates and Videos; Check your tax outgo through Income Tax Calculator and save money through our Personal Finance coverage. Check Business Breaking News Live on Zee Business Twitter and Facebook. Subscribe on YouTube.