Adoptions rise but mobile wallets still less than 1% of all digital transactions
Mobile wallets that were glorified during the demonetisation era were just 1% of overall value transactions in FY17. 
File Photo (From right) Finance Minister Arun Jaitley and SBI chief Arundhati Bhattacharya during the launch of SBIs Mobile Wallet. Photo: IANS
Key Highlights:

Mobile wallet transactions amounted to 10% of overall transaction volumes in India.
However in value transactions it was just a mere 1%.
Debit and Credit card circulation had increased drastically in FY17.
The number of transactions using mobile wallets had increased in India however the percentage of amount paid via this cashless mode was abysmal in the last fiscal year.
After the government banned old Rs 1000 and Rs 500 notes which lead to a shortage of physical cash people resorted to cashless ways which boosted volume and value transactions on mobile wallets like Paytm, MobiKwik and even PayU. However cash transactions have been restored to its pre-demonetisation levels.
"Despite now accounting for 10% of the overall transaction volume in India, mobile wallets form less than 1% of the transaction value," a report by Deloitte said which was unveiled at the Retailers Association of India CFO conference on August 23.
Digital payment transaction volumes amounted to 2100 crore in FY17 with a total value of transaction of Rs 2,295 lakh crore.
In comparison, mobile wallet transactions comprised just 163 crore volume transactions and Rs 53,200 crore of value transactions in FY17.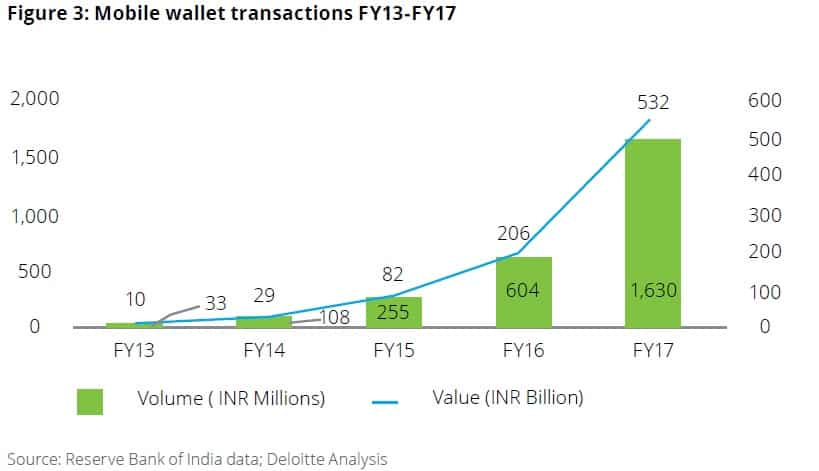 At the summit, Chief Financial Officers (CFO) of various retail companies pointed out that one of the deterrents to using mobile wallets was that customers had to load cash into the wallet every time they want to use it.
"Unless a wallet is not linked to customers' bank accounts and you have to reload cash in the wallets manually that is going to always be a hindrance to use e-wallets," said CP Toshniwal, ED, Future Lifestyle Fashion and CFO Future Retail said.
Ashwin Khasgiwala, Director and CFO, Reliance Retail said that the ticket size observed for grocery shopping in Reliance stores was smaller in size and so people preferred to use cash. However shopping at Reliance Trends and its fashion outlets demanded a larger ticket size. More people then tend to use cards instead, Khasgiwala added.
Though debit and credit cards got a huge head start in India the CFOs felt that Unified Payments Interface (UPI) introduced by National Payments Corporation of India (NPCI)
was a burgeoning disruptive threat. However its usage isn't taking off. 
Along with UPI, Aadhaar Pay was cited as another upcoming disrupter with its biometric technology. But card transactions still ruled the way of digital transactions.
"In FY17, card transactions accounted for 60% of the total digital transactions volume. While this proportion has declined since FY13, due to the increase in share of other payment modes, the overall number of cards (debit and credit) in circulation has actually increased," the report said.
It further pointed out that the total number of debit cards in circulation increased from 55.3 crore in FY17 to 86.7 crore in April 2017. Credit cards also increased from 2.1 crore to 3.1 crore in the same period.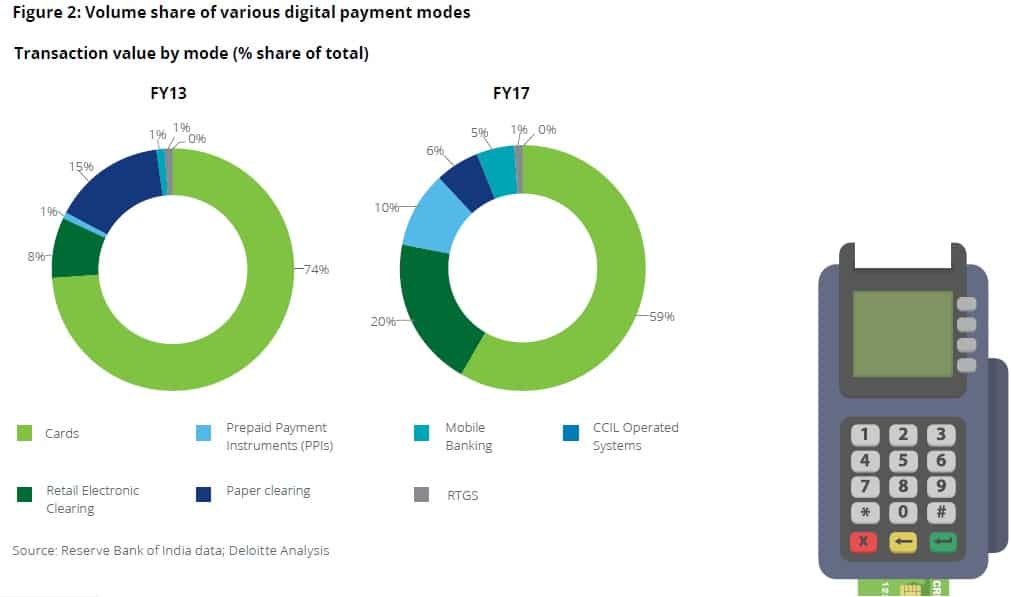 Push for e-wallets 
Post demonetisation, mobile wallets boasted on garnering new users every month. Paytm said they had 10 crore active users in the month of May. The number of total wallets in February this year was 20 crore. However average balance in the wallets amounted to just Rs 45.  
MobiKwik had 5.5 crore user base in May of this year.
However, mobile wallets still pushed on for its use via e-commerce portals. Flipkart introduced Flipkart Money to become one-stop shop for online shopping and payment. BSNL introduced SpeedPay in July, 2016. And Reliance Jio introduced Jio Money last year.
In addition to the above, companies like Mahindra and Micromax India have also launched their own mobile wallet solutions.
Besides the e-commerce edge, mobile wallet companies like Amazon Pay and PhonePe were offering cashback with recharges on Jio and purchases from e-commerce websites.
So what's the challenge?
Cash loving Indians is just one aspect of this predicament. 
Some of the challenges of using mobile wallets in India were listed by Deloitte report as follows.
1.  Inertia in adoption: Cash transactions have been the dominant payment mode for Indians for a very long time. Even though the penetration of digital payments has been rapidly increasing, concerns regarding security, privacy and transparency of charges are still prevalent among consumers. Industry players will need to invest significant effort to overcome this barrier, not only through marketing campaigns, but also through actual continuous product improvement.
2. Risk of security breaches and fraud: The risks of a breach leading to financial loss is a very important decision factor for adoption of digital payment technologies.
Reliance Retail's Khasgiwala said that the hacks that happen on account of cybercrime were a one of instance and not an 'epidemic.' Though it is concerning, it is not a very big issue.
"Lot of banks are indemnifying customers on credit and debit card hacks. If mobile wallet companies can indemnify customers which will assure them their money back in case of a cybercrime that would help," Vijay Jain, CFO Hypercity said.
3. Competition from Credit & Debit Cards: Given the current limits on transactions through this channel, limits which are wider in the case of cards does provide a significant roadblock to adoption.
4. Issues with compatibility: Not all applications are made for all operating systems on mobiles. Many products currently on the market are only compatible with one or two operating systems (most commonly iOS and Android).
5. Consolidation in the industry: Despite the surge in the user base and popularity, mobile payment companies are increasingly moving towards consolidation in the e-wallet space. Lack of funding and growth in transactions between merchants and existing customers of wallet companies has forced consolidation in this space.
6. Impact of UPI: Introduction of UPI has created greater competition for mobile wallets but in the short-term, mobile wallets are not expected to face a great impact. UPI powered apps will need to deliver on a number of fronts including transaction costs and ease of use that rivals that of mobile wallets.
7. Moving beyond core services: Players in the mobile wallet space have begun moving beyond their core service and delivering collateral services. For example, PayTM provides a broad range of m-commerce services. Offline connect has become one of the significant domains adopted by mobile wallet players to democratize their platform. In addition to m-commerce, other e-wallet players like MobiKwik have ventured into hyper local transactions, cash pick-up and microcredit facilities. Adapting business models to meet consumer needs, and to differentiate products from other alternatives, including the UPI, will be a continual challenge for the companies.
A last concern of the CFOs was adoption of mobile wallets in rural India for which the argument favoured in the need for literacy and technology.
Reliance Retail's Khasgiwala spoke of the upcoming JioPhone, the pre-booking registrations for which began on August 24. He said that India's ranking improved with the introduction of Reliance Jio's digital launch and the 4G VoLTE enabled JioPhone will bring in the 'affordability' factor for rural India to avail.
Placing an alternative suggestion in front of the panel, Hypercity's Jain spoke in favour of WhatsApp which has been working with UPI to bring a payments interface to the messaging platform.
"We are all comfortable in using that app and I think even rural India will be able to use WhatsApp as well," Jain added.
Get Latest Business News, Stock Market Updates and Videos; Check your tax outgo through Income Tax Calculator and save money through our Personal Finance coverage. Check Business Breaking News Live on Zee Business Twitter and Facebook. Subscribe on YouTube.
Updated: Fri, Aug 25, 2017
11:54 am
Mumbai, ZeeBiz WebDesk