A 40 year relationship to strengthen further as Isha Ambani set to marry Anand Piramal; 7 key things to know
Even as Isha Ambani is set to marry Anand Piramal, twin Akash Ambani also engaged to schoolmate Shloka Mehta who is daughter of diamantaire, Russel Mehta.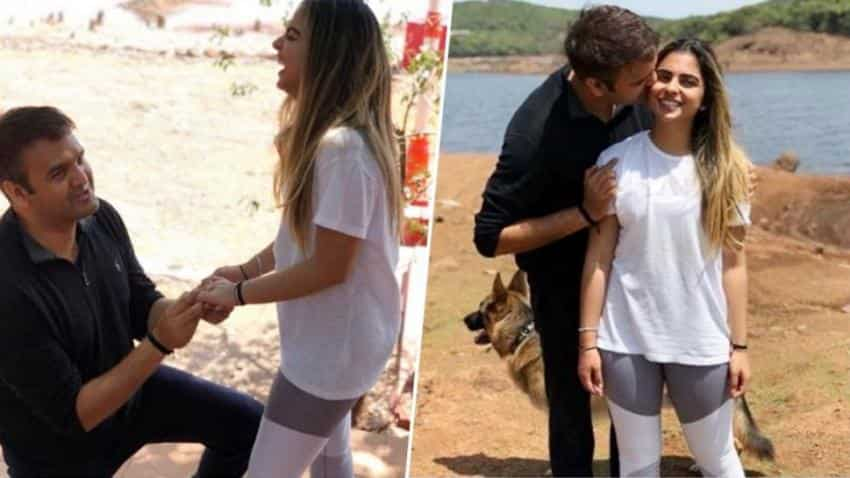 Anand Piramal proposing Isha Ambani. Photo: Zeenews
Wedding bells will be ringing hard and long in Mukesh Ambani's family, as his daughter Isha Ambani will tie the knot with 33-year old Anand Piramal in December in India this year. Isha is  Nita and Mukesh Ambani's daughter, and also Akash's twin, who will wed Anand Piramal, son of Swati and Ajay Piramal. Recently, Isha's twin Akash Ambani also engaged to schoolmate Shloka Mehta who is daughter of the diamantaire, Russel Mehta. Here are 7 things that you should know about it: 
Isha and Anand proposal
Anand and Isha have been long-time friends and both their families share a strong bond of friendship that goes as far back as over four decades.
Anand proposed to Isha at a temple in Mahabaleshwar.
The couple celebrated the occasion with a lunch, joined by their parents – Nita, Mukesh, Swati and Ajay, Isha's grand parents, Kokilaben Ambani and Purnimaben Dalal, Isha's twin brother Akash, younger brother Anant, Anand's sister Nandini, Peter, Anya, Dev and other family members.
On May 06, the couple along with their parents went to ISKCON, Radha Gopinath Temple at Girgaum Chowpatty to seek blessings. In the image, parents Mukesh and Nita are seen standing alongside Isha during the temple visit. Anand is also joined by his parents Swati and Ajay Piramal.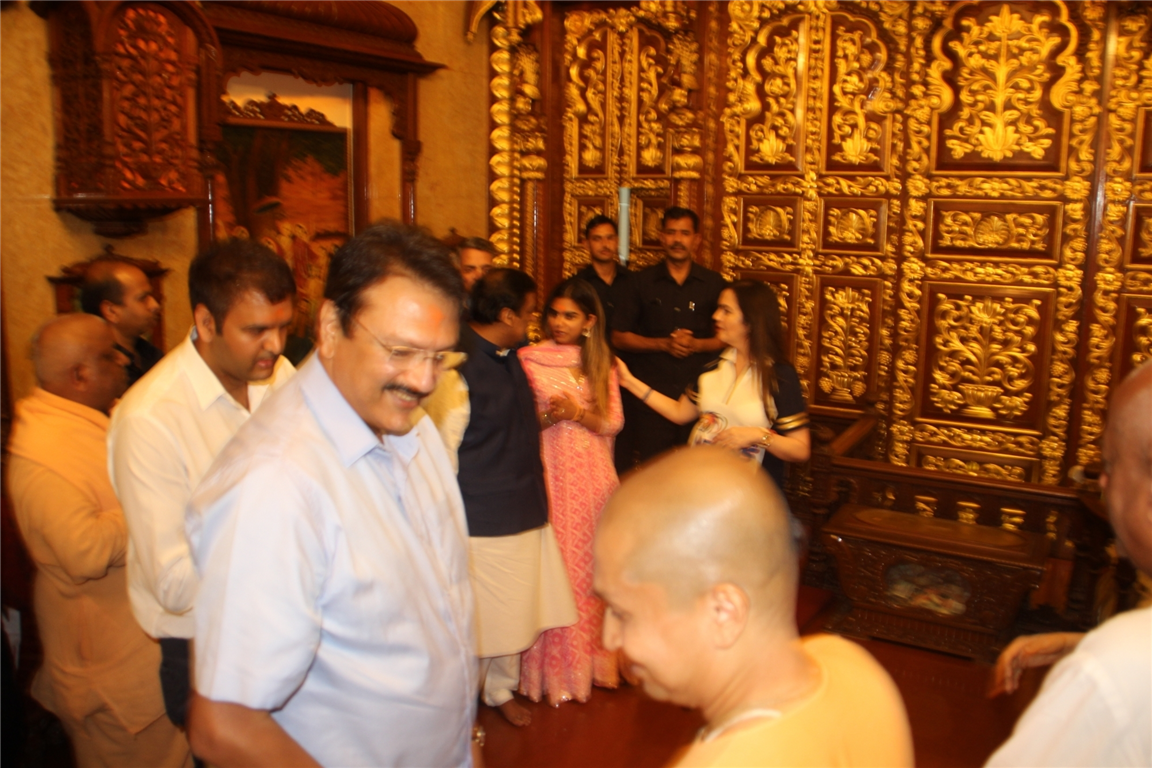 Isha was also joined by younger brother Anant Ambani.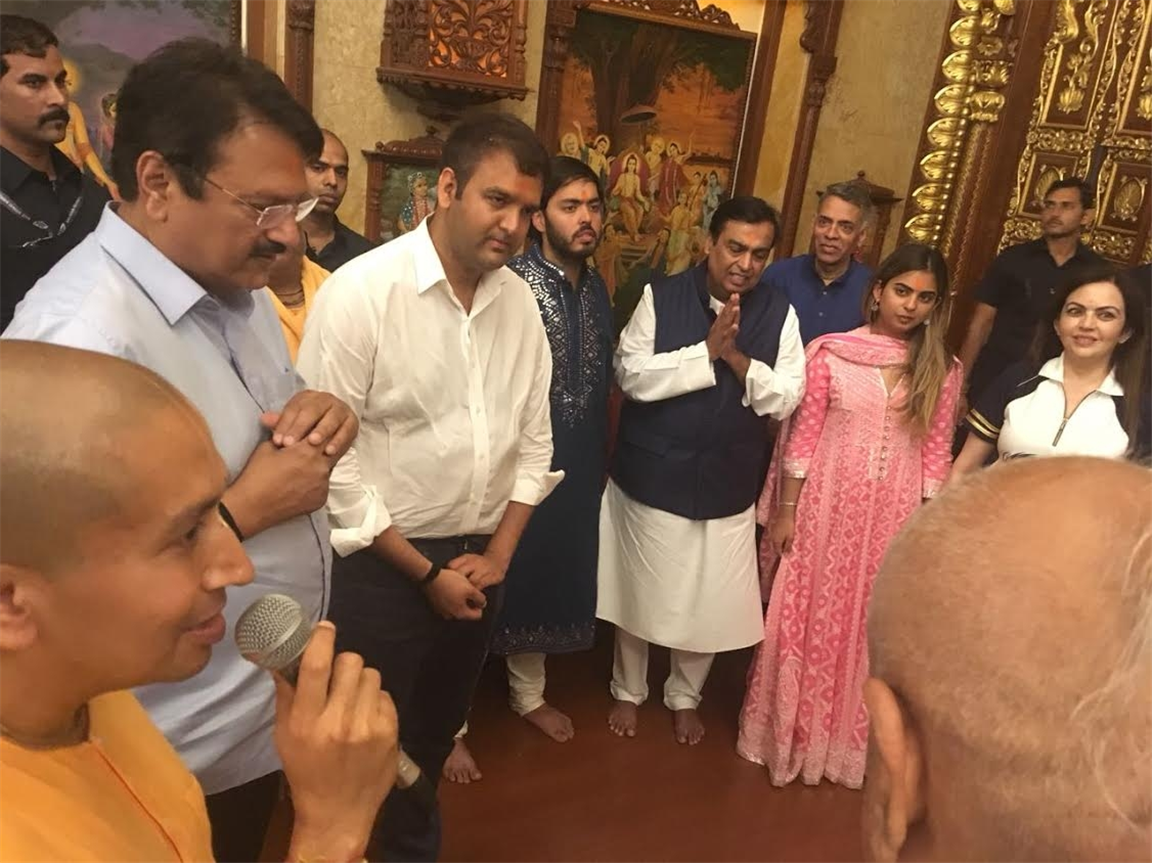 From the images uploaded by IANS, it can be said brother Akash Ambani was not present during the occasion.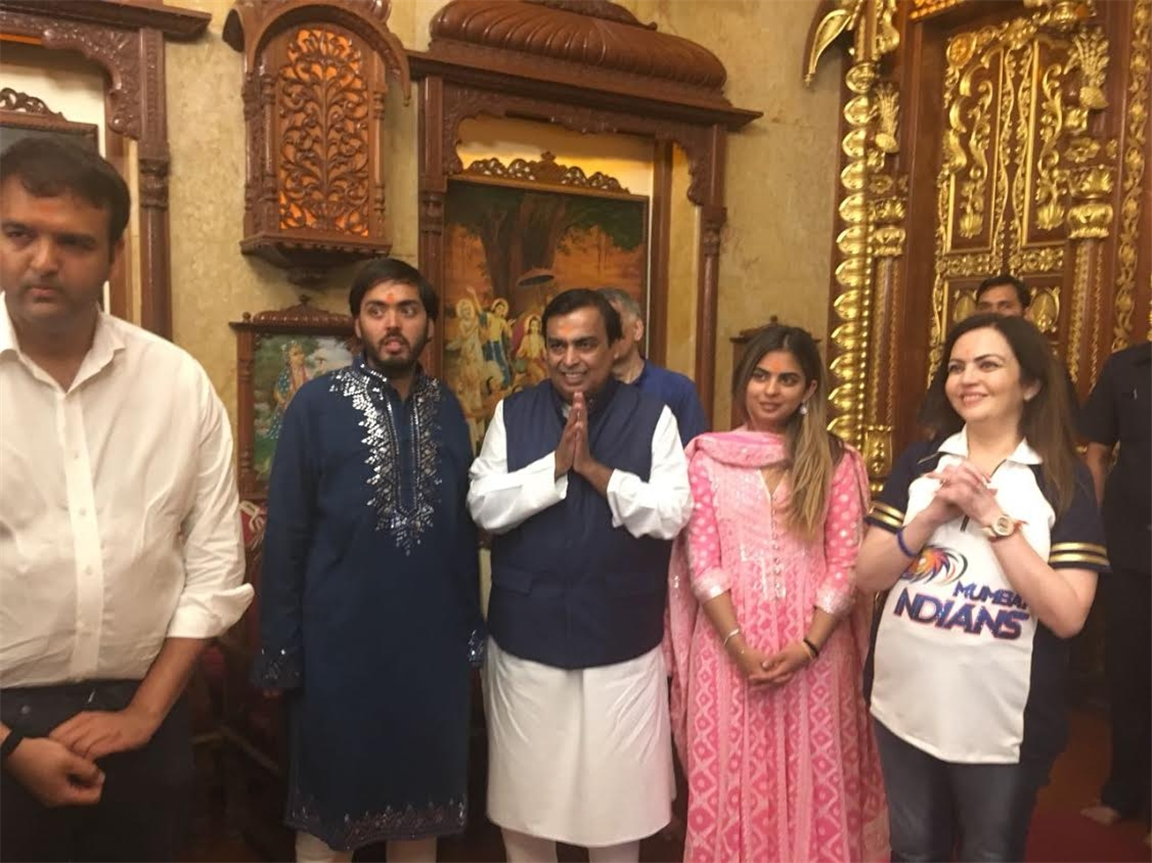 Isha and Mukesh Ambani 
Isha was born on October 23, 1991 and is a business woman in her own rights. She is a graduate in Psychology and South Asian studies from Yale University. 
She joined the board of directors of Jio, which has turned the world of Indian telecom upside down since inception. She is also on board of Reliance Retail. She entered both the companies in October 2014.
Isha was ranked 2nd on the Forbes' Youngest Billionaire Heiresses list in 2008, with a net worth of Rs 4,710 crore. She even became among 12 powerful upcoming businesswomen in Asia in 2015. 
In her career, Isha has also worked as a business analyst with the management consulting firm, McKinsey & Company, before joining Jio and Reliance Retail.
It has been revealed that, Isha led the launch of Jio's 4G services along with her brother in the presence of the brand ambassador, Shah Rukh Khan.
Her success continued further In April 2016, where she launched AJIO which is an online fashion retailer, at the 2016 edition of Lakme Fashion Week. It is said, Isha sees the branding and management segments of AJIO, which is a subsidiary of Reliance Retail.
Isha will be completing her Master in Business Administration programme from the Graduate School of Business, Stanford by June.
Anand Piramal
Anand Piramal is Executive Director of the Piramal Group and is responsible for its real estate business and is actively involved in group strategy, values and organisation development.
Before Anand joined the group, he founded a start-up called Piramal eSwasthya, which aspires to democratise healthcare. This company attends to somewhat 40,000 patients a day with 100,00 medical vans installation. 
Anand is also founder of Piramal Realty, one of India's most admired real estate companies. 
Anand has graduated with a BA from the University of Pennsylvania and a MBA from the Harvard Business School. He has been actively engaged in several of Piramal Foundation's activities and has been the youngest President of the Indian Merchant Chamber - Youth Wing.
Ajay Piramal and Mukesh Ambani 
Ajay Piramal, 62, is father of Anand and has an estimated net worth of $4.6 billion as per Forbes list of 2018.
Ajay leads Piramal Group, a diversified conglomerate with a presence across 100 cities. Under his leadership, the group evolved from a textile centric business to a US$ 7.5 billion conglomerate with diversified business interests across pharmaceuticals, packaging, financial services and real estate.
Ajay's vision is to make Piramal Group a $20 billion company by 2020.
Mukesh is the 18th-wealthiest person in the world, with a net worth of $43.2 billion, as per Forbes January 2018 list. He has held the title of India's richest man for more than a decade now. 
Through Reliance, Mukesh also owns the Indian Premier League franchise Mumbai Indians, which led him to become  the richest sports owners in the world in 2012 by Forbes. Also Mukesh and his family resides at the Antilia Building, one of the world's most expensive private residences, with an estimated value close to $1 billion.
Mukesh stepped into telecom market with Jio with own 4G smartphone brand named LYF in February 2016. By June 2016, the brand become India's third-largest-selling mobile phone. Also, in  40th annual general meeting of Mukesh announced a bonus shares in the ratio of 1:1 through RIL, which is the country's largest bonus issue in India, and announced the Jio Phone at an effective price of Rs 0.
As of February, 2018, Bloomberg's "Robin Hood Index" estimated that Ambani's personal wealth was enough to fund the operations of the central government for 20 days.
RIL, Piramal Enterprise soars on index 
Both Reliance Industries and Piramal Enterprise share price soared on stock exchanges by 2% after the engagement news of Isha and Ambani stole limelight. Investors were optimistic on the share price of these two companies, because it's a friendship of 40 years that will turn into relationship. Also both the company have strong business portfolio and these two entering into relationship, comes as a good news for investors. 
After touching an intraday high of Rs 973.30 per piece, Reliance was trading at Rs 968.90 per piece on BSE above Rs 15 or 1.57%. 
While Piramal Enterprise share price was trading at Rs 2,514.10 per piece on BSE, above Rs 20.40 or 0.82%. The company has touched an intraday high of Rs 2,539 per piece, which results in overall rise of 2% in today's trading session. 
Mukesh mentor of Anand
Anand has thanked Mukesh Ambani for guiding him in his business career. According to Economic Times report, Ambani, a long-time family friend, told the young Piramal drawing parallels from his favourite sport. "In the long run, if you want to play the game, grab the opportunity without wasting time and try to achieve all your goals by the time you are 30. Play the game, make mistakes, but pad up." 
Mukesh's advice led Anand in real estate sector with Piramal Realty.
Piramal Realty's board of advisors include some big names. The company has luminaries like Ajay Piramal, Chairman of Piramal Group and Shriram Group. It has on board, Deepak Parekh chairman of HDFC, Nitin Nohria dean of Harvard Business School, Robert Booth CEO of Emaar Properties PJSC, Subbu Narayanswamy Director of Mckinsey & Co and also head of real estate practice in Asia. Further Nitin Malhan MD and Co-head of Warburg Pincus and Ankur Sahu MD & Co-head of Goldman Sachs. 
In 2015, Anand raised Rs 1800 crore from Warburg Pincus and then within three weeks another Rs 900 crore from Goldman Sachs. Together the company has invested about $434 million in Piramal Realty which is the largest FDI in the sector since 2008. 
Will the wedding be held along with Akash Ambani?
Akash and Shloka also plan to get married in December. As per reports, the wedding is expected in early December of this year. News agency PTI has even revealed likely dates - December 8-12, 2018 - and the venue too - the Oberoi, Mumbai. 
Their marriage news broke on March 04, where it said that Shloka is the one whom Ambani family have chosen for elder son Akash. Later by end of March 2018, both officially announced their engagement ceremony and plans to get married in December this year. 
For now there are no specific dates announced for Isha and Anand's marriage, however the month is fixed in December just like Akash and Shloka. So can we expect Isha's wedding to take place alongside twin brother Akash. 
Updated: Mon, May 07, 2018
04:47 pm
Mumbai, ZeeBiz WebDesk