7th Pay Commission: This is why discussion on minimum pay, fitment factor could be delayed further
It has been more than a year now and the Central government is yet to settle the minimum pay scale issue. The recent report suggests that fitment factor and pay scale issues under the 7th Pay Commission would not be considered an anomaly.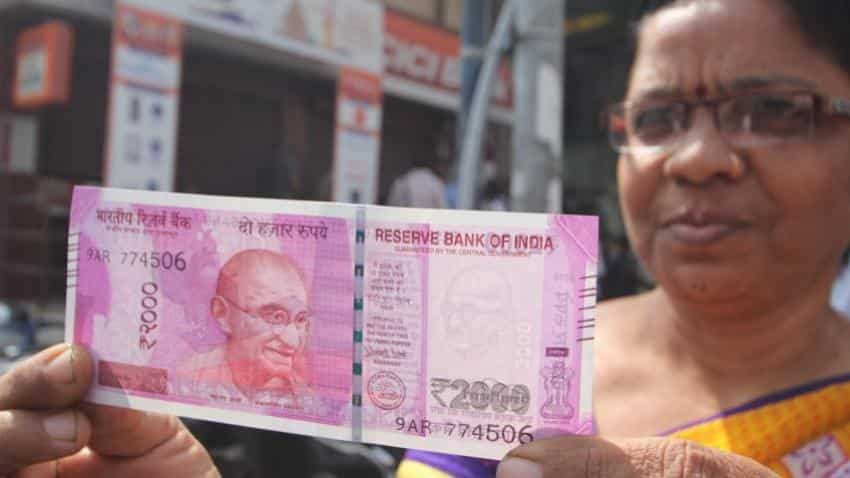 A woman shows Rs 2000 note. Photo: IANS
7th Pay Commission woes continue for nearly 34 lakh civilian employees and 14 lakh defence forces personnel who are still awaiting clarification from central government in regards to their minimum pay and fitment factor demand.
However, looks like the discussion on these employees' pay scale may be further delayed due to Cabinet's recent approval for revision in salaries, gratuity, allowances and pensions of the judges in Supreme Court and High Court and those who have retired. 
On November 22, Cabinet stated that  increase in salary and allowance is expected to benefit 31 judges of SC and 1079 judges of HCs. Also, approximately 2500 retired Judges will also be benefited on account of revision of pension/gratuity. 
It said, "Arrears on account of revised salaries, gratuity, pension and family pension with effect from January 01, 2016, will be paid as one time lump sum payment."
This decision came in at a time when the National Anomaly Committee (NAC) is going to submit it's reports on anomalies in the implementation of 7CPC recommendations on December 15, 2017. 
Reports state that the NAC will recommend minimum pay hike to Rs 21,000 from existing recommendation of Rs 18,000 and fitment factor to 3.00 times from existing 2.57 times.
Now due to latest development for judges under 7th Pay Commission, which was poised to have cost the Centre Rs 1.02 lakh crore, are saying that the government may delay the implementation of the higher minimum pay to save more money," stated a report on India.com.
Also recently, a government letter dated October 30, 2017 addressed to Secretary, Staff Side, National Council JCM stating that the demand for increase in Minimum Pay and Fitment Formula will not come under the purview of National Anomaly Committee.
DK Sengupta, Deputy Secretary to the Government of India replied to Shiv Gopal, Secretary, Staff-Side National Council, JCM on October 30, 2017 saying, "There are also certain items which should be taken up at the Departmental Anomaly Committees of the other administrative Ministries concerned. A few items are those which, for a detailed examination, need more relevant documents/papers etc" 
Under the items which needed detailed examination involved Central government's minimum pay scale and fitment factor.
Union Cabinet on June 28, among many recommendations under the 7CPC, also approved raising the minimum pay from Rs 7,000 to Rs 18,000 per month and fitment factor to 2.57 times. 
While the govt employees showed dissatisfaction in the recommendations approved in June month and demanded that the government should raise minimum pay from Rs 18,000 to Rs 26,000 and fitment factors to 3.68 times under 7CPC. 
 
Updated: Sat, Nov 25, 2017
02:13 pm
Mumbai, ZeeBiz WebDesk