7th Pay Commission pay matrix: How is 7th CPC salary fixed; find out here
7th Pay Commission pay matrix: The biggest point of controversy is over the fitment factor that was set at 2.57 times by the panel and it has been sounded out at 3.00 times by the government, while employees want it at 3.68 times and a minimum salary of Rs 26,000. The row is still on and there is no certainty whether the Centre will accept government employees demands or stick to  the  amount it has in mind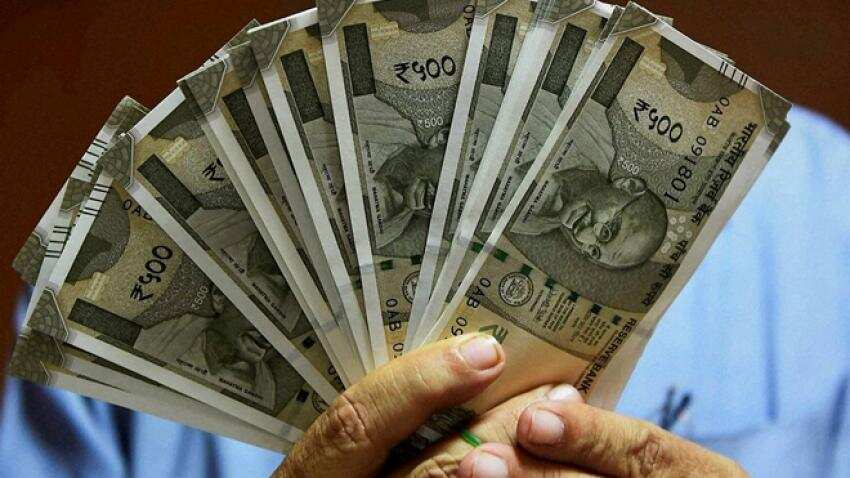 The Centre is in dilemma over revenue forgo it has to suffer for implementation of the 7th Pay Commission Pay hike beyond a certain point. Image source: PTI
7th Pay Commission report recommendations have been drawing a lot of interest from all quarters of government employees from the day it was presented to the time it was accepted by the Centre with suitable alterations. The biggest point of controversy is over the fitment factor that was set at 2.57 times by the panel and it has been sounded out at 3.00 times by the government, while employees want it at 3.68 times and a minimum salary of Rs 26,000. The row is still on and there is no certainty whether the Centre will accept government employees demands or stick to the amount it has in mind.
With the latest reports emanating from state budgets indicating they are in trouble over having cleared the 7th Pay Commission as it is driving revenue deficits, both Maharashtra and Tamil Nadu have indicated so, the Centre too is  in a dilemma over what to do. Revenue deficit beoyond a certain point is harmful for the economy and no government will be willing to take that road. However, over and above that is the confusion over how 7th CPC salary is fixed. Well, read on to find out:
According to a government notification, "The pay of a Government servant who elects, or is deemed to have elected under rule 6 to be governed by the revised pay structure on and from the 1st day of January, 2016, shall, unless in any  case the President by special order otherwise directs, be fixed separately in respect of his substantive pay in the permanent post on which he holds a lien or would have held a lien if such lien had not been suspended, and in respect of his pay in the officiating post held by him." 
The 7th Pay Commission salary applicable Level in the Pay Matrix is to by multiplying the existing basic pay by a factor of 2.57, rounded off to the nearest rupee and the figure so arrived at will be located in that Level in the Pay Matrix and if such an identical figure corresponds to any Cell in the applicable Level of the Pay Matrix, the same shall be the pay, and if no such Cell is available in the applicable Level, the pay shall be fixed at the immediate next higher Cell in that applicable Level of the Pay Matrix. 
7th Pay Commission pay matrix example table is presented below: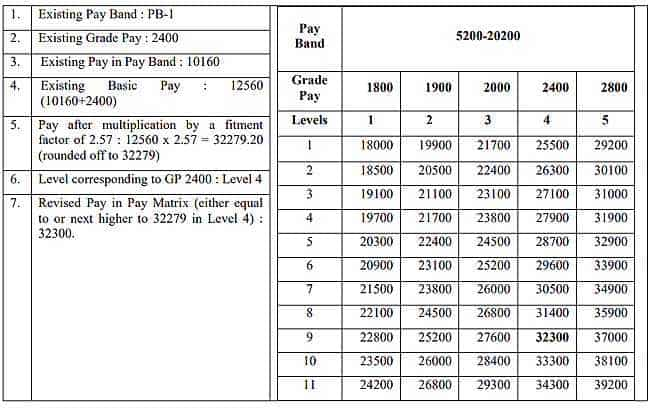 * If the minimum pay or the first Cell in the applicable Level is more than the amount arrived at as per sub-clause (i) above, the pay shall be fixed at minimum pay or the first Cell of that applicable Level. 
 
Updated: Sun, Mar 18, 2018
11:58 am
ZeeBiz WebDesk