12 cryptocurrencies shining today; it's not Bitcoin or Ethereum; find which are these
If we look closely, 10 digital coins are shining in today's trading session. Surprisingly, Bitcoin, Bitcoin Cash, Ethereum, Ripple, Litecoin and Stellar are out of the best performers' list.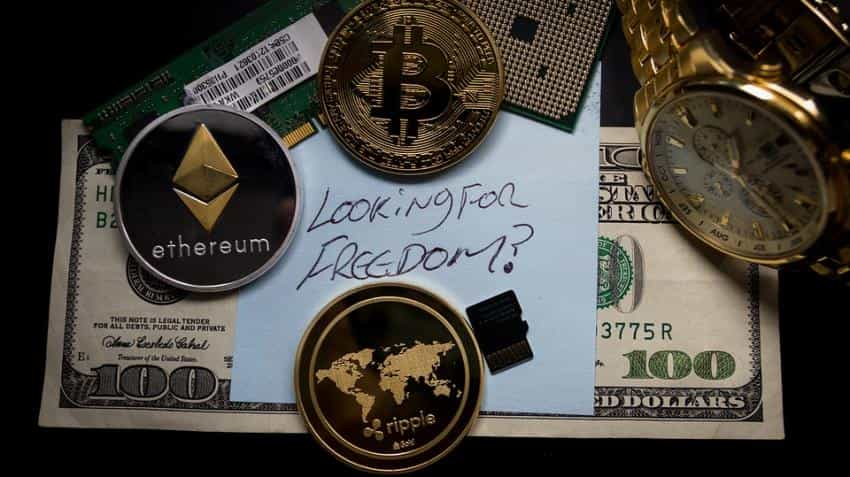 Representational Image: Photo: Pixabay
Updated: Mon, Jun 18, 2018
04:34 pm
Mumbai, ZeeBiz WebDesk
Almost every cryptocurrency listed on exchanges have seen decline in their valuation today on trading session. The negative sentiment in other coins comes on the back of Bitcoin which is losing its flavour to quite an extent. There are somewhat 1,629 cryptocurrencies listed on CoinMarketCap having a total market valuation of $276.40 billion. Of this total valuation, Bitcoin dominates the market with $110.86 billion. The exchange displays top 100 cryptocurrencies in terms of market valuation, and interestingly, if we look closely there is a list of 10 digital coins shining in today's trading session, but Bitcoin, Bitcoin Cash, Ethereum, Ripple, Litecoin and Stellar are not included among the best performer. 
Today, Bitcoin was trading at $6,447.55 mark, down by 1.51%, as per CoinMarketCap. This would be Bitcoin's new low, compared to April 1, when it stood near $6,572.66. 
The market cap of Bitcoin currently stands at $110.61 billion.
Firstly, reasons behind tumble of Bitcoin are many regulations and restrictions imposed by countries and stock exchanges across the world. Also, banks have started banning usage of their credit and debit cards for transaction in this cryptocurrency. Further, there are reports of the cryptocurrency getting hacked and many big names being investigated for tax evasion. This has shattered investors' faith in other coins as well.  
Here's a list of 12 coins which are the best performers on CoinMarketCap. 
Tether 
This coin was trading at $1.01 by gaining so far by 1% on the exchange having a market cap of $2.62 billion. 
Tether is a cryptocurrency token which claims to be backed by 1 dollar for each token issued. It can be explained as a hybrid between a cryptocurrency and fiat money, as its "tethered" to the value of fiat currencies. This coin uses a USDT currency, which is supposed to be worth exactly what USD is worth at the same period of time.  
Binance Coin 
It was trading at $16.87 rising by 3.61% having a valuation of $1.92 billion. 
From the ICO, Binance issued its own token called the Binance Coin, with BNB as the symbol. BNB runs natively on the Ethereum blockchain and follows the ERC20 token standard. The token was established with a total supply of 200 million. 
Dogecoin 
This coin rose by 1.07% trading at $0.002935 today with market cap of $336.12 million. 
Dogecoin is a decentralized, peer-to-peer digital currency that enables you to easily send money online. 
Cryptonex 
On CoinMarketCap, this coin has gained by almost 2.42% trading at $3.89 having a market valuation of $176.30 million. 
Developed in 2015, Cryptonex is a payment system that offers its users a decentralized and secure platform to transact, transfer fiat and cryptocurrencies. Thus, it is a fast and efficient network that allows mobile phone, debit and credit cards transactions.
Reddcoin 
On this exchange, the coin has gained by a massive 13.44% trading at $0.00589 with a market cap of $169.63 million. 
Reddcoin was first released in 2014 as a decentralized social cryptocurrency that allows anyone to instantly send & receive RDD (its native cryptocurrency) payments on social networks with no transaction fees. It's essentially the blockchain version of Venmo, Facebook Cash, or Snapchats Snapcash, all of which allow you to easily transfer money to friends and family via their respective social media platforms.
Mother Of All Chains (MOAC)
This digital currency has soared by 1.13% trading at $4.41 with market valuation of $158.39 million. 
MOAC offers many services for people who want to use the blockchain technology for business. Some of the specific characteristics of this company are that MOAC has a layered configuration structure, asynchronous contract calls and it uses sharding solutions.
Mithril 
Today, it jumped by 10.07% on the exchange trading at $0.4667 having a valuation of $143.05 million. 
A Mithril token is a token based on the ERC-20 standard established by Ethereum. Each user's content and social interactions generated in the Mithril ecosystem will mine MITH based on our algorithm. 
Decentraland
This coin was trading at $0.1064 above 1.80% with a market cap of $111.78 million. 
It is an Ethereum-powered virtual reality platform. In this virtual world, you purchase plots of land that you can later traverse, build upon, and monetize. There's no limit to what you can do. It's the first digital platform that's completely owned by its users.
Emercoin 
The Emercoin was trading at $2.64 above 0.76% with market cap of $110.51 million. The coin has gained by nearly 2% today. 
This coin is based on Bitcoin's original code, and inherits the same security and reliability, but adds flexibility through a number of innovative additions. Emercoin's Name-Value Storage has a simple yet powerful concept that allows you to store arbitrary data within the blockchain.
NULS
Being an global blockchain open-source project, the NULS was trading at $2.74 higher by 6.26% with a market cap of $109.64 million. 
It is a  highly customizable modular blockchain infrastructure; it consists of a microkernel and functional modules. NULS provides smart contract, multi-chain mechanism and cross-chain consensus.
Docademic 
This coin gained the most on the exchange. It was trading at $0.3974 above a whopping 36.96% with a valuation of $111.99 million. 
Docademic has thousands of users and is putting all the data on an innovative healthcare blockchain making it one of the most significant blockchain and tech projects ever. 
Dentacoin 
It was trading at $0.000438 above 4.22% with a market valuation of $142.56 million. 
Dentacoin is the first Blockchain concept designed for the Global Dental Industry. The Dentacoin ERC20 token is configured to be used globally by all individuals. Dentacoin aims at improving dental care worldwide and making it affordable through crowd power.
In case you own any of the above mentioned cryptocurrency, then good days have arrived for you. But but you need remember that the coins which have gained are at very low price and good market cap showing their promising performance.
Get Latest Business News, Stock Market Updates and Videos; Check your tax outgo through Income Tax Calculator and save money through our Personal Finance coverage. Check Business Breaking News Live on Zee Business Twitter and Facebook. Subscribe on YouTube.