1-year of demonetisation: Did India see a cash-less economy?
November 08,2017, comes as a very special day for PM Narendra Modi and his government has it marks the one year anniversary of their biggest reform "Demonetisation" or commonly known as notebandi.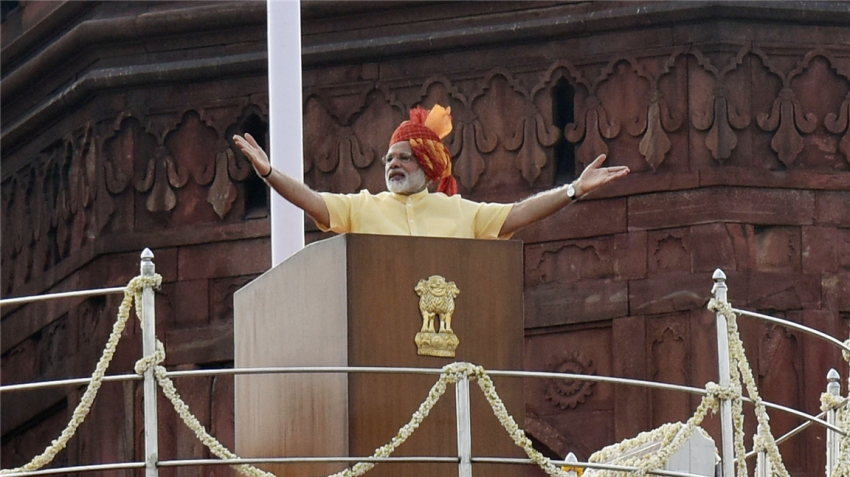 Prime Minister Narendra Modi addresses crowd during Independence Day. Photo: IANS
It was in the month of September 2017, when the RBI's annual report for FY17 raised many eyebrows in regards to true existence of demonetisation – resulting in Finance Minister Arun Jaitley later defending the move which was announced on evening of November 08, 2016.
Jaitley has been very vocal on highlighting main objective of demonetisation which is why on September 01, 2017 he said, "Nearly how much money comes back to the system and how much does not, that was never the real object of demonetisation."
The Reserve Bank of India's (RBI) in its annual report of FY17 showed that 98.96% of banned specified bank notes (SBN) old Rs 500 and Rs 1000 - have come back to the system. RBI indicated that Rs 15.28 lakh crore was brought back out of the cumulatively banned Rs 15.44 lakh crore.
Thus, Rs 16,000 crore demonetised value not back in the system.
Among many reforms introduced by Prime Minister Narendra Modi and his government since their reign in 2014 – demonetisation would definitely be the most controversial topic to discuss.
Where many acknowledged this bold move of Modi, there were many who also criticized saying it was poorly planned and unfair for Indian citizens.
On this day of last year, about 6,857.82 million notes of Rs 1000 and 17,165.06 million notes of Rs 500 valuing separately Rs 685,782 crore and Rs 858,253 crore respectively were scrapped.
Sure one would agree that demonetisation was a sudden distress for awhile as the country faced severe cash shortages for quite few months. There were lengthy queues and rush at the gates of banks for exchanging their scrapped notes. 
Even many industries faced cash shortages for carrying their business operations and were mostly dependent on credit – which hampered their earnings for few quarters.
But Modi and Jaitley have been firm on the decision and believe that it was meant for India's longer-term prosperity.
As per them demonetisation were meant for flushing out black money, eliminate Fake Indian Currency Notes (FICN), to strike at the root of financing of terrorism and left wing extremism, to convert non-formal economy into a formal economy to expand tax base and employment and to give a big boost to digitalisation of payments to make India a less cash economy.
So let's have a look at India's cash less economy in one-year of demonetisation.
RTGS and NEFT:
RTGS which stood at 9.01 million on October 2016 – grew by 4.99% 9.4 million by end of August 2017. This portal declined by 1.89% to 8.84 million in volume terms in December 2016 (end of demonetisation), however it did saw massive increased in March 2017 and reached to 12.54 million.
In value terms, RTGS has grown by 16.69% to Rs 113.83 lakh crore in August 2017 versus Rs 97.55 lakh crore in October 2016.
While NEFT has grown by 13.81% (133.21 million) in volume terms and by 31.58% (Rs 12.5 lakh crore) in value terms by end of August 2017 compared to 133.21 million volume (Rs 9.5 lakh crore) in October 2016.
Point of Sale (POS):
Usage of this portal definitely saw uptick post demonetisation. It was at 88.86 million in volume – totaling up to Rs 29,942 crore in October 2016 – increased to 116.08 millions (Rs 31,149 crore) and stands at 115.33 millions (Rs 36,299 crore) by end of August 2017.
This would be a rise of 29.79% in volume terms and 21.23% in value terms.
Also, number of instalation saw a whopping rise of 90.63% to 2,882,422 POS by August 2017 compared to 1,512,068 POS in October 2016.
IMPS and Prepaid Payment System:
These two portals have seen tremendous rise post demonetisation. IMPS transactions increased by 79.76% in volumes (75.66 million) and 89.62% in value (Rs 65,149 crore) as against it's performance in October 2016 – which was at 42.09 million volume valuing up to Rs 34,357 crore.
Transactions via prepaid payment systems clocked a growth of 105.78% in volume (261.14 million) and 70.84% in value (Rs 10,288 crore) in August 2017 versus 126.9 million volume (Rs 6,022 crore) recorded in before noteban.
Mobile Banking:
Interestingly compared to other digital payment mode, this portal had a volatile performance. Data of RBI suggests that mobile banking transaction grew by 27.55% in volume terms (99.64 million) but declined by 29.86% in value terms (Rs 79,913 crore) by end of August 2017.
Mobile banking stood at 78.12 million totalling up to Rs 113,941 crore before demonetisation. By end of December 2016 – it was at 110.64 milion (Rs 149,818 crore).
Credit and Debit card:
In volume terms, credit and debit card usage grew by 29.61% and 4.15% to 115.99 million and 981.81 million respectively in August 2017 compared to 89.49 million and 942.65 million in October 2016.
However, in value terms credit card increased by 21.03% to Rs 36,603 crore by end of August 2017 but debit cards tumbled by 2.17% to Rs 2.71 crore in the same month compared before demonetisation data.
ATMs:
Peformance of ATMs have been single-digit during one-year of demonetisation. There has been increase in number of installation to 222,568 ATMs in August 2017 up 1.36% from 219,578 ATMs before noteban.
Usage of this portal rose by 6.45% in volumes (0.66 million) and 1.67% in value (Rs 305 crore) in August 2017 compared to 0.62 million volume and Rs 300 crore it witnessed before noteban.
Analysts have agreed that demonetisation has given a push to digital transaction. Mitesh Shah, Head of Finance, BookMyShow said, ""While the intent of demonetization was to curb black money, it has also successfully been able to give a thrust to online payments. On a larger level, demonetization has been successful in putting money into the mainstream banking. "
India's currency chest stood at Rs 17,977 billion as on November 04, 2016 and as per data of RBI nearly 91% of currency has been remonetised. By end of October 27, 2017 – currency in circulation stood at Rs 16,346.75 crore.
Ashishkumar Chauhan, MD and CEO of BSE said, "Demonetisation in retrospect, was one of the important stepping stones for introduction of GST which is going to formalize Indian economy even further and is clearly one of the largest reforms of any type undertaken by Government of India post-independence."
Updated: Wed, Nov 08, 2017
08:37 pm
Mumbai, ZeeBiz WebDesk