FOMC Meeting September 2022 Live Updates: Fed raises rates by 75 bps to 3% to 3.25% range; Watch Chair Jerome Powell's press conference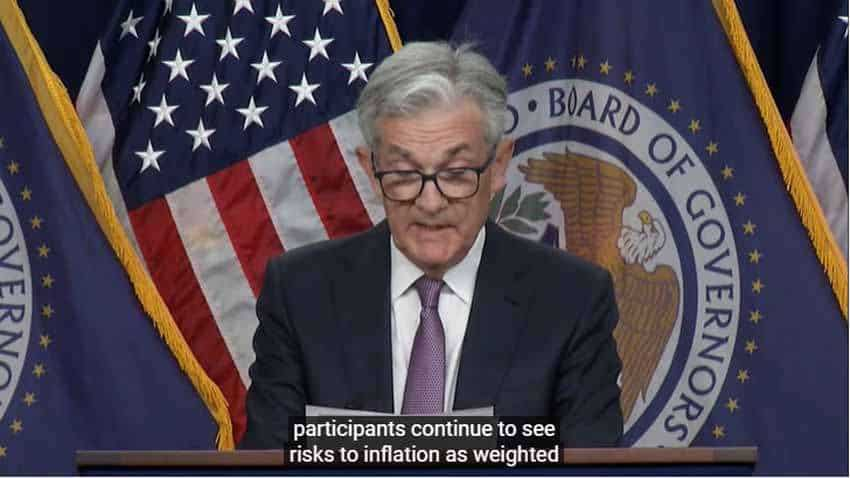 FOMC Meeting September 2022 Live Updates: The Federal Reserve raised its target interest rate by three-quarters of a percentage point to a range of 3.00%-3.25% on Wednesday and signaled more large increases to come in new projections showing its policy rate rising to 4.40% by the end of this year before topping out at 4.60% in 2023 to battle continued strong inflation. 

The two-day Feederal Open Market Committee (FOMC) meeting of the US Federal Reserve began on Tuesday, 20 September 2022. The committee, which was headed by Chair Jerome Powell anounced a 75 bps interest rate hike on Wednesday as was expected. In the previous monetary policy announcement, the Central Bank had raised the rates by 75 bps while maintaining that it was committed to contain inflation at 2 per cent. The Chair had said that price stability was the bedrock of economy.

The Monetary Policy announcements are likley to be done around 12 am India time.     

The US CPI inflation stood at 8.3 per cent in August, over four times the Fed's target level.

The Monetary Policy announcements will be done by Fed Chair Jerome Powell. The press conference will be live at 2:30 pm ET or 12 am Indian Standard Time. The press conference could be view directly on the official website federalreserve.gov or on the official Twitter handle @federalreserve.

The Central Bank has also tweeted regarding this:

Tomorrow at 2:30 p.m. ET: Chair Powell hosts live #FOMC press conference: https://t.co/1uJrua5Yif pic.twitter.com/752ORoGYWl

— Federal Reserve (@federalreserve) September 20, 2022

The FOMC minutes of the meeting will be released on 12 October.
Latest Updates