Coronavirus LIVE Updates: Total 2,301 coronavirus cases reported so far in India and 56 deaths
Coronavirus LIVE Updates: Covid-19 Cases in India (3rd-04-2020) live tracker – Prime Minister Narendra Modi on Friday lauded India's efforts and discipline shown during the 21-day nationwide lockdown.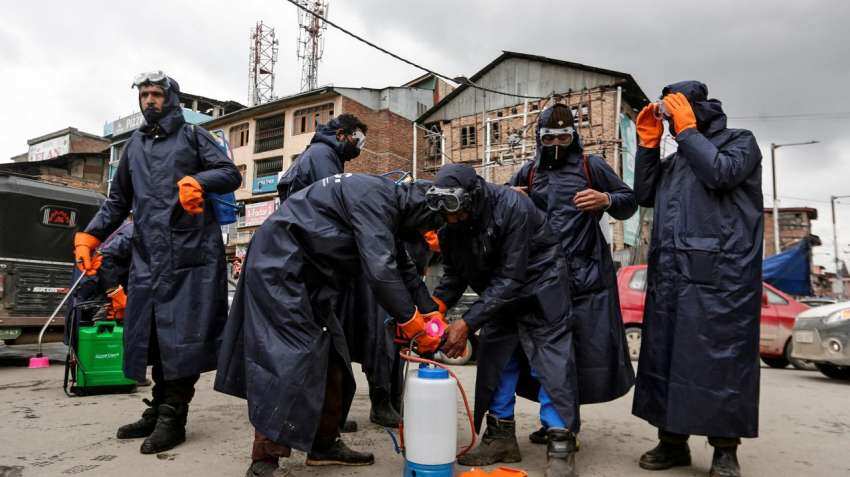 Tamil Nadu on Friday reported 102 positive coronavirus cases, taking the total number of Covid-19 cases in the state to 411, Source - Reuters
Updated: Fri, Apr 03, 2020
07:10 pm
New Delhi, ZeeBiz WebDesk
Coronavirus LIVE Updates: Covid-19 Cases in India (3rd-04-2020) live tracker – Prime Minister Narendra Modi on Friday lauded India's efforts and discipline shown during the 21-day nationwide lockdown. In a video address, the prime minister said, "The way you paid gratitude to people fighting against Covid-19 on March 22 has become a model that is being emulated by other countries. Janata curfew and ringing of bells/clanging utensils, made the country aware of its unity amid this challenging time."
He asked all the citizens for 9 minutes of their time at 9pm on Sunday, April 5, to end the "darkness" of Covid-19 by lighting candles or flashing torches and mobile phones from their houses. 
Here are Coronanvirus LIVE Updates
19:00: There are at least 647 confirmed cases of coronavirus found to have links with Tablighi Jamaat in the last two days, the government said on Friday.
Speaking to the media at a press conference here, Joint Secretary of Ministry of Health and Family Welfare Lav Agarwal said: "There are a total 2,301 coronavirus cases reported so far in India and 56 deaths have been reported from the country, of which 12 deaths have been reported since yesterday.
"As many as 157 patients have recovered. In the last two days, 647 confirmed cases in 14 states in the country have found links with Tablighi Jamaat."
18:50: With a total of 259 people testing positive from Nizamuddin Markaz, the coronavirus tally of Delhi reached 384 on Friday, Chief Minister Arvind Kejriwal said.
"One more from death has been reported in Delhi. So far five deaths have been reported. The one death in the last 24 hours is also from the Markaz." Kejriwal said the patient tally on Thursday was 293.
"In the last 24 hours, 91 new cases have been reported. The number may look worrisome. But coronavirus is not spreading locally."
He said among the patients, 58 patients have foreign travel history and 38 have contact history, and are family of those travelling from abroad.
18:40: The government on Friday said there is no shortage of medical supplies across the country to fight COVID-19 outbreak. "Government of India is making sure that all the essential medical supplies are in place to fight COVID-19. 62 lifeline Udan flights transported over 15.4 tons of essential medical supplies in last five days," Union Minister for Chemical and Fertilizers D V Sadanada Gowda said in a tweet.
The government is also paying full attention to the manufacturing activities of essential items like pharmaceuticals and hospital devices. For this, over 200 units in SEZs are operational, he added.
18:30: As many as 102 people on Friday Tested positive for coronavirus in Tamil Nadu, taking the total number of cases in the state to 411, Health Minister C Vijayabaskar said.
Of the 3,684 samples sent for testing so far, 411 have tested positive for the deadly virus while 2,789 were negative he said in a tweet. This is the third straight day the state has witnessed a surge in the number of positive cases.
On Wednesday it had reported 110 positive cases and on Thursday 75 with all but one being returnees from a recent Tablighi Jamaat congregation in Delhi's Nizamuddin West, the country's biggest hotspot of the pandemic.
18:20: In India, around 50 doctors and medical staff have tested positive for coronovirus (Covid-19), raising the eyebrows of the Union Health Ministry, sources said on Friday.
The Health Ministry is trying to assess the situation and ascertain whether these doctors and medical staff have been infected by Covid-19 positive patients.
18:00: Global cases of the new coronavirus have shot past 1 million with more than 53,000 fatalities, a Reuters tally showed on Friday, as death tolls kept soaring in the United States and western Europe while the world economy spiralled disastrously.
Just in the previous day, there were 6,095 new deaths - nearly double all fatalities in China, where the COVID-19 disease originated.
In a list based on officially-reported data, Italy leads with 13,915 deaths, followed by Spain with 10,935 deaths. But the United States was becoming the new epicentre, with 243,635 cases - by far the most of any nation - and 5,887 deaths.
17:40: The OPD services at the LNJP Hospital and the GB Pant Hospital will be closed from April 4 onwards, Delhi government authorities said on Friday. Both these hospitals are among the five facilities in Delhi designated for treatment of COVID-19 patients.
The decision was taken during a meeting held on Thursday by the Delhi health minister. It was decided that OPD services at the LNJP and GB Pant hospitals will be closed, the order issued on Friday said.
The order will come into effect from April 4, it said. The total number of coronavirus cases in Delhi nearly doubled to 293 on Thursday with 141 fresh cases and two deaths being reported in a day.
17:20: The virus that causes the COVID-19 disease is primarily transmitted through "respiratory droplets and close contacts", and does not seem to stay long in the air, a recent WHO publication said.
Respiratory infections can be transmitted through droplets of different sizes, the World Health Organisation (WHO) said. Droplet transmission occurs when you have close contact (within one metre) with a person who has respiratory symptoms such as coughing or sneezing, which may spread these potentially infectious droplets, typically 5-10 microns in size, to your body.
17:00: Odisha reported its 6th novel coronavirus positive case in Cuttack, said the Health department on Friday. "Sixth positive case detected in Cuttack with recent travel history to Delhi," tweeted the department without giving further details.
Of the six positive cases, Bhubaneswar has reported four and Bhadrak and Cuttack one each.
16:40: Haryana on Friday reported eight cases of coronavirus patients, taking the total number of cases to 43 in the state, the government said. Officials said five patients, including four foreigners, were those who came to the state after attending a religious congregation of Tablighi Jamaat in Delhi`s Nizamuddin. Their passports have been confiscated.
According to the state`s medical bulletin, out of 43 cases, three patients belonged to Kerala, two from Maharashtra and one from Uttar Pradesh.
16:20: Northern Railway and North Central Railway are working on a war footing to prepare 680 isolation coaches to accommodate nearly 11,000 people in case there is a sudden spurt in coronavirus positive cases, a senior official said on Friday. As many as 68 trains with 10 coaches each are being modified and they are expected to be ready within a week to accommodate 10,880 people, Rajiv Chaudhary, who holds the charge of General Manager for both the zones, told PTI.
He, however, said these isolation coaches are suitable for only those coronavirus patients who do not have breathing problem and those having no hospital or quarantine facility in their nearby areas.
Those having respiratory issues will have to be admitted to a proper hospital, he said. Multiple teams of railway doctors and paramedical staff will be deployed at these facilities, he said. These trains will be taken to remote areas and kept at a railway station, he said.
16:00: Another person has tested positive for the novel coronavirus in Karnataka, taking the number of such patients to 125, an official said on Friday. "Till date, 125 Covid-19 positive cases have been confirmed in the state, with three deaths and 11 discharges," according to health officials.
Karnataka`s 125th case is a 75-year-old man from Bagalkot. He has been isolated in a designated hospital in the town.
15:40: The World Health Organisation (WHO), on Friday, said that it is soon going to launch a second protocol for the Solidarity Trial. "WHO would soon be launching a second protocol for the Solidarity Trial that will help establish incidence and prevalence of infection and the future behaviour of the virus," Dr Poonam Khetrapal Singh, Regional Director of WHO South-East Asia said in a press statement.
15: 20: In a bid to contain the coronavirus spread, a "maha (mega) curfew" has been enforced in Rajasthan`s Bhilwara from Friday till April 13, District Collector Rajendra Bhatt said. Bhilwara faced the threat of community spread of coronavirus after an infected doctor passed on the infection to his patients, staff and family contacts. Eventually, the corona cases rose to 26 in a short time, making it the corona hotspot of the state.
However, till Friday, 17 of the 26 cases reported negative, said Additional Chief Secretary Rohit Kumar Singh.
As many as 1,847 samples have been tested in the state till date, of which 1,515 are negative and 26 positive. However, results of 306 samples are awaited, he added.
15:10: A team from the World Health Organisation, on Friday, arrived in Rajasthan`s Tonk district to survey the situation as Covid -19 cases alarmingly spiked from 4 to 16 within 24 hours
District Collector K.K. Sharma told IANS: "WHO team, as per my knowledge, has already arrived here with its doctors who shall carry out a survey in the district."
14:55: With the number of COVID-19 Cases rising in the country, the Odisha government has urged the ICMR to allow three more hospitals in the state to conduct COVID-19 tests to ensure timely diagnosis of the disease.
A request has been made to the Indian Council of Medical Research (ICMR), New Delhi, to grant permission to MKCG Medical College and Hospital in Berhampur,
Veer Surendra Sai Institute of Medical Sciences and Research (VIMSAR) in Burla and Ispat General Hospital (IGH) in Rourkela for conducting COVID-19 tests, a senior official said on Friday.
14:50: Intensifying its battle Against COVID-19, the Odisha government announced a 48-hour total shutdown, akin to curfew, in the state capital Bhubaneswar and Bhadrak town from 8 pm on Friday, the state's top official said.
All shops selling essential commodities will remain closed during the period, Chief Secretary A K Tripathy said. Only select medicine stores will be open.
Of the five COVID-19 cases detected in Odisha so far, four are in Bhubaneswar and one in Bhadrak. 
14:30: An experimental drug developed by Austria-based Apeiron Biologics has been found to effectively block the cellular door SARS-CoV-2 uses to infect its hosts, says a new study.
The study, published in the journal Cell, provides new insights into key aspects of SARS-CoV-2, the virus that causes COVID-19, and its interactions on a cellular level, as well as how the virus can infect blood vessels and kidneys.
"We are hopeful our results have implications for the development of a novel drug for the treatment of this unprecedented pandemic," said lead researcher Josef Penninger Penninger, Professor at University of British Columbia in Canada.
13:50: The South African teams chief medical officer Shuaib Manjra has said that the Proteas have completed a 14-day period of self isolation after returning from India and the players were symptom free. The team returned from India on March 18 after the three-match ODI series was called off due to the coronavirus outbreak. But the players will remain in lockdown for the next two weeks.
"All the players were symptom-free and those who opted to perform the tests returned negative results," Manjra was quoted as saying by `ESPNCricinfo`.
The second ODI in Lucknow and the third ODI in Kolkata were called off as the pandemic spread and the team was immediately flown off to Kolkata and from there they headed back to South Africa.
13:20: The World Bank Group has earmarked $1 billion emergency financing support to India to curb the spread of COVID-19. The funding comes as a part of the group`s first set of emergency support operations for developing countries around the world.
Accordingly, the group will use a dedicated, fast-track facility for COVID-19 (coronavirus) response.
"In India, $1 billion emergency financing will support better screening, contact tracing, and laboratory diagnostics; procure personal protective equipment; and set up new isolation wards," the group said in a statement.
13:00: Global exams like TOEFL and GRE will be taken at home except in mainland China and Iran in view of the COVID-19 situation across the globe, according to the Educational Testing Service (ETS).
The tests had been suspended across the globe following coronavirus outbreak.
12:34 p.m.: President Ram Nath Kovind and Vice President M. Venkaiah Naidu on Friday advised all Governors and Lieutenant Governors (LGs) to bolster efforts to contain and manage the spread of novel coronavirus pandemic. They expressed their views in a video-conference meeting with the Governors, LGs and Administrators of states and Union Territories (UTs) at a time when the deadly virus has claimed 56 lives and over 2300 confirmed cases across the country.
12:31 p.m.: Both the leaders discussed measures to combat the COVID-19 crisis as the country is under 21-day lockdown till April 14 to break the chain of transmission of the disease that has created havoc across the globe with over 50,000 deaths and 10 lakh confirmed cases after its origin from China`s Wuhan city in December end last year.
12:28 p.m.: The agenda of the video conference from the Rashtrapati Bhavan included the status of coronavirus cases in states, Red Cross` role with focus on vulnerable sections, and the role of civil society, voluntary organizations, private sector in complementing the efforts of the Union and state governments to contain the spread. It was the second such conference held by the President and the Vice President within 10 days. 
11:58 a.m.: In Uttar Pradesh, the number of COVID-19 cases has risen to 134 with a total of eight fresh cases reported in Agra and Jaunpur, officials said on Friday. While six cases were found to be positive in Agra, two positive cases were?found in Jaunpur, they said.
"Six more COVID-19 positive cases have found here. The total number of cases in the district are 18 now," Agra District Magistrate Prabhu Narain Singh said.
"Two more case have been found to be coronavirus positive in Jaunpur. Now the total positive cases in the district are three," Jaunpur District Magistrate Dinesh Kumar Singh said.
The two fresh cases are of those who attended the Tablighi Jamat congregation in New Delhi, he said.
11:40: Covid-19 cases near 1 million, death toll cross 51,000! The global coronavirus toll crossed 51,000 late on Thursday with Italy (13,915) and Spain (10,096) accounting for nearly half the fatalities, while the number of cases were fast approaching a million, with the US having over a fifth of them, as per the Johns Hopkins University`s Coronavirus Resource Centre.
As of midnight, the toll stood at 51,335 and the total number of cases around the world at 998,047.
The US, which had the maximum cases at 234,462, reported the third highest number of deaths at 5,607, with 1,374 of them in New York City.
France, at 4,503 deaths, was at fourth place and was followed by China, from where the disease outbreak was first reported with 3,322 (3,199 of them in Hubei provice, where epicentre Wuhan is located), and Iran at 3,160 deaths.
Italy was second in the mumber of cases, at 115,242, closely followed by Spain with 110,238, while China had 82,432.
11:20: Eight new cases of COVID-19, one of them a government employee, were reported from Madhya Pradesh since Thursday night, taking the state's tally to 119, a senior health official said on Friday.
Of the fresh cases, seven were recorded in Indore, the worst coronavirus-affected city in the state, and one in Chhindwara, he said. The Chhindwara patient is a 36-year-old man who became the first coronavirus positive case in the district, Sub- Divisional Magistrate (SDM) Atul Singh said.
11:00: Two nursing officers working at Delhi State Cancer Institute have tested positive for coronavirus, said the health department of Delhi government on Friday. The hospital has now been shut for operations.
Just two days ago, a doctor from this hospital had tested positive following which screening of 19 persons who came in his contact was conducted. After the test result came, two nursing officers were found coronavirus positive. The contact tracing of these two coronavirus positive nursing officers has been launched.
 
Get Latest Business News, Stock Market Updates and Videos; Check your tax outgo through Income Tax Calculator and save money through our Personal Finance coverage. Check Business Breaking News Live on Zee Business Twitter and Facebook. Subscribe on YouTube.