Coronavirus LIVE Updates: Indore has moved to the 4th spot in the country having 63 Covid-19 cases
Coronavirus LIVE Updates: Covid-19 Cases in India (1st-04-2020) live tracker - 19 cases were reported from Maharashtra, taking the number of cases in the state to 320. The total number of cases in the country have now gone past 1500 mark.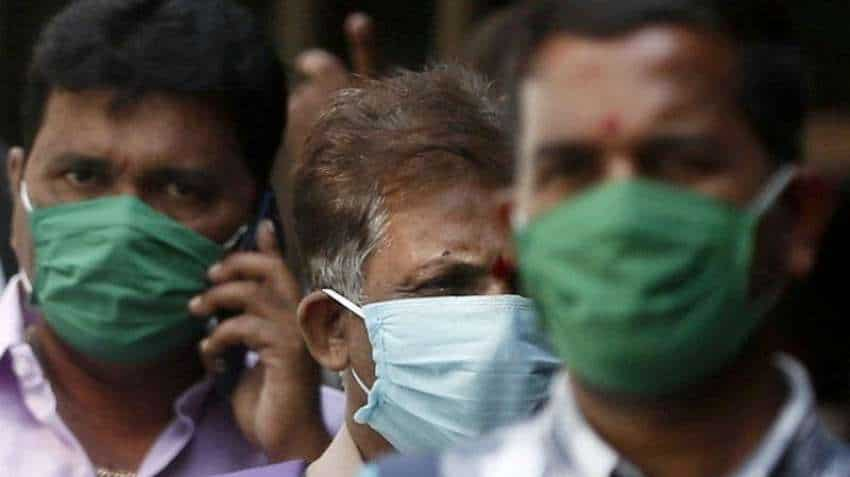 Death toll due to coronavirus rises to 38 in country; number of cases increases to 1,637, says Health Ministry. Source - Reuters
Updated: Wed, Apr 01, 2020
06:58 pm
New Delhi, ZeeBiz WebDesk
Coronavirus LIVE Updates: Covid-19 Cases in India (1st-04-2020) live tracker - 19 cases were reported from Maharashtra, taking the number of cases in the state to 320. The total number of cases in the country have now gone past 1500 mark. In Delhi, the Nizamuddin Markaz has been evacuated by authorities and evacuees were sent to quarantine as 24 cases of coronovirus positive have been detected till Tuesday late night. As per Delhi government source, till Tuesday a total of 24 people have tested positive from the Nizamuddin Markaz Masjid so far. From the Markaz, while 441 were taken to hospitals, 1,447 have been put in quarantine.
19:00: Kerala Food and Civil Supplies Minister P. Thilothaman on Wednesday after going around various ration shops to see the distribution of rice, wheat, sugar and kerosene, said on the first day 1.3 million people collected their quota.
The Kerala government is providing free ration depending on the category with some getting as high as 30 kg of rice and five kg of wheat to 15 kg of rice.
18:50: With the reporting of 19 of the 20 new coronavirus cases, here on Wednesday, the situation in Madhya Pradesh has turned grim as the tally reached 86 on the eighth day of the 21-day lockdown.
With 63 Covid-19 cases, Indore has moved to the fourth spot in the country and accounting for 73 per cent of cases in the state. Covid-19 has claimed three lives in the city. However, 20 patients have recovered.Since March 24, Indore`s corona graph has shown an alarming rise -- from zero to 63. With 17 people testing positive on Tuesday, and another 19 on Wednesday, Indore`s tally jumped from 27 to 63 in two days.
Of the 19 new cases, nine belong to one family in Tanzeem Nagar. The city and its surrounding areas have been put on high alert and restrictions on movement are being rigidly enforced. The authorities are bracing for more Covid-19 cases.
18:30: In view of the lockdown due to the Coronavirus outbreak, the Chhattisgarh government has decided to promote students of all classes, except 10th and 12th standards, of the state schools without exams, an official said on Wednesday.
Chief Minister Bhupesh Baghel took a decision in this regard late Tuesday evening, he said.
18:10: Bangladesh on Wednesday confirmed another death from the novel coronavirus, taking the death toll in the country to six while the number of positive cases rose to 54 with health authorities expressing fear that community level transmission might have begun on a limited scale.
Bangladesh has extended the ongoing nationwide lockdown to April 9 to curb the spread of the deadly virus, which has claimed over 40,000 lives across the globe.
17:50: Zydus Group firm Zydus Wellness on Wednesday said it has forayed into hand sanitizer category with the launch of its product under 'Nycil' brand in the country to meet the rising demand due to COVID-19 outbreak.
The company had acquired the Nycil brand as part of its acquisition of Heinz India.
The company decided to roll out this product in a record time of 12 days, as a response to the current pandemic. Nycil sanitizer consists of neem and aloevera extracts that helps kill 99.9 per cent germs, Zydus Wellness said.
17:30: An active member of Tablighi Jamaat, who had attended the Delhi meeting of the organization, died at a private hospital in Hyderabad. There was no information or confirmation yet on the cause of death. Ahmed Abdul Muqeet died at Yashoda Hospital at Malakpet late on Tuesday. A hospital spokesman told IANS that the state health authorities had collected samples from the body for coronavirus test and it is for them to announce if he died of Covid-19.
Muqeet was under treatment at the private hospital for pneumonia and other ailments. His wife was also under treatment at the same hospital. The couple took ill four days ago and was admitted to the hospital.
17:10: With Tamil Nadu stopping all incoming supplies of milk from the northern districts of Kerala, in Palakkad district on Wednesday around 80,000 litres of milk was poured into the drain by farmers.
"We have no other option but to pour the milk in the drains as all tea shops and restaurants are closed, besides Tamil Nadu has stopped all lorries coming with milk to their state, on the grounds of COVID-19, here," said a farmer, who was throwing out the milk collected from farmers in their milk society.
The majority of the milk societies in the state hand over the milk to the state owned MILMA.
16:50: Around 6.88 lakh individuals residing in 182,815 houses in 16 districts of Tamil Nadu have been surveyed under the Coronavirus Containment Plan. In a statement issued here on Wednesday, the state government said that 688,473 individuals were surveyed till March 31 under the plan to prevent the spread of coronavirus.
Under the plan, seven km radius from the residence of a corona positive person would be marked and officials check each house within the area to ascertain whether anyone else shows signs of coronavirus infection.
16:30: Delhi Lt Governor Anil Baijal on Wednesday advised officials to deploy firefighters to disinfect vulnerable neighbourhoods, especially the hot spots, quarantine centres, among others to check the spread of novel coronavirus.
Baijal had a daily videoconference meeting with Chief Minister Arvind Kejriwal, Chief Secretary, Police Commissioner and other senior officers.
"Reviewed medical preparedness, procurement of medical essentials, discharge guidelines, non-hospital isolation/quarantine, measures to enforce lockdown," the LG tweeted.
16:10: Tesla CEO Elon Musk has announced that he and his companies have access to additional FDA-approved ventilators that can be shipped free of cost to hospitals within regions where the electric car maker delivers.
"We have extra FDA-approved ventilators. Will ship to hospitals worldwide within Tesla delivery regions. Device and shipping cost are free. Only requirement is that the vents are needed immediately for patients, not stored in a warehouse. Please or @Tesla know," Musk tweeted on Tuesday.
 
15:50: Death toll due to coronavirus rises to 38 in country; number of cases increases to 1,637, says Health Ministry. In Andhra Pradesh on Wednesday reported 43 new cases of COVID-19, taking the total number of cases in the state to 87.
Majority of them are believed to be those who attended Tablighi Jamaat meeting in Delhi last month.
According to the media bulletin released by the health department, 43 new cases were reported till 9 a.m. Wednesday.
The state nodal officer said a total of 373 samples were tested since Monday night and 330 of them were negative.
 
15:30: The Yogi Adityanath government, on Wednesday, started distributing free ration to the poor and daily wage earners. The state government has already transferred Rs 1,000 each into their accounts to help them during the lockdown period.
Daily wage earners who are registered with the labour department under MNREGA and the Antyodaya scheme will be the beneficiaries of this free ration.
The ration card holders will continue to get wheat at Rs two per kilogram and rice at Rs three per kilogram.
Uttar Pradesh Chief Secretary, R. K. Tiwari, meanwhile, has asked all district officials to ensure that the work timings of banks and ration distribution shops do not clash and social distancing is maintained as per the prescribed rules.
15:10: Wipro Ltd, Wipro Enterprises Ltd and Azim Premji Foundation have together committed Rs 1,125 crore towards tackling the unprecedented health and humanitarian crisis arising from the COVID-19 outbreak in the country.
These resources will help enable the dedicated medical and service fraternity in the frontline of the battle against the pandemic and in mitigating its wide-ranging human impact, particularly on the most disadvantaged of our society, as per a company statement.
14:50: While most are wishing that Corona and lockdown do not make a return, there are some who are keeping it in their home forever. A baby boy born on Monday in Khukhundu village in Deoria district, has been named `Lockdown` by his parents.
"He was born during lockdown. We appreciate Prime Minister Narendra Modi`s efforts to enforce lockdown and save the people from Corona pandemic. The lockdown is in national interest and so we decided to name the child as Lockdown," said the baby`s father Pawan.
He further said that the boy`s name would always remind people of national interest before self-interest.
14:30: More than 1,000 people have died in the New York City alone from COVID-19 as the authorities struggled to procure enough medical equipment to cope with the rising coronavirus cases and warned that the it is approaching the toughest weeks of this crisis.
14:10: Forty-eight companies have been issued licences by the Uttar Pradesh government to produce 50,000 litres of sanitiser per day, officials said on Wednesday.
"The total sanitiser licenses issued in the state is 48 and production ramped up to 50,000 litres per day," Additional Chief Secretary, Information, Awanish Awasthi, told reporters.
13:50: Italy observed a minute of silence for the victims of the coronavirus pandemic as their numbers rose above 12,000. Speaking during a nightly televised press conference on Tuesday, Civil Protection Department Chief Angelo Borrelli confirmed that there were 2,107 new active coronavirus infections compared to Monday, bringing the nationwide total to 77,635 cases, Xinhua news agency reported.
Of those infected, 28,192 are hospitalized, 4,023 are in intensive care and 45,420 are isolated at home, Borrelli said. He added that there were 1,109 additional recoveries compared to Monday, bringing that total to 15,729.
The death toll on Tuesday was 837, raising the tally to 12,428 since the pandemic first broke out in northern Italy on Feb. 21.
13:30: United Nations Secretary-General Antonio Guterres said the COVID-19 pandemic is the most challenging crisis since the Second World War as it represents a threat to everybody.
The pandemic "represents a threat to everybody in the world and ... it has an economic impact that will bring a recession that probably has no parallel in the recent past," Guterres said on Tuesday at the virtual press launch of the UN report "Shared responsibility, global solidarity: Responding to the socio-economic impacts of
COVID-19", Xinhua news agency reported.
"The combination of the two facts and the risk that it contributes to enhanced instability, enhanced unrest, and enhanced conflict are things that make us believe that this is, indeed, the most challenging crisis we have faced since the Second World War and the one that needs a stronger and more effective response that is only possible in solidarity if everybody comes together and if we forget political games and understand that it is humankind that is at stake," the UN chief said.
 
13:10: The Uttar Pradesh Power Corporation Limited (UPPCL) on Wednesday extended the payment of electricity bills till April 30 in view of the lockdown imposed to prevent the coronavirus' spread.
"The date of payment of all power bills made after March 1 has been extended till April 30. Consumers will also get one per cent rebate, which they get for timely payment of their bills. There will be not late fees for the payment," a UPPCL statement said.
The corporation has also extended a scheme for farmers under which they can pay their bills in installments, it said.
12:50: The death toll from COVID-19 has passed 40,000 worldwide, according to the tally from Johns Hopkins University`s Center for Systems Science and Engineering (CSSE).
As of 2.30 p.m. Eastern Time (1830 GMT), nations and regions have reported a total of 40,708 deaths from COVID-19, along with more than 826,000 confirmed cases, while more than 174,000 people have recovered from the disease, an interactive map maintained by the CSSE showed on Tuesday, reported Xinhua news agency.
12:30: As a goodwill gesture, residents in Punjab`s Nabha are showering rose petals on sanitation workers to clean the town and reduce the risk of coronavirus.
Their benevolence to good cause got Chief Minister Amarinder Singh`s attention.
"Pleased to see the applause & affection showered by people of Nabha on the sanitation worker," the Chief Minister tweeted.
"It`s heartening to note how adversity is bringing out the intrinsic goodness in all of us. Let`s keep it up & cheer our frontline warriors in this War Against #Covid19," he added.
12:10: The US is headed for a "tough two weeks", President Donald Trump has warned, advising people to be prepared for the "hard days" ahead, as the country fights the fast-spreading coronavirus pandemic that the White House projects could claim one to two lakh lives during the next fortnight.
Trump's remarks came as Deborah Bix, a member of White House Task Force on coronavirus, based on a model from actual data from the ground, said the death toll in the US could be between 100,000 to 200,000, with the strict implementation of the existing mitigation measures including social distancing till April 30.
11:50: At the end of the first week of 21-day nationwide lockdown, the district administration of Dimapur in Nagaland has ordered the total closure of all shops, commercial, private establishments, and imposed restrictions on movement of public and vehicles for 66 hours with effect from 6 am on Wednesday.
11:30: A farmer from a Mathura village, who was suffering from fever and cold, committed suicide to `save his entire village from being infected with coronavirus`, said police.
The deceased, Mahendra Singh, 36, had `assumed` that he was suffering from novel coronavirus without undergoing any medical test. His is the fourth such suicide in the state.
Singh, a resident of the Mundesi village under Highway police jurisdiction, ended his life by jumping into a well from where his body was fished out on Tuesday.
 
11:10: Over 40 people in Lakhimpur district have filed complaints against China`s President Xi Jinping over coronavirus situation in Uttar Pradesh.
The complaints include lawyers and social activists, who have blamed the Chinese top leader for allowing the coronavirus to spread, endangering the lives of millions. China`s Wuhan city was the outbreak epicentre of the disease that has since December killed 40,000 people worldwide and infected close to 9 lakh people.
Lakhimpur has reported one Covid-19 positive patient, who is undergoing treatment while two cases have been reported from neighbouring Pilibhit.
A senior police official admitted that they had received the complaints but said they would seek legal opinion before proceeding any further in the matter.
10:50: The coronavirus tally in Uttar Pradesh crossed the 100 mark to reach 103 by Tuesday night.
Chief Minister Yogi Adityanath, in a late night meeting on Tuesday, also asked officials to strictly enforce the lockdown in the state and ensure strict punishment for violators.
Seven new cases were reported from different parts of the state -- five from Bareilly and one each from Noida and Ghaziabad -- on Tuesday.
State surveillance officer, Vikasendu Agarwal, said, "The cases in Bareilly are all close relatives of the previous patient who worked in the Noida factory."
 
Get Latest Business News, Stock Market Updates and Videos; Check your tax outgo through Income Tax Calculator and save money through our Personal Finance coverage. Check Business Breaking News Live on Zee Business Twitter and Facebook. Subscribe on YouTube.