Ziqitza Healthcare Ltd advises seasonal ailments in winter and how to tackle them
It is seen that even if you feel energetic and healthy all through the other seasons like spring, summer, and autumn, when it comes to the winter, no one is safe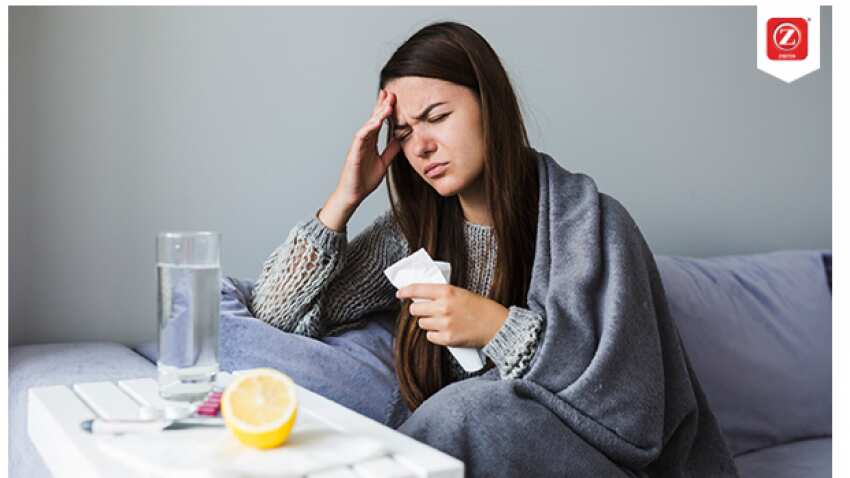 Today in pandemic times you're hold up up indoors all day within close proximity to others who might already be sick, just one cough or sneeze can leave you under the weather for days.
It is seen that even if you feel energetic and healthy all through the other seasons like spring, summer, and autumn, when it comes to the winter, no one is safe. Today in pandemic times you're hold up up indoors all day within close proximity to others who might already be sick, just one cough or sneeze can leave you under the weather for days. More than ever we are spending more time in enclosed spaces, close to each other, so that we have more prolonged face-to-face contact," Dr. Santosh Datar, at Ziqitza Healthcare Limitedtold Zee Business. He emphasizethat viruses thrive in cold weather when there's no humidity due to which the virus remains in the air for a longer time so that the person who is sufficiently close to each other than they can breathe the same infected air. Thus, making us susceptible to fall sick.
In a hot and humid country like India, winter is the most awaited season of the year. As temperatures and humidity levels go down, the risk of cold-related illnesses steadily rises. Diseases like respiratory infections, asthma, dry skin etc. are more common at this time of the year. Deaths occur more in winter than in spring or summer, according to the Center for Disease Control and Prevention (CDC).
For us at Ziqitza Healthcare Limited, as an Emergency Service Provider, we are at the forefront with the various state government and corporates to ensure that our services which are so critical are not hampered. The call volumes in the winter season increases with patients complaining of respiratory issues. Dr. Santosh Datar from Ziqitza Healthcare Limited advises to take a look at common winter ailments and how to prevent them:
Respiratory infections
The doctors at Ziqitza suggests that he commonest respiratory ailment in winter is common cold. However, incidence of other respiratory infections like sore throat, sinusitis, flu, pneumonia and bronchitis also rise. Very young children and older persons are more at risk of developing serious complications. Steam inhalation and warm water salt gargles may help in relieving symptoms of running nose and sore throat. It is advisable to consult your doctor immediately if serious symptoms such as high fever, breathlessness, chest pain, blood in sputum, severe headache, nausea and vomiting etc. are seen. Preventive measures include avoiding exposure to cold, proper winter wear, washing your hands more often and avoiding touching your eye, nose or mouth.
Asthma
When it comes to asthma—a condition that inflames your airways, making it harder to breathe—winter weather only makes matters worse. As per advisory team of Doctors at Ziqitza Healthcare Limited always advises people who are suffering from asthma are more prone to get asthmatic attack due to exposure to cold. Known asthma patients should consult their doctors and follow her/his advice regarding investigations and medication dose adjustment.
Joint Pains
Some persons experience aggravation of their joint pains during winter. Patients with known arthritic conditions should consult their doctor. Regular joint exercises as advised by doctor with proper warm up and remaining physically active will help in reducing the joint pains.
Dry Skin/Eczema
According to Dr. Datar from Ziqitza some persons experience a very dry and itchy skin during winter. This is due to more dryness in the air. They should avoid using regular soap and use soaps with glycerine base. Application of coconut oil or moisturizing cream immediately after bath and at night may also help. Ensure adequate water intake. Patients with chronic eczema should consult their skin specialist.
Heart Attack
Heart attacks are more common in winter. This may be because blood pressure goes up due to narrowed arteries due to exposure to cold. All known cases of high blood pressure, diabetes and ischemic heart diseases should consult their doctor regularly. Ensure your
weight, blood pressure, sugar and lipid levels are within normal limits. Avoid outdoor heavy exercise or heavy physical activity.
General measures to prevent winter related illnesses are given below: -
Following common measures are most important things that people keep this in mind in future as remarked by Dr. Santosh Datar from Ziqitza Healthcare Ltd:
· Avoid exposure to cold as far as possible
· Use adequate winter wear such as woollen wear, wearing clothes in layers, mufflers, headgear, gloves etc.
· Avoid drinking chilled water and cold beverages
· Do not smoke at home
· Ensure adequate fluid intake as it loosens mucus and respiratory secretions
· Cover the mouth while sneezing or coughing
· Wash hands frequently especially before eating, touching nose or eye
· Ensure regular mopping and cleaning at home
· Take regular exercise and remain physically active however avoid outdoor heavy exercise or heavy physical activity
· Ensure your weight, blood pressure, sugar and lipid levels are within normal limits if suffering from high blood pressure, diabetes and coronary artery disease
· Boost your immunity by adopting a healthy lifestyle such as adequate sleep, well-balanced and nutritious diet, maintaining adequate weight, avoiding junk food, avoiding smoking, tobacco and alcohol, adequate exercise, practicing relaxation techniques, maintaining work life balance and managing stress. However, this should be practised throughout the year and not only for winter.
About Ziqitza Healthcare Limited:
Ziqitza had been set up with a vision to assist in saving human lives by providing a leading network of fully equipped Advanced and Basic Life Support Ambulances across the developing world. Ziqitza Limited has currently more than 10,000 people working tirelessly, day and night, to serve people in India. Ziqitza Limited is currently operating more than 3300 ambulances across 16 states and have served more than 30 million people till date.
See Zee Business Live TV Streaming Below:
Get Latest Business News, Stock Market Updates and Videos; Check your tax outgo through Income Tax Calculator and save money through our Personal Finance coverage. Check Business Breaking News Live on Zee Business Twitter and Facebook. Subscribe on YouTube.
Updated: Fri, Dec 18, 2020
05:01 pm
Patna, ZeeBiz WebDesk