XUV300 comes with myriad features to ensure occupants' safety and comfort: Pawan Goenka
No, I don't think that way because, nowadays, the election has no relation to car sales as it used to have two decades ago.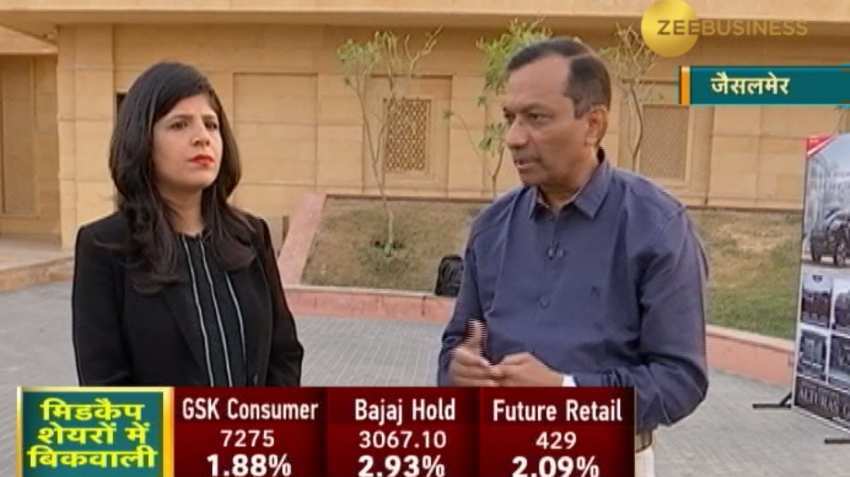 That was the first car in India with ESP and airbags in all variants.
Pawan Goenka, Managing Director, Mahindra & Mahindra Ltd, speaks about expectations from XUV300, reasons that why people will look forward to it and the slowdown in the industry during an interview with Swati Khandelwal, Zee Business. Edited Excerpts: 
Q: XUV300 has performed well and people are saying that this is a comeback product for Mahindra. Let us know about your expectation from it?
A: This year can be divided into two parts of four-five months each. The first part has been a good one for both the industry as well as Mahindra, but a slowdown was witnessed in the second half. The industry remained weak in the festive season, which forced every company to go for a stock correction. In fact, the sales remained low even in November and December months. But I feel that it is behind us and hope that things will be better from here onwards. 
Q: But, you thought the same in January, but it didn't happen?
A: That's true that I thought that way for January, but I don't have a reason to highlight why it didn't happen. And, this is the only reason that I am thinking that it may happen in February. 
Q: Is election can be a reason? 
A: No, I don't think that way because, nowadays, the election has no relation to car sales as it used to have two decades ago. 
Q: Thus, you are expecting that things will improve from February onwards?
A: I think so that it will happen from February. This is an important time for Mahindra because we have launched three vehicles and that too by the time as it was announced. The response for the three vehicles has gone beyond what we thought. In fact, four months has crossed since when Marazzo was launched but its booking is quite strong yet. There is a waiting-list that too without any discount. And all the feedback from the customers, now, not just from the media is very positive. Several who drove Mazarro for the first time has given a thump up to us. 
Later, we launched Alturas, which is a great vehicle at a good price. But we had a concern related to its price. We were thinking that will people like to buy Mahindra's product by spending a sum of Rs30 lakhs and we are happy to inform that nobody is saying why Rs30 lakh for Mahindra. And there again the bookings are very strong, and we have 1000+ bookings pending right now. 
Q: This means that it, the performance of these two vehicles, is going beyond your expectations and now you have launched your third lot?
A: Yes, it has been a two-day story and I would not like to say much about the story. But, this story of two-days reminds me of the story that we saw seven-years back with the launch of XUV500. The frenzied atmosphere that we saw seven-years back at our showrooms was once again repeated yesterday, the first day of selling, at the showrooms. In fact, the dealers who are here, are very happy and were saying that there was huge footfall at the showrooms and they were not able to handle the pressure. So, this is a happy moment for us. 
Q: That too at a time when the industry is going through a tuff period.
A: Yes, at a time when the industry is facing a tuff period. So, the start has been better than expectations, but how consistent it will be. In the auto industry, we have learnt a lot not to get excited because of the first tweak. So, if I extra pull it up to what we have seen up to now, the 9000 numbers, which I have informed you in the past, then I am very confident that it will happen. 
Q: Mahindra used to be a flagship SUV company but has lost to its competitors in the last few years. Do you think that you will be able to regain the market share in this space, if yes, then why and to what level?
A: The SUV segment growth has been a phenomenon one and there is no doubt in it. You have said that its market share has gone up from 15-16% to around 30%. But Mahindra doesn't have its vehicles in the compact SUV segment, which comprises 50% of the total SUV segment, i.e. 40,000 of the total 80,000 SUVs/month. We were not playing in the segment that is our market share was in only in half and we were half of half. So, in the segment that we were in, we still have 50% market share in it. 
Q: But, the volumes were low in the segment. 
A: Volumes never went up in that segment, but it grew in the segment where we didn't have a strong presence. But, our new launch, XUV300, which has every making of becoming a very strong product in that segment. It will give us the market share, but I will not say that it will become half of that half, but we will get a significant share in the segment too. 
Q: Do you think that you will lose to your competitors due to this delayed entry in the segment, at least because other products in the segment are very strong and are doing good in it?
A: See, we always think about what you are talking about. And, there have been several occasions where we have entered late into the segment and have succeeded as well as failed in making a mark. That is why we have planned and designed it amicably with a thought that we are a late entrant into the segment. We are aware that we will have to face several strong players and brands in the segment. We were very clear that we cannot win by just launching a slightly improved product, which is more-or-less Me Too. We must be almost like a standout in the crowd. That's why we implemented three-four thing in this vehicle that can help it to stand out in the segment. And, if I look at XUV500 that was launched eight years ago from today had these four things that are also available in this vehicle. And they are
1.    Outside design (exterior)
2.    Performance: The vehicle carries both petrol and diesel engine, which is the highest torque in the sub-compact segment of 200 & 300 and I think that the next best is 150,160 and 250. So there is a big difference. So, the high performance that we get with this is the same that we get from XUV500. 
3.    Features: The list of features that have been put in the vehicle is so long that I will not be able to talk about it. 
4.    Safety: We steep XUV500 was 
That was the first car in India with ESP and airbags in all variants. It is hard to remember now but it was the first car in India to have airbags in all variants at that price point. And, we have kept safety at the high regards in this car also. It has seven airbags, nobody has entered that segment yet. All disk break and no one is there in this segment and many other safety features including ESP, EBD. In fact, the whole list comprises 20 safety features or which 3-4 features are the first time ever. 
So, the same four things made XUV500 stand out, coincidently are here is XUV300 also and that is something that is giving me the confidence that even though we are late-entrant in the segment that took-off about 5years ago. Even though there is one vehicle that sells 13,000 a month and one that sells 10,000 a month, we think that we will be able to come in and make a mark.  
Q: Do you have any moderate expectations for it?
A: Well like you said under promised over delivered. 
Q: I would like to know about the portfolio, where you haven't left any segment. Name the segment that will act as a growth driver for you?
A:  Now, we will have to think about the future of one-two overlapping products like Xylo is overlapping with Marazzo. But, when it comes to XUV that starts from 4.6 meters KUV100 to 4.8 meters Alturas G4, we are covering frame and crossover, we are covering 2-wheel drive and 4-wheel drive, we are covering MPV, SUV and all short of segments like seven seaters and five-seaters.
Watch This Zee Business Video
So, there is nothing to do in terms of new space. Everything that we will do from here is to ensure that the products remain current, which means we will be launching refresh at times and new products at times.
And normally, refresh in four years and new product in eight years. So, we will have to look into our old products to refresh them or to introduce a new product. 
Get Latest Business News, Stock Market Updates and Videos; Check your tax outgo through Income Tax Calculator and save money through our Personal Finance coverage. Check Business Breaking News Live on Zee Business Twitter and Facebook. Subscribe on YouTube.
Updated: Mon, Feb 18, 2019
04:47 pm
ZeeBiz WebDesk