Wow! Axis Bank makes massive announcement; what you should know
Every financial indicator in Axis Bank showed a stable performance.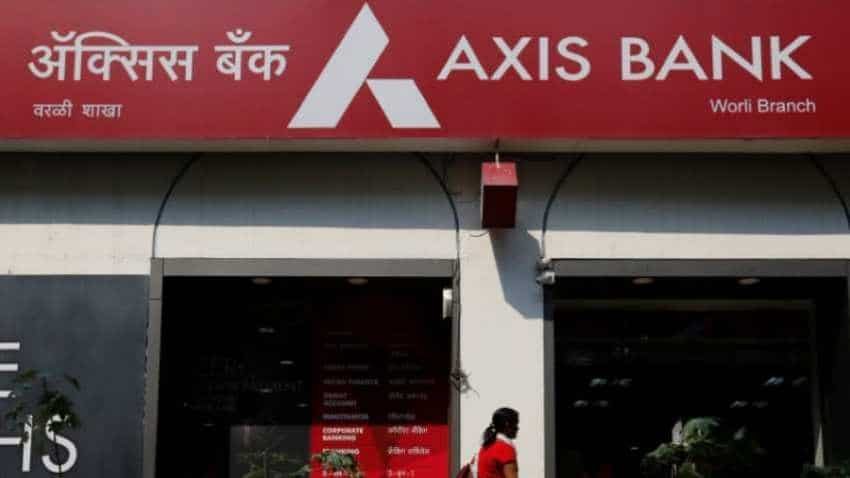 Representational Image: Photo: Reuters
December 2018 (Q3FY19) has turned out to be one great quarter for private lender Axis Bank. In this quarter, Axis Bank bagged a net profit of Rs 1,680.85 crore in Q3FY19, which was higher by a whopping 131.38% compared to Rs 726.44 crore in corresponding period of previous year. Every financial indicator in Axis Bank showed a stable performance. Even net interest income (NII) came in at Rs 5,603.67 crore, up by 18.43% from Rs 4,731.52 crore in Q3FY19.Net interest margin for Q3FY19 stood at 3.47%.
Here's a list of 8 key points from Axis Bank result that you really know about.
1. Axis Bank Loans! 
The Bank's Balance Sheet grew 17% YOY and stood at Rs 7,56,176 crores as on 31st December 2018. 
The bank's Advances grew 13% YOY to Rs 4,75,105 crores as on 31st December 2018. Domestic loans grew 18% while the overseas book de-grew by 19%. Retail loans grew 20% YOY to Rs 2,32,397 crores and accounted for 49% of the Net Advances of the Bank. SME loans grew 13% YOY to Rs 62,238 crores. Corporate loan book grew by 4%. The Bank's loan to deposit ratio stood at 92% as against 95% at the end of Q2FY19. 
Axis Bank Investment! 
Book value of the Bank's Investments portfolio as on 31st December 2018, was `1,61,036 crores, of which Rs 1,16,039 crores were in government securities, while Rs 31,555 crores were invested in corporate bonds and Rs 13,442 crores in other securities such as equities, preference shares, mutual funds, etc. 
Axis Bank Deposits! 
Savings Bank Deposits, on a quarterly average balance (QAB) basis grew by 15%. On QAB basis, CASA and Retail Term Deposits put together recorded a growth of 17% YOY. 
Savings Account Deposits on period end basis grew 15% YOY. CASA Deposits on a period end basis grew 17% YOY and constituted 46% of total deposits as at the end of 31st December 2018. 
The share of CASA and Retail Term Deposits in the Total Deposits stood at 80% as on 31st December 2018. Total Deposits grew 26% YOY.
Axis Bank Capital Adequacy and Shareholders' Funds! 
The shareholders' funds of the Bank stood at Rs 66,698 crores as on 31st December 2018. The Bank is well capitalised. 
Under Basel III, the Capital Adequacy Ratio (CAR) and Tier I CAR (including net profit for 9MFY19) as on 31st December 2018 was 16.40% and 13.07% respectively. The Bank remains well
capitalised to pursue growth opportunities.
Axis Bank Asset quality! 
As on 31st December 2018, the Bank's Gross NPA and Net NPA levels were 5.75% and 2.36% respectively, as against 5.96% and 2.54% respectively as on 30th September 2018.
The Bank has recognised slippages of Rs 3,746 crores during Q3FY19, compared to Rs 2,777 crores in Q2FY19 and Rs 4,428 crores in Q3FY18. 
Corporate lending slippages stood at Rs 1,887 crores. 98% of this came from disclosed BB & below accounts. The Bank's BB and below rated book stood at Rs 7,645 crores. This is 1.4% of the Bank's Gross Customer Assets, significantly down from 7.3% at peak.
Recoveries and upgrades from NPAs during the quarter were Rs 1,622 crores while write-offs were Rs 2,207 crores. Net slippages (before write-offs) in Retail and SME stood at Rs 492 crores and Rs 237 crores respectively. 
Bank has been asked to classify 2 accounts as NPA, with an outstanding amount of Rs 225 crores, which constituted less than 0.7% of last year's slippages of the Bank. Both of these
accounts have already been downgraded in H1 FY19.
#ResultsOnZB | @AxisBank ने पेश किए दिसंबर तिमाही नतीजे। मुनाफा ₹726 करोड़ से बढ़कर ₹1680 करोड़ हुआ। pic.twitter.com/jkqHfVlWof

— Zee Business (@ZeeBusiness) January 29, 2019
Axis Bank Provision Coverage Ratio!
Axis Bank's provision coverage, as a proportion of Gross NPAs including prudential write-offs, stood at 75% up from 73% in Q2FY19. During this quarter, in addition to the regular provisions for NPA, the Bank has also made a contingent provision of Rs 600 crores towards any potential slippages from the BB & Below pool of corporate loans. 
Axis Bank Digital growth! 
Axis Bank continues to remain amongst the top four players in mobile banking space - both in terms of transaction value and volumes, as per the latest RBI data for the month of September 2018. 
Mobile banking transaction volumes surged by 152% YOY while the mobile spends in Q3 reported a growth of 99% YOY primarily led by surge in UPI (Unified Payment Interface) transactions. Axis Bank currently has a 37 million registered UPI customer base.
During the quarter, Axis Bank processed over 251 million UPI transactions with total transaction value in Q3 growing over 6 times YOY to Rs 23,699 crores.
During the quarter, credit card usage witnessed significant growth of 43% YOY in value terms. The share of digital transactions in the overall transaction mix for the Bank remained strong at 75% as at end of December 2018. 
Axis Bank New launches! 
The Bank launched 'QuikPay Home Loan'; an industry-first reducing monthly instalments plan that allows Customers to save on interest by repaying higher principal every month in a structured manner.
 The share price of Axis Bank finished at Rs 660.80 per piece above Rs 4.85 or 0.74%. 
 
Updated: Tue, Jan 29, 2019
04:58 pm
Mumbai, ZeeBiz WebDesk