Will e-commerce thrust be enough to revive old white goods brands?
The white goods industry has the potential to reach $30 billion with greater penetration, especially in rural areas in India.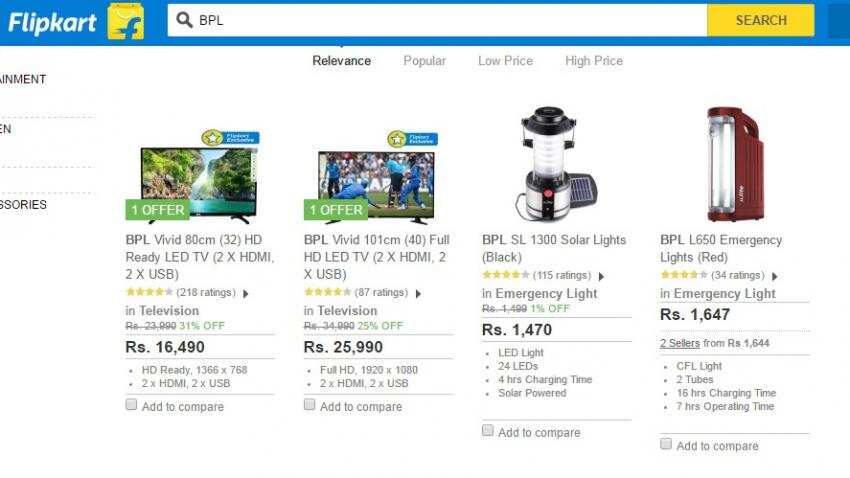 BPL products are now exclusively available on Flipkart to cut cost, improve reach.. Photo: Flipkart official website
India is currently in the middle an e-commerce revolution and white good makers are in no mood to be left behind.
Industry reports suggest that the sale of white goods like televisions, refrigerators and air-conditioners has moderated in India over the past few years. In September last year, sales of such products declined by as much as 11-12%, according to an Economic Times (ET) report.
Currently, the industry is estimated to be around $5.4 billion in India, a Deutsche Bank report says.
It, however, has the potential to reach $30 billion with greater penetration, especially in rural areas in India. The report had said that the white goods market is under-penetrated and is on the verge of a cyclical upturn.
White good companies are forging exclusive partnerships with e-commerce players to do this. Signing up with e-commerce firms helps cut their distribution through brick-and-mortar retail outlets. This increases their reach while bringing the cost on distribution networks and commissions down.
Brands like BPL and Onida have lost their market share to newer, hip models from different products. It's these companies that are taking to the e-commerce route to bounce back into the Indian market. Take for example, BPL which recently announced its re-entry in the white goods segment with its products only available on Flipkart.
The company had lost market share to leaders such as Samsung Electronics, Whirlpool, Godrej, and LG. BPL is now targeting Rs 600 crore in sales in 3 years, said another ET report.
Moving in the same direction, LG recently hired Snapdeal's business head Saif Iqbal to shape the company's e-commerce strategy.
Similarly, other brands such as Sansui, Onida, Kenstar, Kelvinator, and Maharaja Whiteline, are all trying to revive themselves through e-commerce portals.
While Samsung Electronics, Whirlpool, and Godrej products are also available on e-commerce sites, it was only in June last year that they partnered with e-commerce sites after the success of smartphones sales on those portals.
Will it be enough to revive brands such as BPL, Onida, Sansui, and others, is yet to be seen.