Will PNB see any ray of hope; analysts trim down ratings
Two jewellers, Nirav Modi and Mehul Choksi linked fraud of over Rs 14,000 crore has reflected in the earnings of Punjab National Bank in a very disappointing manner.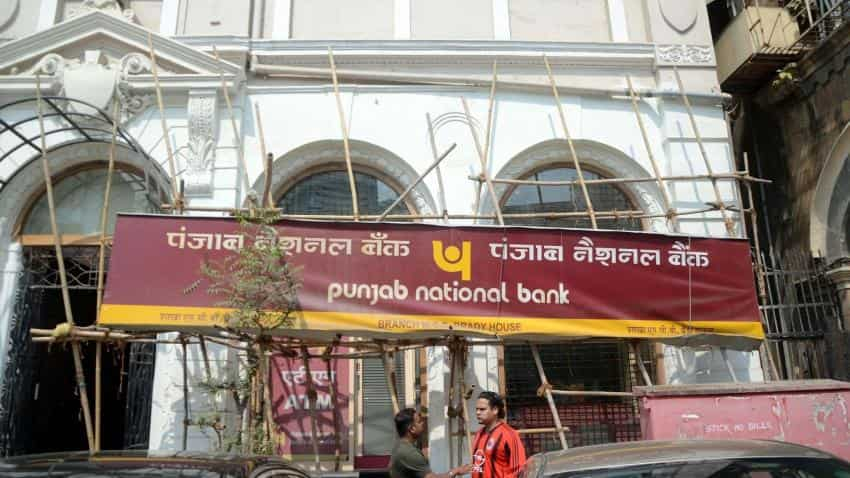 The Punjab National Bank's (PNB) Brady House branch. Photo: IANS
The case of Punjab National Bank who was once called as third largest PSB can come as life lesson for other banks, with massive amount of fraud it sits on. It's not just fraud dilemma that PNB surface each coming day investors have also been loosing their faith in the operation of this state-owned bank. Not only this, even analysts have started downgrading their ratings for PNB.
Two jewellers, Nirav Modi and Mehul Choksi linked fraud of over Rs 14,000 crore has reflected in the earnings of Punjab National Bank in a very disappointing manner. On May 15, the bank revealed that fraud from gems & jewelry sector amounted to Rs 14,356.84 crore which is why RBI permitted PNB to make  provisions against this fraud about 25%.
Therefore, PNB recorded provisions of up to Rs 20,353.10 crore in Q4FY18 increasing by 253.75% versus Rs 5,753.51 crore in Q4FY17, and also up by a huge 355.67% from Rs 4,466.68 crore in Q4FY18. This led to net loss of Rs 13,416.91 crore compared to net profit of Rs 261.90 crore in corresponding period of previous year and net profit Rs 230.11 crore in preceding quarter.
It can be said PNB is trying hard to overcome such fraud against them, but looks like investors and experts are still not convinced considering the bank already choking with heavy stressed assets and this was just another add-on to their foes.
Gross NPAs were at Rs 86,620.05 crore up by 56.43% from Rs 55,370.45 crore in Q4FY17 and higher by 50.59% as against Rs 57,519.41 crore in Q3FY18. In percentage terms, gross NPAs stood at 18.38% in Q4FY18 versus 12.53% in Q4FY17 and 12.11% in Q3FY18.
Since then, the share price of PNB has been on hotbed on stock exchanges. PNB from May 14 to May 17, tumbled by a 23.08% and even touched a 52-Week low of Rs 74.30 per piece.
On Friday, the bank's share price ended at Rs 74.75 per piece down by 2.22% on BSE. Not only this, PNB's market valuation dropped by 55% to Rs 20,635.28 crore on this day.
Guess what! PNB's market cap has halved even lower than it's own subsidiary PNB Housing Finance. The market capitalisation of PNB Housing Finance stood at Rs 21,199.07 crore.
PNB had m-cap of Rs 44,624.67 crore before the lender was hit by a nearly $2 billion fraud in which the billionaire jeweller Modi allegedly acquired fraudulent letters of undertaking (LoU) from one of its branches for raising overseas credit.
Both domestic and global brokerages have advised caution on the stock post the fraud was detected and the lender posted weak March quarter earnings.
"With concerns of capital raising and weaker asset quality, we remain cautious and cut our rating to Reduce from Neutral," Nomura said in a research note.
Edelweiss Financial service also downgraded the rating to reduce with a  revised target price of Rs 70. Analysts there said, "We believe governance issues, operational challenges, uncertain business prospects and diluted franchise makes it a dud investment proposition. FY18 events and weak earnings profile suggest it is on weak terrain."
Analysts at Kotak Securities said, "The ramifications of the big fraud on the bank, both direct and indirect, has been far higher than initially anticipated. The bank has consumed a lot more capital and there would be further impact on Tier-1 ratio in the ensuing quarters till the balance sheet is stabilized."
They added, "It is quite surprising to note that the domestic deposits did not see any impact post this crisis as it grew sequentially. The drop in Tier-1 ratio to <6% would result in a steep contraction in book value per share, negating our previous argument for a positive outlook at this time of the cycle."
Hence, even Kotak said, " We are not factoring this quantum, but we have made adjustments to our target price as this is near certainty. Our TP stands revised to Rs 90 (from Rs 150 earlier)."
Further last week, PNB also stated that, CRISIL Rating and India Ratings have downgraded their ratings to negative or reduce on their bonds.
Following the above factor, looks like PNB will not see much revival anytime soon. In terms of stock price analysts believe it will tumble further. How PNB floats among this crisis will be keenly watched.
Updated: Sun, May 20, 2018
12:51 pm
Mumbai, ZeeBiz WebDesk