Will devise strategy after understanding the new government's approach towards Infrastructure projects: Hemant Kanoria, SREI Infra
Hemant Kanoria, CMD, SREI Infra, speaks about the company's performance in FY19, stressed accounts and equipment finance business among others during an interview with Zee Business.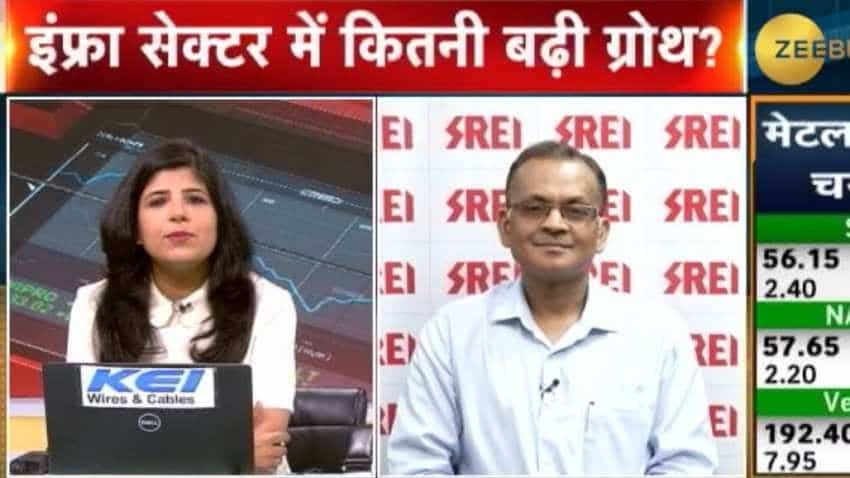 Hemant Kanoria said "There is a continuous improvement in the stressed assets and our NPA has come down substantially." Image source: Zee Business
Updated: Wed, Apr 03, 2019
01:28 pm
Mumbai, ZeeBiz WebDesk
Hemant Kanoria, CMD, SREI Infra, spoke about the company's performance in FY19, stressed accounts and equipment finance business among others during an interview with Swati Khandelwal, Zee Business. Edited Excerpts: 
Q: Have you been able to meet the targets of FY19 and how promising FY20 can be for SREI Infra?
A: We expected growth in our equipment and project financing business in FY19 and were able to maintain it as per the strategy that we had with us. In short, FY10 has ended on a good note. However, issues at ILFS had created certain problems for the NBFC sector in the month of September, which slowed our disbursement in the third quarter. But, the equipment financing business of the company noticed a growth in the fourth quarter. In fact, it was our, SREI Infra's, strategic decision to be slow on disbursement as focused on improving return on equity and profitability. We were able to end this quarter in the same way but will be able to share the figures only after the results are out. 
The first quarter of FY20 will remain slow due to elections, which is scheduled to be held in April-May 2019. New government's - whosoever comes to power - strategy towards infrastructure and the projects where investments will be made will be out by June 2019. Thus, things will depend on it but the running projects, specifically, state government projects, will continue as it is. Similarly, there will be momentum in central projects that have been given to construction companies or contractors. But, the first quarter will remain slow. However, we will finalise our strategy in accordance with the strategy of the new government. 
Q: Update us on stressed assets as well as the available asset quality situation of the company?
A: There is a continuous improvement in the stressed assets and our NPA has come down substantially. We also declared the same in the last quarter. IN fact, NPAs are going down in each quarter and went for a realisation for the problematic stressed assets. 
Samplers are kept at places where we go for equipment financing and these Samplers are used to repress that equipment so that they can be resold. 
In all these 30years, we have developed a process to repossess the equipment and resale them. Interestingly, several construction companies like buying repossessed equipment. Thus, we face minimal losses on this front. When it comes to infrastructure assets then we have worked on the stressed account and recovered a lot from our clients and provisioned certain accounts, where recovery was not possible. However, we also work on the provisioned account because provisioning doesn't mean that the asset is not workable. They are provisioned in accordance with the guidelines issued by the regulator. We work on the asset to revive it and increase cash flow from those assets. In the same way, we approach clients and make efforts to turn that asset into a performing asset. 
Q: Let us know about your borrowing portfolio and the current cost of funds?
A: We never go for asset liability majority mismatch in our borrowing portfolio and that is the reason that we never faced liquidity issues at our end in the last 30 years. Whatever we lend, we led after matching the liability side where we don't go for short-term borrowing to lend for a long-term. This is a reason that the recent crisis didn't have any impact on us and this happened just because we had a perfect book in the tenure. Undoubtedly, the interest cost has gone up in the last one-two quarters. Interestingly, we don't take any risk of this interest rate, i.e. we reduce interest rates for the clients whenever there is a decrease and vice versa when it goes up. Thus, the interest rate movement doesn't have any impact on our Net Interest Margin (NIM). For instance, we have passed on the interest rates to the clients, which went up in the last quarter. 
Q: RBI will be releasing its Monetary Policy in recent future. Do you think that it will go for a rate cut?
A:  It is difficult to say whether there will be a rate cut or not as it is election time. Possibly, RBI may give indications, which will remain as speculation on its decision. But, I feel that the rates will remain untouched. 
Watch this Zee Business Video
Q: You were in the process of unlocking the equipment finance business. What has happened on that front and what is your growth target of that business?
A: Last year, we wanted to bring IPO of the equipment business but was not able to do so due to the market conditions. Later, its, equipment financing business, demerger was announced in the month of January, so that it gets listed directly. SREI Infra shareholders will directly get the stocks of the equipment business. However, regulatory approvals are needed for the purpose and we have submitted applications for the purpose and it will take time, six-nine months, and we are expecting that we will be completed by FY20 so that SREI Equipment gets listed directly. This will enable them to raise equity directly from the market and meet its capital requirements by directly accessing the market and the investors.
Get Latest Business News, Stock Market Updates and Videos; Check your tax outgo through Income Tax Calculator and save money through our Personal Finance coverage. Check Business Breaking News Live on Zee Business Twitter and Facebook. Subscribe on YouTube.