A shortseller's report, a diversified empire and meltdown in stock market - what we know so far in Adani vs Hindenburg saga
Market cap of all listed Adani Group companies worth a whopping Rs 4 lakh crore has wiped-out over the past two trading sessions. The overall market cap of the Adani Group has tanked from Rs 19.40 lakh crore to Rs 15.30 lakh crore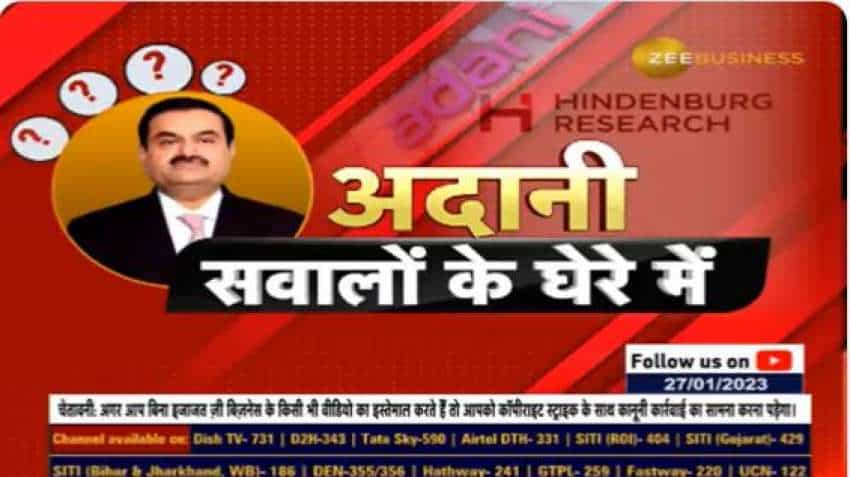 Hindenberg is a short selling research firm based in the US which publishes its reports based on the findings from forensic audit. Nate Anderson, CFA and CAIA started the company
Investors in Adani Group stocks have bled approximately Rs 4 lakh crore in two trading sessions as the allegations leveled by Nat Anderson-founded forensic financial research firm - Hindenburg Research - have shaken investor faith in billionaire Gautam Adani-led diversified conglomerate.
Not just the Adani Group stocks, the report has jolted the investors' confidence in top banks and state insurer Life Insurance Corporation (LIC), exposed to the group's mammoth debt. While the Adani Group debt and the meteoric rise in valuation of group firms' stocks was always a matter of debate in investing circles and media, the brazen allegations that Hindenburg has talked about, has opened the Pandora's box.
Here is a 360 degree analysis of what has happened so far and the key questions the Hindenburg report has raised.   
-- Market cap of whopping Rs 4 lakh crore has been wiped-out over the past two trading sessions.
-- The overall market cap of the Adani Group has tanked from Rs 19.40 lakh crore to Rs 15.30 lakh crore.
-- In percentage terms, the erosion is a whopping 25 per cent.
-- Adani Group has 9 listed companies including ACC and Ambuja Cements.
-- On an average, the fall in each of these stocks is 20 per cent. Four companies are in the F&O segment.
-- Six companies have fallen by over 20 per cent; of these, two companies have just 5 per cent circuit.
-- Adani Enterprices, whose FPO is on the block, has been the biggest loser from the ordeal. It has lost around Rs 64,000 crore in market cap.
-- Adani Total has lost over Rs 1 lakh crore in m-cap.  
6 Big Questions on Adani Group
Q1) Hindenburg has meanwhile challenged the Adani Group to file a case against the company in the US. The question remains whether the group will take up the challenge or not.
Q2) It also remains to be seen how the investors in Adani Group company stocks get compensated for the loss they have incurred over the past two trading session after the report came out.
Q3) The next big question is whether the market regulator Securities and Exchange Board of India (SEBI) will expedite and expand its investigation against the group?
Q4) Another factor is the performance of the Rs 20,000 crore FPO — largest in the history of private companies. If the FPO is not subscribed fully, it will be a big question mark on the ability of the group to raise funds.
Q5) Will Adani Group bring investors to reduce its debts, like many other companies have done in the past?
Q6) Will Adani Group come forward to clear the air around investments from the offshore companies?
Expert Take – Ambareesh Baliga
Expert Ambareesh Baliga said that it is unlikely that investors will subscribe to the FPO issue considering that the FPO price is currently higher than the actual share price.
He said that the company will have to revise the price, else it will become difficult for the FPO to get full subscription.  
Market Cap of Adani Group companies has tanked by over Rs 4 lakh crore to Rs 15.30 lakh crore from Rs 19.40 crore over two sessions.
Shares are largely held by retail investors with very small portion lying with mutual funds and Foreign Institutional Investors, Baliga said.
He was of the view that considering current declines, it is unlikely that the stocks could see any significant fall further. He expects a bounce back from current levels. There is fear among investors if one looks at the past record of Hindenburg.
He was of the view that it will be very difficult to prove charges of stock manipulation. 
LIC Holding in Adani Group Companies
Out of 9 Adani Group companies, LIC has holdings in 7 companies. Over the past two trading sessions, state-run insurer has taken a hit of Rs 18,300 crore in its investment.
The biggest fall has been in Adani Total, where LIC has lost Rs 6,350 crore. It has 6 per cent stake in the company. In Adani Ports, LIC holds around 9 per cent.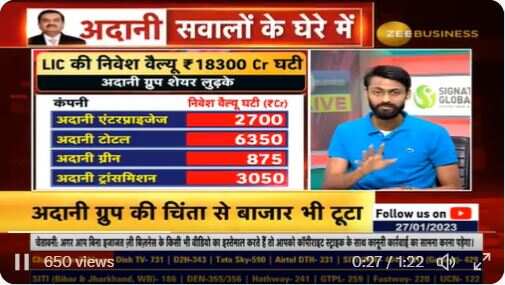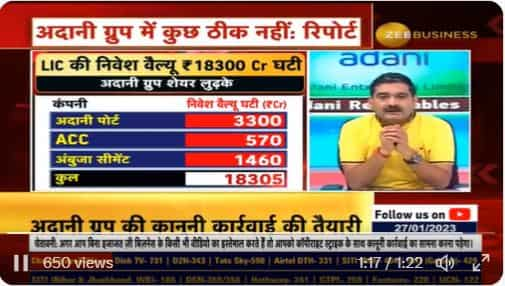 Under Sebi Lens
The issue of alleged irregularities in Adani Group companies was raised in the Parliament in 2019. In response to this, the government had said that SEBI is investigating charges against the company. Directorate of Revenue Intelligence (DRI) is also conducting an investigation into it.
However, Sebi has its own limitations — it has jurisdiction only over violation of securities law. Other investigating agencies will have to be involved if one has to determine the role of off-shore investments.
Meanwhile, Reuters has reported that Sebi has taken cognizance of the Hindenburg report.
In its acquisition of ACC and Ambuja Cement from Holcim Group, the Adani Group constituted an SPV. And 17 foreign off-shore entities were involved.   
Reactions to Hindenburg's Allegations
Reactions have been pouring in on the allegations from activist groups and top investors. Billionaire US investor Bill Ackman has lauded the research report by Hindenburg and called it 'highly credible'.   
Adani Group's Response
The Hindenburg report raised 88 issues and it claimed that Adani Group did not respond to these questions and has given a broad based answer. To this Adani Group has said that, Hindenburg's claims that it has done a thorough investigation spanning 2 years, is untrue. In an investor presentation, the Group said that out of the 88 issues that were raised by Hindenburg, in at least 21 cases, the information was taken by disclosures made by the company. Out of 9 companies, 8 have auditors which are among the big six, the company said while rejecting the claims made by the Hindenburg report that there were no big auditors in the group companies. It has also rejected allegations of irregularities, saying that the group companies have been rated by 10 agencies out of which three are global agencies.
The Adani group also said that six companies fall under the purview of specific regulations. It has also dismissed claims that the company is overleveraged.
About Hindenburg Research
Hindenburg Research is a short-selling research firm based in the US which publishes its reports based on the findings from forensic audit. Nate Anderson, CFA and CAIA started the company. It has published reports on 30 companies since 2020. The average price correction in stocks after the reports published by them is 15 per cent. Over the six month period the average price correction is 26 per cent. One of its most famous reports is on Nikola where stock prices fell by 94 per cent after report of irregularities surfaced.
Watch Full Report 
#Hindenburg के रडार पर #AdaniGroup क्यों?

क्या है #HindenburgReport के 88 सवाल

Adani Group में कुछ ठीक नहीं: रिपोर्ट#SEBI के रडार पर भी अदानी ग्रुप: निवेशकों के लाखों करोड़ रुपए स्वाहा@deepdbhandari #HindenburgResearch @AnilSinghvi_
#AdaniFPO https://t.co/m9DmrT0mpJ

— Zee Business (@ZeeBusiness) January 27, 2023
An investigation is ongoing against Hindenburg by the US Department of Justice on allegations of short-selling in connivance with hedge funds. Meanwhile, Hindenburg in its reports makes a disclosure that it does short-selling. 
Get Latest Business News, Stock Market Updates and Videos; Check your tax outgo through Income Tax Calculator and save money through our Personal Finance coverage. Check Business Breaking News Live on Zee Business Twitter and Facebook. Subscribe on YouTube.
Updated: Mon, Jan 30, 2023
03:50 pm
New Delhi, ZeeBiz WebDesk