Why advertisers need to pay attention to ad fraud on digital mediums
While many marketers harp about the number of views or likes their campaign received, many of them fail to check whether these number are true or fake.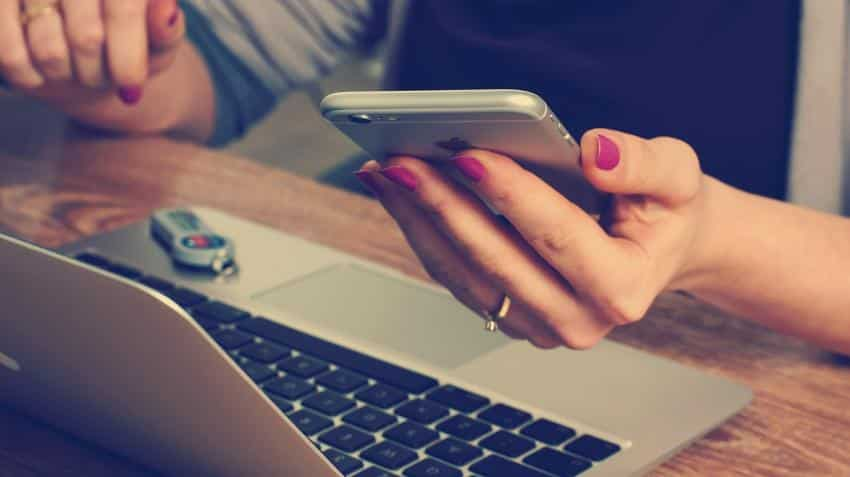 A woman browsing on her smartphone while using the laptop. Photo: Pixabay
Updated: Mon, May 22, 2017
07:08 pm
Mumbai, ZeeBiz WebDesk
Key Highlights:

Businesses globally could lose a massive $16.4 billion to online ad fraud in 2017
20% of the total digital ad spends were wasted in 2016 due to ad fraud
It will take five to 10 years for advertising to become as secure as banking
It is not something new that the dominance of digital mediums in advertising and marketing strategies has been increasing. This is as more people move towards using it as a primary medium. But marketers love the digital medium especially as it gives them accuracy in targeting and, more importantly, measureability of their campaign.
No other medium comes close to giving the level of ROI (return on investment) data on campaigns such as digital. Marketers and agencies alike can get data on a campaign in terms of clicks, likes, views, etc.
However, there is a dark side to this, as these numbers can be just manipulated. While marketers and ad agencies might not admit it openly but advertising fraud has been one of their greatest worries today.
Businesses globally could lose a massive $16.4 billion to online advertising fraud in 2017, according to a recent report by ad verification company Adloox.
It further said that 20% of the total digital ad spends were wasted in 2016 due to ad fraud.
Advertising fraud or ad fraud are tools or methods used to create fake traffic, fake leads or misrepresented or ineffective ad placements all to scam advertisers into paying them money for something worthless.
If there is a major road block to digital advertising, this is it. As accuracy of viewership is something that the young medium uses to prove its superiority over other traditional mediums such as television, newspapers, radio, outdoor, etc.
"No one claims to have eliminated fraud, but the global platforms and marketplaces are helping much more than say two years ago," said a recent GroupM report. "When demand exceeds supply, there are rich pickings for the same professional fraudsters who also infiltrate online payments and banking. We predict it will take five to 10 years for advertising to become as secure as banking is today," he said.
ALSO READ: Are ad blockers biggest threat to digital advertising today?
The report further said that several countries regard 1-2% ad fraud as being "under control". Australia cites a 2.8% result from 4 billion impressions checked by Moat. Hungary reports a current 5% fraud rates in manual buys, which is a concern, and even worse in automated buying.
"Two countries admit that fraud is not yet controlled. South Africa is still adopting the technology. It is expensive, so only larger clients are using it. Many others rely instead on only trusted premium publishers, and avoid biddable inventory, which are sensible strategies. The other is Russia ,where local ad servers do not track fraud, and global ad servers have low penetration," the report said.
The GroupM report identified two main types of ad fraud, ie impression fraud, which are ghost sites and malicious non-human traffic, and non-impression fraud, which are ad stacking, substandard sites, wilful non-compliance, etc.
ALSO READ: Why brands are increasingly choosing digital only video ad campaigns
China also distinguishes between bot fraud (fraud by machines) and fraud by human "click farms". While it is confident about managing bot fraud, but notes click-farm countermeasures are not so advanced and still require case-by-case manpower.
Sridhar Ramanujam, Founder & CEO of Integrated Brand-Comm says, "Unfortunately this is a necessary evil of digital marketing, especially when brands execute paid media efforts. Advertisers pass those funds on to 'click farms' to amplify engagement stats. The reason this is still not under control is because it's gone unchecked for far too long. It doesn't help that digital still has an element of subjectivity when it comes to content specially to drive engagement."
Rohit Pabalkar, SEO Head, Webmaffia said, "Obviously, over the period with the rise in digital mediums and the competitiveness there will be some amount of frauds will increase but it would be interesting to see how publishers counter these digital frauds. However, there are various ways to counter these issues one being clearing the publisher inventory on a real time basis. This will certainly not stop the ad frauds but restrict them largely."
Saurabh Mathur, Planning director, VML India said, "With an emerging digital scene that is seeing plenty of growth for mobile app developments and greater internet penetration, India is ripe for ad fraud. India has been seeing different forms of ad frauds. For instance, publishers tend to push cheap clicks through malware and spam. Also the usage of livid material to attract more clicks have also replaced creative banners that were initially provided by the advertisers. It is not uncommon for reputable sites in India to have such visuals displayed on their site."
"Fraud traffic and viewability are the top concerns of marketers along with site quality and wastage. Whether fraudulent traffic is incidental or accidental, it has become a legitimate concern. The basic problem is not just the inability to know a customer but the inability to know the traffic. It's proved very difficult for social media platforms to establish trust for their own analytics. Attribution is one of the best approaches for accurately ascribing credit to a platform's analytics, however fraud has and will affect all platforms and publishers to some extent. Advertisers must look into analytics behind their traffic to understand the impact of bot traffic," says Ashish Shah, CEO & Founder, Vertoz.
There are definitely other ways to counter ad frauds. One is for brands to use premium sites and private marketplaces that are much safer than open inventory exchange.
"In Italy, 90% of programmatic buying is conducted in private and controlled markets, as opposed to the open market. This keeps fraud down to 1%. The Philippines and Singapore use the same approach to safeguard high client expectations of orderly "adjacency" and find this disqualifies about 40% of all potential supply... Malaysia manually cross-checks visits and interactions on-page to uncover bot fraud anomalies," said the GroupM report.
Ramanujam says that there are a couple of ways brands can clamp down on this. "Use tools that check whether the click came from a human or a bot. The other is to sync publishing time with the time when their audience is most active during the day," he said.
The rise of machine-learning and artificial intelligence also helps in detecting ad fraud.
"There are many tools and techniques for managing "open inventory," and some of our agencies use these on every transaction. In order of spontaneous mentions the top scorers are Integral Ad Science, Moat, Grapeshot (only works on text), white/blacklists, Methbot, Sizmek, Adform and DoubleVerify," said GroupM. It added, "We have never been better equipped than we are today, but we face a competent enemy in dynamic territory."
Get Latest Business News, Stock Market Updates and Videos; Check your tax outgo through Income Tax Calculator and save money through our Personal Finance coverage. Check Business Breaking News Live on Zee Business Twitter and Facebook. Subscribe on YouTube.