Who is Jeff Bezos, the man who founded Amazon and is the richest man in the world
Jeff Bezos surpassed Microsoft co-founder Bill Gates in Forbes rich list. Bezos' fortune rose to $112 billion, allowing him to dethrone Gates, worth $90 billion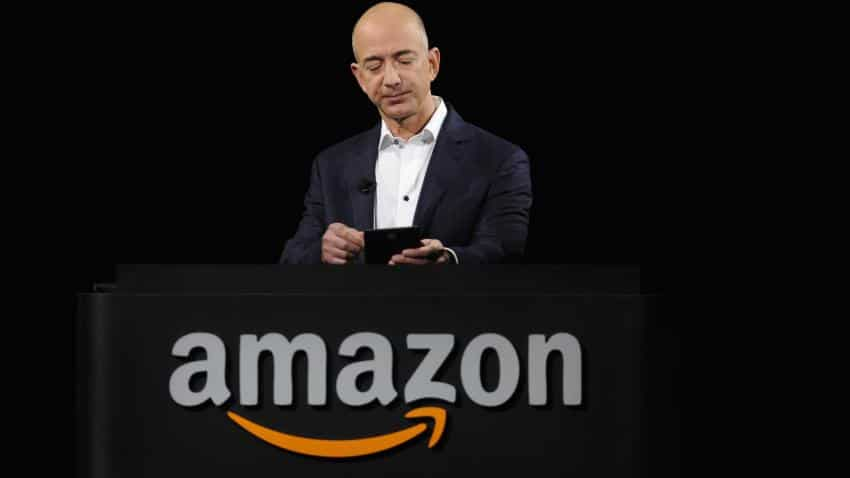 Jeff Bezos other passion is space travel: His aerospace company, Blue Origin, is developing a reusable rocket that the world's richest person says will carry passengers. Image source: Reuters
Updated: Wed, Mar 07, 2018
03:21 pm
ZeeBiz WebDesk
Jeff Bezos, the founder of e-commerce company Amazon,  is the richest person on the planet and the first one to top $100 billion as number one on the Forbes list. The company's fortunes rose by $39.2 billion as shares of his e-commerce giant rose 59%  in 12 months, which was the biggest one-year gain since Forbes started tracking billionaires in 1987, helping consolidate his position as the world's richest man.  Jeff Bezos surpassed Microsoft co-founder Bill Gates in Forbes rich list. Bezos' fortune rose to $112 billion, allowing him to dethrone Gates, worth $90 billion.
According to the Forbes profile, Amazon's chief Jeff Bezos is the first person to top $100 billion as number one on the Forbes list of the World's Billionaires. He owns 16% of e-commerce giant Amazon, which he founded in a garage in Seattle in 1994. Bezos attended Princeton and worked at a hedge fund before quitting to sell books online.
Amazingly, growing up, Jeff Bezos worked summers on a ranch repairing Caterpillar tractors Bezos still lived in a rented apartment and used a desk he made from an old door
Jeff Bezos other passion is space travel: His aerospace company, Blue Origin, is developing a reusable rocket that the world's richest person says will carry passengers.
He bought The Washington Post in 2013 for $250 million.
A record 2,208 billionaires made to the Forbes' annual ranking and altogether they worth $9.1 trillion, up 18% from a year ago. The 20 richest people, worth a staggering $1.2 trillion, are roughly equivalent to the annual economic output of Mexico. In aggregate, their riches amount to 13% of the total fortune of all billionaires worldwide, Forbes said on its website.
According to CNBC, Donald Trump's fortune has fallen $400 million since last year's list. This was due in part to falling values of Midtown Manhattan real estate and declining revenues at several Trump golf properties. President Trump, worth $3.1 billion, ranked 766 this year, fell  from 544 in 2017.
 
Here's the Forbes top 10 rich list:
Jeff Bezos, Amazon, worth $112 billion
Bill Gates, Microsoft, worth $90 billion
Warren Buffett, Berkshire Hathaway, worth $84 billion
Bernard Arnault & family, LVMH, worth $72 billion
Mark Zuckerberg, Facebook, worth $71 billion
Amancio Ortega, Zara, worth $70 billion
Carlos Slim Helu & family, telecom, worth $67.1 billion
Charles Koch, Koch Industries, worth $60 billion
David Koch, Koch Industries, worth $60 billion
Larry Ellison, software, worth $58.5 billion