We will get bored if Indian economy is not spiced-up; says Neeraj Kanwar
Neeraj Kanwar, Vice Chairman and Managing Director, Apollo Tyres, during a candid talk with Zee Business, at the sidelines of 2019 World Economic Forum, Davos, spoke about India's relevance in Globalisation 4.0, the impact of the slowdown in the automobile sector and his expectation from the upcoming budget.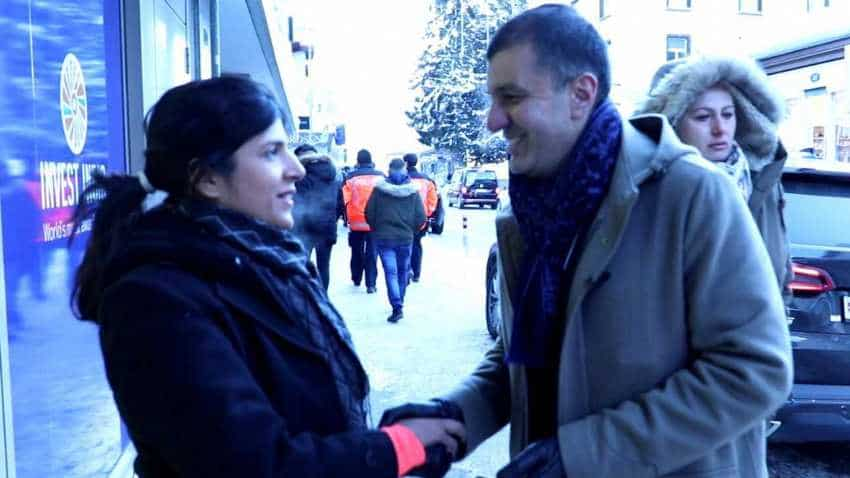 Neeraj Kanwar said "I am very optimistic that the surge will be in double figure." Image source: Zee Business
Neeraj Kanwar,  Vice Chairman and Managing Director, Apollo Tyres, during a candid talk with Swati Khandelwal, Zee Business, at the sidelines of 2019 World Economic Forum, Davos, spoke about India's relevance in Globalisation 4.0, the impact of the slowdown in the automobile sector and his expectation from the upcoming budget. Edited Excerpts: 
Q: Davos 2019 is all about Globalisation 4.0. How India is relevant to the subject and can we convert it into an advantage and be at the top?
A: I think, India is poised to be the fastest growing emerging market in the world. We are seeing a slowdown in China while India through its economic reforms undertaken in the past few years is propelling it on a growth path and its journey has just begun. We have learnt a lot in the past few years of globalisation, where India is coming out with good quality products at the right cost. Thereby, it is putting various tons in the market. 
Q: Did the slowdown in the automobile industry in the domestic market had any impact on your business? 
A: There was a slowdown in the industry, at the beginning of the year, per se because GST came in. In addition, there were floods in many parts of the country. But, the second half hasn't been that bad. It was a short-term blip that the auto industry has faced. Primarily, we have an election which is coming and BSVI will come in effect in 2020. So, we will see a surge of demand in commercial vehicles and in passenger cars in the coming years. I am very optimistic that the surge will be in double figure. I think, the companies are gearing themselves to get ready for that demand. 
Q: Update us on the expansion plans in different segments that you are serving, at least when you have announced a CapEx of Rs6000 crore till 2021?
A: We are investing heavily this year and the next year because of the demand that is visible in the country. Similarly, the plant that was established in 2009 gave us to market leadership in the tyre business. We are ahead of the competition and today Apollo has a 30 per cent market share in the truck business in India. So, we have invested now in the greenfield in Andhra and doubled our capacity in Chennai to 12,000 tyres per day. We believe that all these investments that we have put in will now start kick in. And, therefore you will see a good double-digit growth happening as far as revenues are concerned for Apollo. 
Q: Let us know about the kind of impact that the CapEx will have on your margins?
A: I don't like to give guidance but, yes, margins will be under pressure. On the other hand, raw material has softened, and prices have come down therefore little bit margin improvement in various companies but rightly said we are in a CapEx stage at present. There are challenges and we as a company will invest back in the organisation in terms of building a brand and in terms of building our R&D strength. Currently, our R&D spends stands close to 50 per cent of our net sales. Thus, it is a healthy R&D Spend and a lot is going on putting into technology, customers and products.
Q: Tell about the business environment that you faced within India at a time when the country was facing certain challenges like liquidity and NBFC crisis and difficulties in the banking sector?
A: These challenges keep coming to India and they will always feel challenges over here. Often, I say, we like spicy food and it is a spicy culture and if our economy is not spiced up than we will get bored. So, I like the challenges and there will be ups and downs because we should understand that it is an open economy, which is going to the market. And, we will face lots of challenges while facing the world, but I think that on the other hand, positive signs are there as India is gearing up. 
Q: Do you think that time has come when the interest rates should be cut down?
A: Interest rates should come down, but my own gut says that it is an election year and much tempering can't be seen. 
Q: There is a great demand in the replacement market especially in the domestic truck replacement market. How optimistic you are on the growth?
A: A shift is happening from the old technology to the new technology. As I have informed you that we have a market share of 30 per cent in truck tyres, which is in the replacement market. We have grown in the rural market and all this growth will be seen in the quarter results. Then the double-digit growth is coming in terms of volumes. So, Apollo is very geared to take over to increase the market share in the truck segment as well as farm and agriculture. In India, Apollo has done very well. Again, in the passenger car segment, we are making headways and we will be number 2 and we have signed with Sachin Tendulkar as the brand ambassador and that is the new strategy. 
Q: How you will leverage him?
A: Sachin is a brand/icon not only in cricket but as a sportsman who has taken India into the outside world of sports. So, he has globalised the Indian sports. Apollo has been an Indian company which is trying to globalise its Indian brand and that is the fit where Sachin and Apollo come together, and I love Sachin.  
Q: What are your expectations in terms of growth in the international market?
A: You know in the pie 60 per cent in India and 40 per cent is outside, or which 30 per cent in Europe. Currently, we have just set up a Hungarian plant that is running. It is reaching its full capacity soon in fiscal 2020. So, its produce is going out in the market. We also have a Dutch plant, which is an old plant. Both plants have strength, but the Hungarian plant is coming up with more automatic and robotic systems. We are finding that this product will go into the European market and we will increase our production from 2.5 to 3 per cent, that is the idea. And, we are going to the premium market. Currently, we have got OE approvals from some of the top MNCs like BMW, Audi, Ford and Mercedes and we will supply to them in the European market. So, it is going to give a boost to the brand in Europe. 
Watch this Zee Business video
Q: What are your expectations from the interim budget that is around the corner?
A: As I have said that I don't see much happening in this budget as this is going to be a vote of account but as far as GST is concerned our tubes has come down to 18 per cent but tyres are still at 28 per cent. We hope that the government looks at it like this, tyre and tubes, comes as one set for the customers, as an example telephone and chargers come as one set. So, our products should be at the same GST level. We have been taking it up as an industry with the government and hope that they will realise that and soon make that correction. 
Get Latest Business News, Stock Market Updates and Videos; Check your tax outgo through Income Tax Calculator and save money through our Personal Finance coverage. Check Business Breaking News Live on Zee Business Twitter and Facebook. Subscribe on YouTube.
Updated: Wed, Jan 30, 2019
10:27 am
Davos, ZeeBiz WebDesk