We have plans to make Prestige Estates a zero-debt company in 2021: Irfan Razack, CMD, Prestige Group
Irfan Razack, Chairman & Managing Director, Prestige Group, talks about the company's outlook for the New Year - 2021, expected demand, new geographies where Prestige Estate wants to enter and Blackstone-Prestige Estates deal among others during a candid chat with Zee Business Executive Editor Swati Khandelwal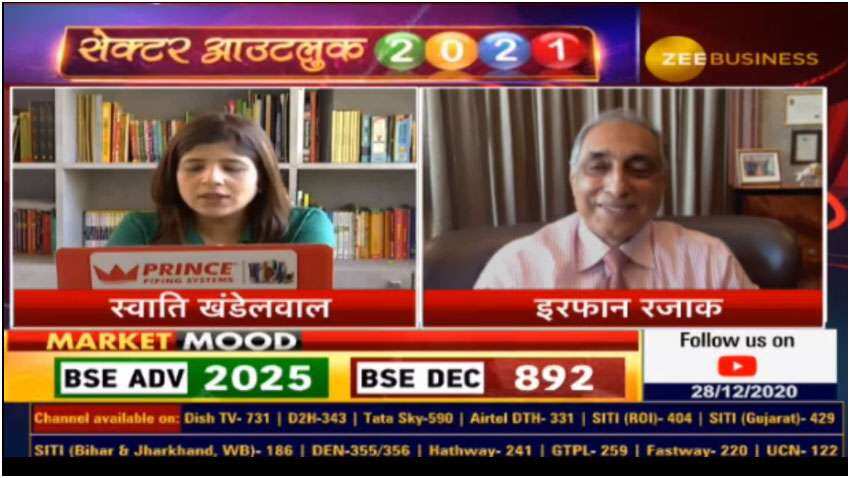 Irfan Razack, Chairman & Managing Director, Prestige Group, talks about the company's outlook for the New Year - 2021, expected demand, new geographies where Prestige Estate wants to enter and Blackstone-Prestige Estates deal among others during a candid chat with Swati Khandelwal, Zee Business. Edited Excerpts:
Q: What is your outlook for 2021? Do you think the ongoing trend and momentum along with demand recovery that we are seeing in the real estate sector will scale up further from here? 
A: There is a good pick up in the demand in residential sales. Demand and sales are good in every city, where we are working in the South. Sales are there not only in the ready properties but it is also there in the under-construction properties. We are happy that it is a good uptick and there is a pick-up in the sales of luxury properties as well. All-round, sales are happening in every segment of the residential side. Going forward, how it will happen in 2021 will depend on how job creation happens, the new jobs that will be created, the environment that will be there and the vaccine is already present there. So, I think 2021 should be better than 2020 and the momentum will continue and I can see positive signs for the purpose.
See Zee Business Live TV Streaming Below:
Q: Many people believe that this can be a pent-up demand or is happening due to the incentives that many state governments have announced. So, do you think that it will slow once there is a change in these things? Also, what is your outlook on commercial properties, especially in terms of demand?
A: It was pent-up demand but I would like to tell that geography where we are working, we were not provided with any relief from the state governments. Maximum relief was provided in Maharashtra. At the moment, we have not opened our account in Maharashtra but will start it in the state very soon and it will take us to the next level. As far as the commercial property is concerned, the work from home is being discussed and it has turned into a reality but it, work from home, will not continue for a long time.
There were strange circumstances due to which there was no option but to do work from home but going forward it will lessen and turn into a hybrid-model. But there is something in which more work will come to our country and it will benefit us and more jobs will be created. And it, the work from home, will turn into a hybrid model in which many people will work from home. For time being, there will be some problems and in a short term few cancellations, space give-up scenes by small companies – who can't sustain, but in a long term I feel that there will a boom for the office space and it is likely to happen in the cities where it has been till date.
This will also benefit the small cities because many people have returned to their homes and are working from there. There will be a situation in which tier-II cities will have its impact and you will make small office buildings in these tier-II cities. This is my prediction that it will act as a hub-and-spoke model and big campuses will be toned down but all-in-all office take-up will increase in India and it will not go down. It can be sub-due in 2021 but from 2022 we can see a complete boom and that is the time for which we should be waiting for. There will be a pain or stress in the short-term but in a long term, I believe that we have got a good thing going and that is what we should be looking for and waiting for. There is no need for us to panic.  
As far as retail is concerned, then there was a slight slowdown in the segment. But, now, it is a festive season and in it, sales started from Dussehra and Diwali and around 70-80% of the turnover are back in every mall as compared to the last year. Cinema has been in pain because there are no software and people do fear and I feel that they should fear because people have to e careful and should regulate themselves. But once the problem of COVID is solved then Cinema will come back with a bang. In retail also, as of today, people were predicting that people are used to shopping online and no one will go to the shopping malls but nothing like this has happened. People are going to restaurants, food courts and are also shopping. So, retail is also back to its near normal level except for cinema and entertainments.
Q: You have spoken about plans to enter Mumbai and you are preparing to enter here. So, let us know about the timelines and the kind of projects in which you will enter because Mumbai region is a very competitive segment? What are your exact plans related to Mumbai or beyond South what are the new markets that looks lucrative to you in India and what you are ready to launch and what is your strategy related to it?
A: We have taken a stressed project in Mumbai and it is based on Mulund. I feel the project will be launched by the next quarter, due to NCLT, we are waiting for the court's order, which has been announced but we are waiting to receive the order copy. So that project will be launched. We also have a project in Byculla and it will also be launched. So, these two-three projects, which are residential, will be launched very soon in the next quarter. Along with this, the company has bought a big plot in BKC and it is a joint venture and is an office building not a residential. We also have a pot in Mahalakshmi and this is also an office building.
Both of these plots are present in quite good locations and I expect that these properties will be ready in the next 4-5 years and on completion these office properties are going to be landmark properties for Mumbai in terms of both, the look, feel and finish as well as the location. We do not have any anxiety that whether take-up space will happen for these properties or not. It will happen and good demand is coming for them from now and we have provided enquiries to two to three big banks that need space, especially in the BKC. Our Mumbai programme includes 6 million office space and 6 million residential space. I am very hopeful that the company will be successful in this.
Besides, a residential project has been almost approved in Noida and it will also be launched in the January quarter and it will also get good momentum. These are the two new cities that we are looking at across India.
Q: You have received a CCI nod for new asset sale with Blackstone and you have also received shareholders' approval for the purpose. What are the plans and strategies going ahead and do you have any further plans in form of joint venture development or some other projects deal pipeline or land acquisition or something else?
A: The work on the Blackstone deal is likely to be completed this month or first fifteen days of the next month. After that, we have a platform deal with HDFC Capital, where we will jointly buy the plot and work on residential projects, especially in the mid-income and affordable segment, the platform is set. After this deal, a lot of our debt will clean up. We have a plan and strategy to make it a debt-free company, especially in the residential segment we will be completely debt-free.
Going forward, we will do CapEx projects for office, malls, hospitality, which will lead to the creation of debt but it will be connected with private equity or something else, thus, it will also go down. So, that's the plan. Accordingly, we have plans to make Prestige Estates a zero-debt company in 2021 because cash balance will be there with the company after the deal. With this, the company will be a bit stronger and will have a cash balance. We will also have the courage to do big projects in future.
Written By:
Jitesh Kumar Jha
Updated: Tue, Dec 29, 2020
11:17 am
new delhi, ZeeBiz WebDesk