We have a target to add 4,000-5,000 quarters per quarter: Dinesh Agarwal, IndiaMART
Dinesh Agarwal, Founder & CEO, IndiaMART, talks about expected demand in coming quarters, revenue outlook, business and organic and inorganic growth opportunities among others during an interview with Swati Khandelwal, Zee Business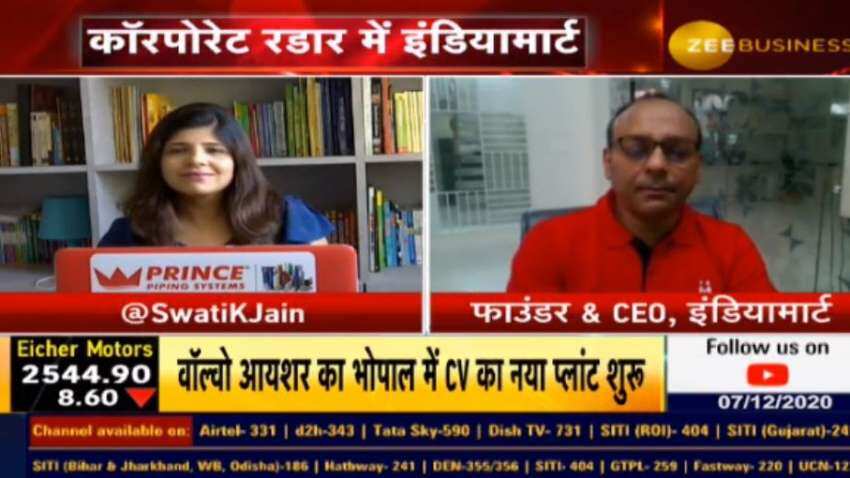 After the June quarter, the September quarter went well and recovery was seen on two fronts (i) online adoption has increased and (ii) economic activity has opened after the lockdown relaxation, he said.
Dinesh Agarwal, Founder & CEO, IndiaMART, talks about expected demand in coming quarters, revenue outlook, business and organic and inorganic growth opportunities among others during an interview with Swati Khandelwal, Zee Business. Edited Excerpts:
Q: Do you think the momentum we have seen in recent past will continue in the coming months? What is an update on demand and what is the indication, as in, do you see some hindrances, or you will continue to sale in the positive zone?
A: After the June quarter, the September quarter went well and recovery was seen on two fronts (i) online adoption has increased and (ii) economic activity has opened after the lockdown relaxation. So, if we see now, then our buyer side has growth compared to the last year is about 30-40%. So about 85 million visits are happening on the platform every month, which is 32% growth and 175 million business enquiries are around 142%. Another important aspect is that the repeat buyers' ratio is gradually increasing and now the 90-day repeat ratio has turned 60%. But as far as the question of further improvement of the economy is concerned, I think, that all the indicators are have reached 80-85% monetization and now as the economy progresses, it will be seen in the growth of the company.
Q: What kind of revenue growth is expected in the third and fourth quarters? What indications you are getting and what is your projection and targets in terms of top line and bottom line?
A: I will now be able to say anything about the future revenues but if you will look at us then you will find that we first make collection from the customers. We collect money in advance for monthly, yearly, and three years subscriptions due to which we have a collection from the customers, which is visible in the default revenue and our maximum revenue is driven from the default revenue. So, if you have a look at our default revenue then it has reached an almost equal level to the last year. And, accordingly, it seems that we might not post a negative revenue growth this year as expected earlier. Possibly, our revenue growth will be equal to the last year's growth. As far as customer count is concerned, then we had around 1.47 lakh customers in March, which came down to 1.33 lakh in the June quarter, however, some recovery was seen in the September quarter and it has reached to 1.41 lakh. Now, we will have a target to add 4,000-5,000 customer per quarter, as it was done in the past, and we will try to do so in this quarter and the next quarter.
Q: Going forward, do you see large players also coming on-board to expand their e-commerce footprints and do you have some strong indications or numbers that you can share with us?
A: As far as adoption of the SME is concerned, then as I have said online adoption has increased. Whether it is buying or selling, SMEs are adopting more-and-more internet on both sides. And, a lot of new facilities have born whether it is about marketing or software or FinTech or payments. As far as big corporates are concerned, who, earlier, believed only on traditional advertising are now focusing a lot on digital advertising as well and in the last 1-2 years, we have seen that a lot of big brands along with SMEs are also advertising on IndiaMART. It takes a little more time for the big brands to understand, and accordingly, they are growing gradually. Currently, around 100 big brands are advertising on IndiaMART and I believe the number will continue to grow in the coming time.
Q: If we talk about the challenges, currently in the business then what are the immediate challenges that are visible in short-term and medium-term and what are the plans to overcome them?
A: If you have a look then the economic atmosphere has been little weal since 2018-19 when we reached to the GDP growth of 4-5% and after that the pandemic hit us. So, if seen in general then you will find that the online adoption has definitely increased. But at the same time, due to economic indicators or lockdown or low demand, there is sluggishness in the market. The sluggishness had once in the June quarter went up to 50% due to the lockdown has recovered up to 80%. But if seen closely there are many sectors, maybe it is hospitality or restaurant or transport or fashion – because marriages are not happening at a fast pace or are not happening in an elaborative manner. So, the overall demand in the market is high for some sectors, while it is quite low in a few sectors. So, until the demand recovers well then challenges will be seen on the front of liquidity inflow and monetization and we trying to solve the same challenge.
Q: As a company do you have an opportunity to grow in terms of inorganic plans or have you lined any M&A opportunities or you are concentrating just on organic growth?
A: We are focusing on both aspects. A lot of cash balance is available with us and we are a zero-debt company with cash of around Rs 1,000 crore. Earlier, we have made two inorganic investments and they were:
Vyapar Accounting App, which is a self-accounting app for SMEs and it is a Mobile-First solution. And, that company is growing well and last year, we took a 26% stake in the company.
Mobisy, who has a platform, Bizom. It helps big retailers and big brands in distribution and optimization of their sale force. We have invested here as well.
Apart from this, we keep looking on things, and as I have said earlier, that we want to invest in SAAS or Software or FinTech or e-Commerce related players. So, we will keep doing it and tell you about the same as soon as there is some good news.
See Zee Business Live TV Streaming Below:
Get Latest Business News, Stock Market Updates and Videos; Check your tax outgo through Income Tax Calculator and save money through our Personal Finance coverage. Check Business Breaking News Live on Zee Business Twitter and Facebook. Subscribe on YouTube.
Reported By:
Jitesh Kumar Jha
Written By:
Jitesh Kumar Jha
Updated: Mon, Dec 07, 2020
07:52 pm
Patna, ZeeBiz WebDesk