We are expecting a 4X growth in logistic space over the next four years: VS Parthasarathy, Mahindra & Mahindra Ltd
VS Parthasarathy, President – Mobility Services, Mahindra & Mahindra Ltd, spoke about the market cap goal of Rs 25,000 crore, Target of shared mobility area, Mahindra First Choice Services integration with TVS Automobile Solutions and outlook of growth in logistic space among others during a candid chat with Swati Khandelwal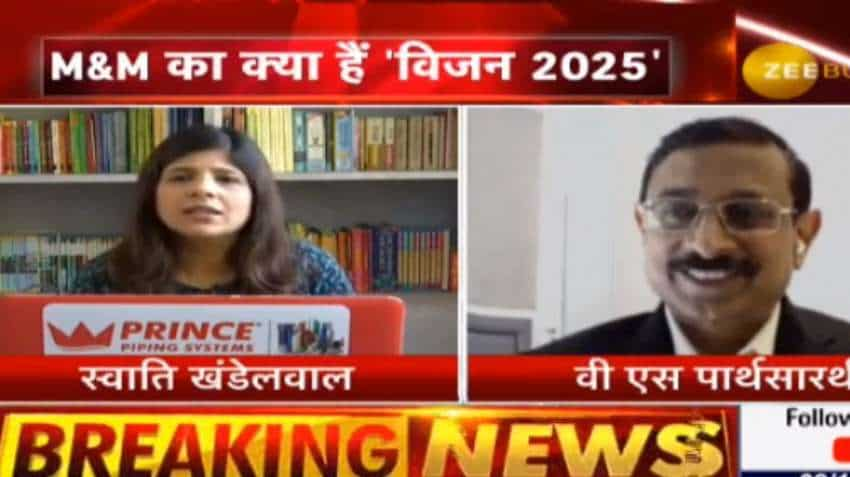 "TASL's synergy, which is digital presence and MFCSL pan India presence, will come together and create a lot of excitement in the service industry. This is what we hope will happen there."
Reported By:
Jitesh Kumar Jha
Written By:
Jitesh Kumar Jha
Updated: Fri, Dec 11, 2020
05:40 pm
Patna, ZeeBiz WebDesk
VS Parthasarathy, President – Mobility Services, Mahindra & Mahindra Ltd, spoke about the market cap goal of Rs 25,000 crore, Target of shared mobility area, Mahindra First Choice Services integration with TVS Automobile Solutions and outlook of growth in logistic space among others during a candid chat with Swati Khandelwal, Zee Business. Edited Excerpts: 
Q: Congratulations on taking on the new role in the Mahindra Group. Now, the big goal is to increase the mobility space and you have kept a target of a market cap of Rs 25,000 crore. How will you achieve it and what are the thoughts and in which direction the Mahindra Group will move in this space?
A: Your question is about the vision to reach there, then our sector MSS, i.e. Mobility Services Sector, should be a pioneer in our space and focus on innovation. We created it with a purpose that how we can help Atmanirbhar Bharat and how can we connect ourselves with it. So, we have a purpose to transform India by connecting people, places and assets. For the purpose, we have kept a financial target to being Rs 20,000-crore business by 2025. So, that's what is the intent here or the target or vision that I have set for the unit. We want an independent mobility business in a futuristic landscape because the upcoming landscape will not be like the previous landscape. So, we have to focus on how we are going to play at that level and win. We are formula 1 in the mobility services sector and you know that I am fond of formulas. So, the mobility services sector is equal to MAS + TRANS + VAS. And, what is that:
MAS: Mobility as a Solution in which we will talk about moving people from one place to another.
TRANS: Transportation as a solution in which how we can transport goods from one place to another, how we can store them and take them to the customer.
VAS: Vehicle as a solution (VAS) in which how the customer can get the vehicle that he needs whether used and going forward, even new cars and how can we help them choose and how to make entire process amenable.
So, this is our overall vision.
Q: In the shared mobility area in the next three years what is your target if we talk about the overall numbers? Also, tell us about the entire Mahindra Group's strategy to list many companies to unlock its value and do you think that they have reached to the right levels it's a time to unlock the value? Mobility is an emerging space so what kind of listing is expected there? 
A: I will start with the last question and you have rightly said that we have earlier said that in mid-term we will list few companies in my old role and now I have to deliver the same in this role. So, under Mahindra Mobility Services sector, we want to create one plus two unicorns. Unicorn means a billion-dollar company. First of all, MLL is already a listed company, so it is not a matter of listing it. But today maybe it is a Rs 3,000 crore company and how we can take it to a more than a billion maybe Rs 10,000 crore kind of a valuation. So, that is one target by 2025. Anish, who is our Deputy MD and Group CFO, at present, has said 10 companies, which he calls GEMS, can get listed in the medium term. Out of them and two of our businesses, although I have said that we have three businesses – transportation as a solution, vehicle as a solution and mobility as a solution, transportation is already listed but rest of the two are present in the list of those 10 companies. So, we have a target of getting these two listed in the medium term. In it, MFCW (Mahindra First Choice Wheels) is in the forefront and it is in used car space and it is already India's number one in terms of retail and term of used car business. We want to turn it into a billion-dollar market cap and take it towards listing.
The third one is the Mobility as a service, we will talk about it in detail, but in short, we want to make it a Rs 3,000 crore company by 2025 and that will position itself for listing at that time.
Q: Recently, it was announced that Mahindra First Choice Services Ltd. (MFCSL) will be integrating its operation with TVS Automobile Solutions. What kind of synergies is expected and how it will be beneficial for the group?
A: Two things are very important in a strategy, the first is how we can push ourselves a lot further and we have talked about First Choice Wheels. You asked about the position that we are taking in services and what kind of synergies will be developed, we have set up MFCS and Mahindra First Choice Wheels as a large trusted multi-brand car and two-wheeler service franchise network. So, we have brought an organized player in an unorganized space and have established the quality and customer value proposition in this. We have just not established these things but also have led it towards profitability. But now there is a need for consolidation, scale and phygital solution (Physical and Digital solution). So, we thought that we can do this with a strong reputed partner like TASL will help do this and take the legacy further and properly MFCL into next orbit. This is why we have joined these two here and we take a minority position in the overall organization of TASL and TASL will take charge of this company. And in the services market, I hope, it will create a big value creation because we are always focused on value creation. TASL's synergy, which is digital presence and MFCSL pan India presence, will come together and create a lot of excitement in the service industry. This is what we hope will happen there.
Q: Logistic space is quite buzzing and people are saying that the role of logistics companies will increase in a short to medium term at the time vaccine. What is your outlook on Mahindra Logistics and are you looking forward at any M&A opportunities and will you take the work of vaccine trail and distribution?
A: First and foremost, I have told you the vision of the logistic sector of being a Rs 10,000 crore logistic service provider by 2025 and provide exceptional customer service and solution through technology and value-added services and we will focus on both. The first thing we are focusing upon is the growth areas, generally, I say that our economic speed of businesses is running at 60%, 100% and 140%. Thankfully, logistics business is at 140% as there are many growth areas, like the consumer, pharma, e-commerce and since Q2, we are running ahead of the last year. So, there is a lot of potential for growth here, therefore a lot of growth will happen here. Secondly, we are expanding our offerings largely. Currently, we are focusing on express logistics, freight forwarding, contract manufacturing and multi-model logistics, which are small at present but can grow big in time to come. And, we will focus on all these segments. Thirdly, from the customers' perspective, we want to provide integrated solutions to them by transforming their sales process, design and provide a comprehensive process to them. At the same time, ask the customers to focus on manufacturing and marketing and leave everything on us. We will have a focus on it as well. It will emerge as a big revenue stream. The last one is digitalization and innovation, which will bring all these together. So, we are thinking that even then we are aiming at a 3.50X to 4X growth over the next four years in market cap and this is what we would like to see happening, further.   
See Zee Business Live TV Streaming Below:
Get Latest Business News, Stock Market Updates and Videos; Check your tax outgo through Income Tax Calculator and save money through our Personal Finance coverage. Check Business Breaking News Live on Zee Business Twitter and Facebook. Subscribe on YouTube.