VoLTE subscriptions expected to exceed 540 million by end of 2017: Report
VoLTE subscriptions
A man talking on a his mobile phone. Photo: Pixabay
Key highlights:

VoLTE is expected to exceed 540 million by the end on 2017
VoLTE subscribers are projected to reach 370 million by the end of 2022 in India
VoLTE subscriptions is now projected to reach 4.6 billion by the end of 2022
The number of VoLTE or Voice over Long-Term Evolution subscriptions is expected to exceed 540 million by the end on 2017. VoLTE has now been launched in more than 100 networks in 55 countries, said an Ericsson Mobility Report 2017.
VoLTE technology is the foundation for communication services on any device over LTE, Wi-Fi and 5G. VoLTE is delivered via the IP Multimedia Subsystem (IMS) and enables operators to offer high-quality, simultaneous voice and LTE data services on smartphones and other devices.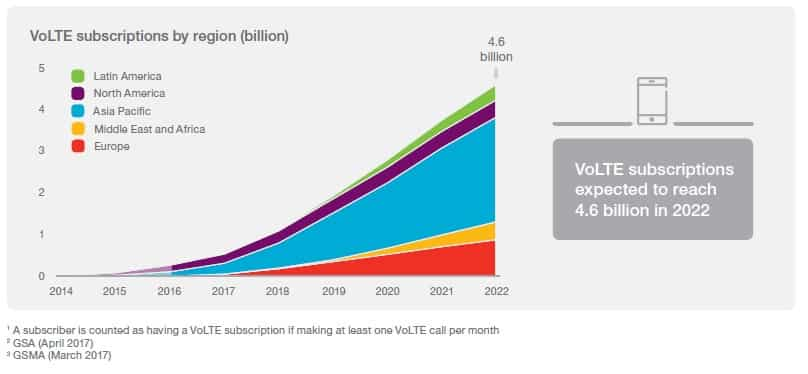 Source: Ericsson Mobility Report 2017
Ashish Shah, Founder and CEO, Vertoz said, "The report also notes VoLTE subscribers are projected to reach 370 million by the end of 2022 in India, which is a significant jump. It also indicates the increase in high-tech smartphones and superfast internet."
Wi-Fi calling is built on the same core network systems as VoLTE, and enables operators to extend their voice service to places with limited cellular coverage. Over 50 Wi-Fi calling networks have been launched in more than 30 countries.
The number of VoLTE subscriptions is now projected to reach 4.6 billion by the end of 2022, making up more than 90% of all LTE subscriptions globally.
The rise in the VoLTE subscriptions is due to launches in China and India with more affordable VoLTE smartphones in India and this is expected to continue. The main reason for this is the emergence of Reliance Jio in India.
"VoLTE uptake was very strong in 2016, with most networks having more than 60% of voice calls on LTE smartphones provisioned using VoLTE. In some networks this figure was close to 80%," the report said.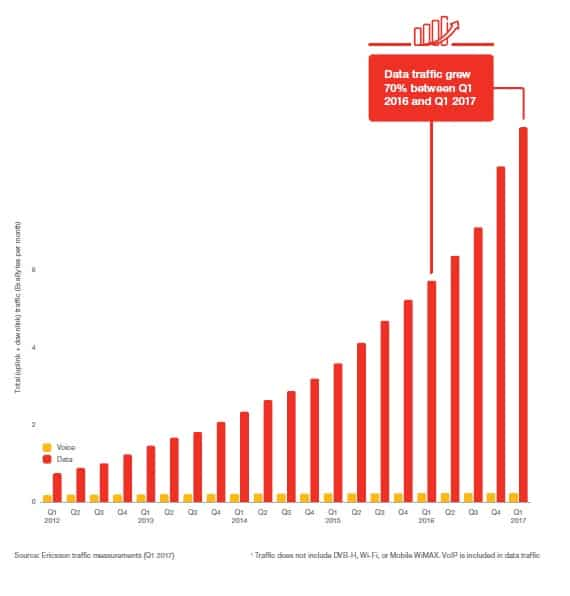 Source: Ericsson Mobility Report 2017
There are currently more than 1,000 VoLTE-enabled device models, supporting different regions and frequencies, says the report.
Globally mobile data usage has seen a large rise in consumption in Q1 2017. Data traffic grew 70% between in Q1 2016 to Q1 2017. While just voice stayed the same.
"Mobile video traffic is forecast to grow by around 50% annually through 2022 to account for nearly 3 quarters of all mobile data traffic," said the report. By 2022, video will account for around 75% of mobile data traffic.
Mobile video usage is followed by social media which is expected to see a 38% growth in usage. Audio is expected to grow by 34%, while software download by 32% in terms data usage. Web browsing is expected to grow by 22% by 2022.
The emergence of new applications can shift the relative volumes of different types of traffic, and the proliferation of different sized smart devices will also affect the traffic mix; for example, tablets are associated with a higher share of video traffic than smartphones. Typically, smartphones are used more than tablets for watching short video content, but tablets are used more for watching longer video content.
YouTube still dominates video traffic in most mobile networks, although it is being challenged by local players in some countries. YouTube traffic accounts for 40–70% of total video traffic for almost all measured networks, regardless of device type. YouTube is also the most used on-demand video service in the world, with 70% of consumers using it at least on a weekly basis, said the report.
Besides this, Netflix in some markets can reach 10-20% of the total mobile traffic.
The share of traditional social network traffic (excluding embedded video), such as Facebook and Twitter, decreased for all device types, while more communication-oriented services like Snapchat and WhatsApp increased, said the report.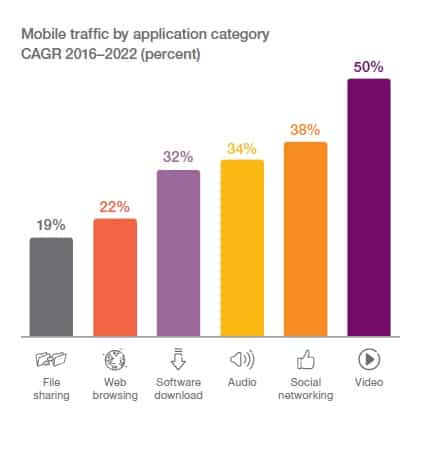 Source: Ericsson Mobility Report 2017
However, social networking was still the second largest traffic volume contributor for smartphones.
The report further showed how important the use of smartphones will be in terms of internet usage. More than 90% of mobile data traffic will come from smartphones in 2022. Total mobile data traffic is expected to rise at a compound annual growth rate (CAGR) of 42%.
Shah said, "Forecasting the increased mobile usage, they had released guidelines for their publishers to have better mobile friendly websites. While in india, the data traffic being consumed by each smartphone user will hit a peak of 11GB per month by the year 2022. The Ericsson Mobility report of 2017 also says that LTE subscriptions are increasing which means access to the highspeed internet on mobile. This will see an increase in location-based targeting. 90% of smartphone subscriptions are for 3G and 4G."
"107 million new mobile subscriptions were added in Q1, Maximum online traffic is coming from mobile. And it again proves that advertisers should focus more on mobile advertising," said Shah.
Updated: Fri, Jun 23, 2017
03:53 pm
Mumbai, ZeeBiz WebDesk