Varroc is investing substantially in Technology Development & CapEx: TR Srinivasan, Group CFO
TR Srinivasan, Group CFO, Varroc Engineering, talks about the company's performance in 2020 and how bullish he is for its growth in 2021, expectation from the budget, strategy and CapEx during a candid chat with Zee Business Executive Editor Swati Khandelwal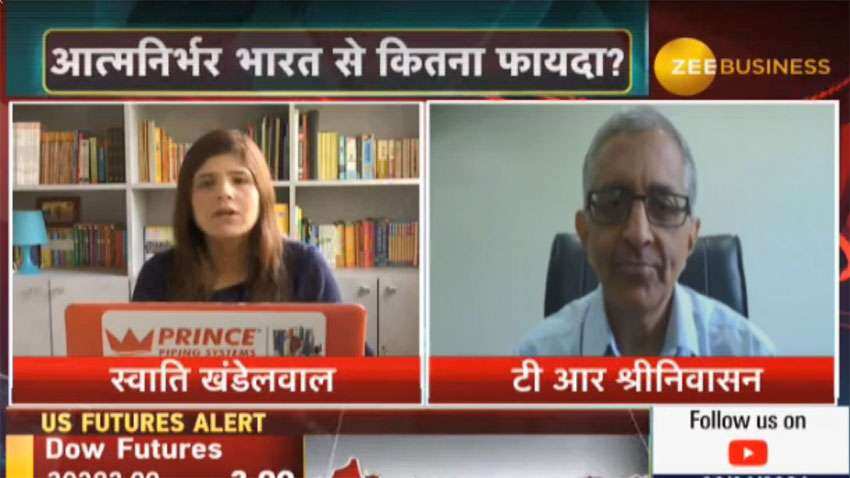 "I won't like to focus so much on the budget per se because I think in the recent past more and more initiatives and the government support to the industry is flowing to the mechanisms outside the budget framework," TR Srinivasan said
Written By:
Jitesh Kumar Jha
Updated: Thu, Jan 07, 2021
10:38 am
new delhi, ZeeBiz WebDesk
TR Srinivasan, Group CFO, Varroc Engineering, talks about the company's performance in 2020 and how bullish he is for its growth in 2021, expectation from the budget, strategy and CapEx during a candid chat with Swati Khandelwal, Zee Business. Edited Excerpts: 
Q: How bullish are you about the growth of your company in 2021 and what kind of demand you are getting? How will you summarise 2021 for your company?
A: First looking back at 2020, obviously, we went through a challenging time in the first half of the calendar year, especially in the second quarter. Since then, the recovery has been in much faster than most people expected, so, we had a good festival season overall and since then also the volumes seems to be holding up overall the industry level.
See Zee Business Live TV Streaming Below:
And, we have also seen a year-on-year growth consistently over the last five to six months. So, we enter the new year with a kind of basking momentum and which we hope will be sustained and continue. Few factors, I would like to highlight which seems to play into this:
(i) Preference for the personal mobility, as opposed to shared mobility like public transportation etc and that, seems to give a boost to vehicle purchase, especially in the passenger vehicle segment, which is doing better even than the two-wheelers, at the moment. So, that is one positive factor. Even the two-wheelers are also doing reasonably well over the volumes of the last quarter growth over the previous year.
(ii) At the end of the festive season, the dealers are left with rather a high level of inventory in the normal course, which kind of depresses the volumes going into the new calendar year. But this year that doesn't seem the case, the dealers' inventory seems to be fairly under reasonable levels, which again gives confidence that we will get to see only good volumes going forward.
(iii) The overall economic outlook and if you see at all the forecasts for the current financial year, they are being continuously being revised upwards, upward in the sense, it is not as negative as was expected to be earlier, now it is in single digits and even in the lower single digits negative growth for the overall economy. And, related to that the consumers sentiment and confidence also seems to be holding up fairly well.
So, all thing goes well in the new calendar year and we are cautiously optimistic that 2021 will play out much better for us and for the industry as a whole.
Q: Budget is round the corner, what are your expectation from the government for your industry?
A: I won't like to focus so much on the budget per se because I think in the recent past more and more initiatives and the government support to the industry is flowing to the mechanisms outside the budget framework. So, two-three things, I want to highlight
(i) the new PLI scheme, which has been announced and is expected to give a big boost to domestic manufacturing for the OEMs as well as the ancillaries for replacing imports as well as boost exports outside India. That is something, we are awaiting the fine prints, in term of details of the scheme, the rates etc, which is expected to be announced anytime. That is something the outlay overall indicated by the government is good and we expect will support us, the industry, in terms of boosting investment and production and hence employment and so on. So that is one thing and we want to see the details for the scheme to see how it impacts or the implications.
(ii) On the GST rates it has been a long-standing demand of the industry to reduce the GST rates on automobile and two-wheelers in particular from 28% to 18% and this is strictly not within the budget framework because it relates to the GST council. We are hopeful that it will be considered sympathetically following the current environment and we will get some relief on that front because two-wheelers by no means can be considered as luxury from a common man perspective and it is more an essential item.
These are the things that I want to highlight for support from the government.
Q: What are the targets of Varroc Engineering in 2021 in terms of top-line and bottom-line growth and expected margins? Is there any change in the strategy of the company as there is a change in consumer behaviour?
A: We are just entering into our silent period in a couple of days, so without going to the specific numbers and targets, I would like to highlight a few key aspects from the strategic viewpoint. We have been very focused as a matter of strategy to invest in technology and develop our own in-house capabilities in the different product segment. And, we have specifically focused on both things, BS-VI related products as well as the EV related products, and have made quite a few breakthroughs in the last couple of year.
Those will come into production during the current calendar year and going forward, for example for the EV two-wheeler, we have developed in-house traction motors along with that we are also developing a battery management system and so on. And those, now, we offering to OEMs. We have some confirmed orders and some more are under the discussions and we expect over a period of time to be big revenue runners for us. Similarly, in BS-VI space, we had invested in a joint venture to develop an electronic fuel injection system for two-wheeler. We have started its production and we have started supplying it to first two customers from whom we have got the orders.
Similarly, we have upgraded our capability in terms of catalytic convertors that we supply for two-wheelers to meet the BS-VI norms and that is again something we had technical collaboration with a German company and those new products range is ready now and we have started supplying it. And, more opportunities, we are exploring in the EV space as well, going forward. So, from a strategic perspective, this is our focus areas for growth and there we are investing substantially both in terms of technology development as well as CapEx.
Q: What kind of CapEx has been lined up for the visible opportunities, like the PLI scheme, and what are your debt levels and is it likely to come down from those levels?
A: From a CapEx perspective on the ongoing CapEx, we currently have adequate capacity to ramp up revenues too much to incremental CapEx because we had our peak revenues in the financial year 2018-19. And the industry has not still recovered to those levels, so, going forward, even if the industry grows by double year this year and next year then also, we can meet most of the demand from our existing capacities. The investments mainly will be made in the new product segments like the EV related production and BS-VI related production, which I have mentioned earlier.
Then, we have started the investment cycle. Related to PLI, we are waiting for the details of the scheme to come out, so that we can assess, what are the opportunities for us related to that and then we are ready to make the investments to take advantage of those opportunities. Lastly, on the debt side, the end of June was the peak of debt levels for us, the end of the lockdown period. Since then, we have been consistently bringing it down by generating free cash flows on the operating side, which has been a case since the last two quarters. Now, at the end of December, we would have come down to reasonable and comfortable level and we want by March this year to reach the levels where we were in March 2020, moreover, which will be a normal level. And that will give us that kind of elbow room for both actual CapEx as well as interesting M&A opportunities if it comes along.
But right now, the focus is on conserving cash making sure balance sheet is de-risked but if a right opportunity comes by, we are ready to invest and that will not be a constraint.
Get Latest Business News, Stock Market Updates and Videos; Check your tax outgo through Income Tax Calculator and save money through our Personal Finance coverage. Check Business Breaking News Live on Zee Business Twitter and Facebook. Subscribe on YouTube.