Ultratech Cement's Q4 net rises 10% to Rs 723 crore
The flagship firm of the Aditya Birla Group had clocked a net profit of Rs 657.20 crore in the year-ago period.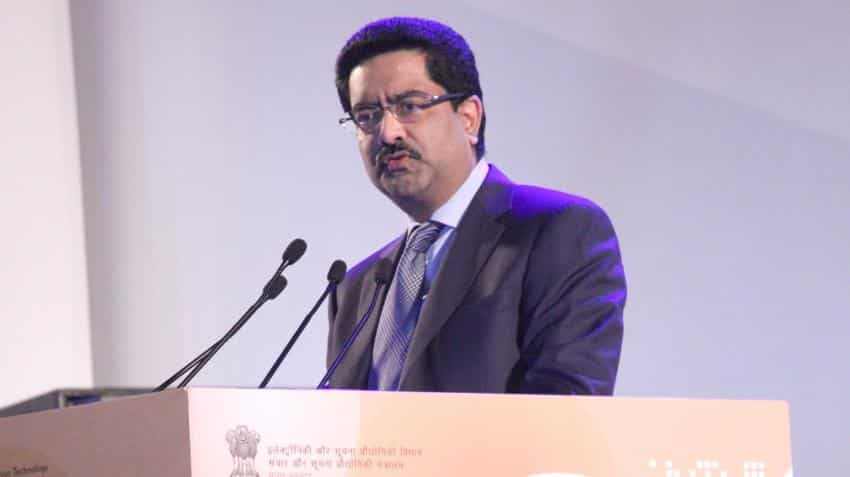 Kumar Mangalam Birla,Chairman, Aditya Birla Group. Image Source: IANS
Updated: Tue, Apr 26, 2016
11:42 am
New Delhi , PTI
Ultratech Cement on Monday reported 10% rise in consolidated net profit to Rs 722.56 crore for the March quarter helped by higher infrastructure spending and a decline in raw material, energy, and logistic costs.
The flagship firm of the Aditya Birla Group had clocked a net profit of Rs 657.20 crore in the year-ago period.
The company's consolidated net sales rose by 5% to Rs 6,850.46 crore in January-March quarter from Rs 6,516.52 crore in the same quarter of 2014-15, it said in a Bombay Stock Exchange (BSE) filing.
The firm said "operating costs reduced with operational efficiencies, a judicious fuel mix and fall in fuel prices."
The company's domestic cement grew 15% during the fourth quarter (Q4) of 2015-16, while the grey cement sales stood at 13.20 million tonnes (MT) against 11.51 MT in Q4 2014-15.
White cement recorded sales of 13.12 lakh tonnes (LT) as against 12.24 LT and wall care putty posted sales of 3.85 LT against 3.52 LT during the quarter under review.
On acquisition deal with Jaiprakash Associates Ltd (JAL), Ultratech said the acquisition of cement plants in Madhya Pradesh, Uttar Pradesh, Himachal Pradesh, Uttarakhand and Andhra Pradesh with a capacity of 21.20 MT per annum at Rs 15,900 crore ($107 per tonne) is expected to conclude in the next "12-13 months".
The firm will now approach the fair trade regulator Competition Commission of India (CCI) as well as approach the concerned High Courts for the approval of the scheme.
On the financing of the deal, the company said it will be done through "20 years Rupee Term loans at Base Rate (covenant free)" among others.
The cement maker said with a commissioning of the cement grinding plants at Jhajjar in Haryana, Dankuni in West Bengal and Patliputra in Bihar, its cement capacity in India rose to 66.3 million tonnes per annum (MTPA).
On the industry, Ultratech said January-March displayed signs of recovery in demand with strong growth numbers. However, prices were volatile during the period.
For the entire 2015-16 fiscal, Ultratech's net sales stood at Rs 25,281 crore up from Rs 24,056 crore in 2014-15. The company's net profit was higher by 9% at Rs 2,287 crore from Rs 2,098 crore during the same period.
The firm declared a dividend of Rs 9.50 per share aggregating Rs 260.71 crore. It will absorb the Corporate Tax on dividend amounting to Rs 53.07 crore, resulting in a total payout of Rs 313.78 crore.
On outlook, Ultratech said cement demand is expected to grow 7-8% for 2016-17 on the back of the governments' focus on infrastructure development, housing, smart cities, etc.
The firm expects a pick-up in cement concrete roads, port development as well as increased development activities in UP and Punjab to boost demand.
It, however, expressed concern about the trend of rising input costs of coal and Petcoke as well as volatility in cement prices.
At 11:21 hours, the shares of Ultratech Cement were trading down 0.35% or Rs 11.60 at Rs 3,266 per scrip on the BSE.