TTK Prestige will discontinue import of finished goods by September 30: Chandru Kalro, MD
Chandru Kalro, Managing Director, TTK Prestige, talks about TTK Prestige's strategy for Atmanirbhar Bharat, the investment that will be needed for the purpose, margins, Diversification of products and innovations, opportunities from the export market and product that can be launched this year among others during an interview with Swati Khandelwal, Zee Business.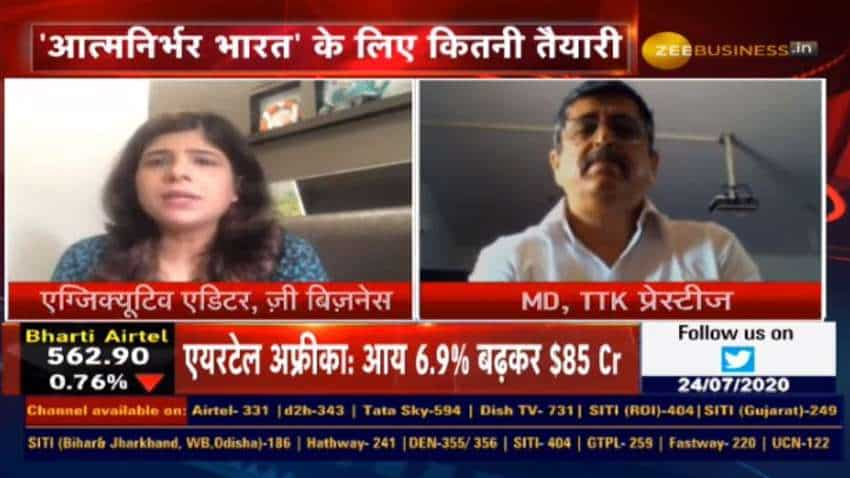 Edited Excerpts:-
Written By:
Jitesh Kumar Jha
Updated: Mon, Jul 27, 2020
08:20 pm
ZeeBiz WebDesk
Chandru Kalro, Managing Director, TTK Prestige, talks about TTK Prestige's strategy for Atmanirbhar Bharat, the investment that will be needed for the purpose, margins, Diversification of products and innovations, opportunities from the export market and product that can be launched this year among others during an interview with Swati Khandelwal, Zee Business. Edited Excerpts:
Q: First of all I would like to know about your strategy to be an Atamnirbhar Bharat in which you don't want to import anything. How much work has been done on it and how are you going ahead on your plan?
A: Lot of work has to be done. We will discontinue the import of finished goods by September 30, 2020, as promised and we stand firm on it. There are certain components which can be imported in the latter stages but we have started work on them to make sure that maximum of those products are manufactured here in India itself to a level that we can. The journey was started some three years ago and only 10 per cent was left which will be completed in these three-four months.
Q: How you managed to do this in terms of manufacturing, creation of supplier base and kind of investment that was made on it?
A: We are ending import of finished products but will continue to import certain products to some extent. We have a good vendor base along with a good manufacturing facility at our end. We have made a good investment on these two segments and said that we want to be Atmanirbhar, however, the incident occurred with China has acted as a trigger for it but the work was being done since a long time. A lot of investments will be made on it and around Rs 15 crore to Rs 20 crore will be invested on tooling kit, which will be created here. We have a good and efficient vendor base. Even our factories are efficient for the purpose.
Q: Your company has been reporting operating margins between 13%-15%. What kind of impact your current processes will have on the margins?
A: There are two levels of margins (i) gross margin and (ii) the final margin that comes between 13%-15% and is reported after taking into account the operating leverage. I feel it will not have any impact on our gross margin as our costing will be quite competitive as compared to China and this is why we will not feel any burnt out of it. Some troubles were felt in the last quarter because of the lockdowns, which reduced the operating leverage. But it is picking up slowly and the business will return to normalcy with the pace at which the work is started.
Q: Normalcy will return, Thus means you will be able to maintain the operating margin of 13-15% even after this exercise or you can face some problems in it?
A: We will maintain it.
Q: It is an opportunity for TTK Prestige to diversify its products as you are contributing to the Armanirbhar Bharat by manufacturing many things in India and will stop importing completely. So many products are being introduced in the households' electronic segment. Do you think that there is a good opportunity to diversify your products?
A: Yes, there is a good opportunity for us in this and currently our product pipeline is full. We launch about 75 to 100 products every year, which will be done this year too. The second big advantage that we can get from it is that we can also export our products. Once we start feeling the domestic market then we will be able to compete in the export market as well. This is a big opportunity for us in the coming future.
Q: You have talked about the export opportunity on which TTK Prestige will focus. So let us know the kind of focus that you will have and the markets that will be targeted and the revenue that will be generated from it?
A: If you have a look at TTK Prestige then 96 per cent of our turnover comes from India, itself and only 4 per cent comes from the export market. Going forward, we want to double our exports annually and for the purpose, we are talking with the markets, mainly the European markets which is a developed market and we have been talking with them for about last 3-4 years. At the same time, we have been making our factories efficient accordingly and believe that its results will be seen this year. And we want to keep doubling our export business every year for the next two-three years.
Q: Can you please quantify it in terms of amount and how much big business opportunity is this that will be doubled?
A: We want to take it up to Rs 500 crore in the next five years, which currently stands at around Rs 50 crore to Rs 60 crore.
Q: You have said that you launch around 75 to 100 new products in the market annually. But I want to know that is there some new product/s that you want to diversify where you can get good margins and India can play an important role in it? Have you identified any such pockets where you were not present in the past?
A: Three years back, we entered into the cleaning solutions area and have launched several good products in the domain. Its range will increase further. But if we focus on our core categories, the kitchen appliances, then many of our innovations are coming in the domain. As we move ahead this year, then you will see that many innovations will be launched. In the pressure cooker category, we have launched a Svachh pressure cooker. It helped in ending the 50-year-old problem under which the gas stoves will not get dirty and the floating will be limited just on the lead. So, we have launched a big innovation under which the entire pressure cooker range has been changed. Similarly, we want to develop every core category further by launching something new in each of them.
Q: What kind of CapEx has been lined-up at TTK Prestige for FY21 and next two-three years? Also, tell us about the expansion plans that have been developed and don you think that there is a need to expands the current production capacity? 
A: You will see that a lot of CapEx has been made in the last 2-3 years and for that reason, the CapEx for this year and the next will not be such huge. But whatsoever CapEx will be planned will be spent on increasing the efficiencies, quality consciousness, to bring new manufacturing and quality techniques of the company. So largely it is going to be a maintenance CapEx and efficiency improvement CapEx. Whatsoever capacity expansion was required has been completed in the last two-three years.  
Q: What is the contribution of online platforms on your sales and how are you pushing your digital sales as it has emerged an important source for the consumers to earn the sales?
A: Correctly said, Nowadays, online has turned an important marketplace. However, it has been important for us in the past as well. As of last year, the online platform had 12-13% contribution in our revenue, which has gone up now as people are not moving out these days due to the spread of Corona pandemic and ordering their needs online from the homes. So, we have been ahead of the curve in terms of an online presence. Currently, we have four warehouses as well as online fulfilment centres and are developing our website well. Secondly, we have managed our leadership on the online platform from the past that is why we are launching exclusive products for them as well. We are quite focused on it and I feel it is necessary as customers are not moving out at present in the way when compared to the past
Q: Do you have any specific demand as an industry from the government that can allow companies to come out and get encouraged towards 'Make In India'?
A: The government has done a lot of work in this direction. And I believe that we also have a responsibility to contribute in this direction. But if we wish to ask for something from the government then we will need more support in ease of doing business, labour reforms. As far as tax exemptions are concerned then enough has been given but the ease of doing business is an area where we would like to request the government to pay more attention. Maximum efforts should be made in that zone.
Q: How you want to end this as a lot of trouble has been seen in a quarter due to COVID but now things are unlocking and demand is also picking up gradually?
A: It seemed that the business is very good at all the places where the markets were opened. But no one is aware that when the market will be opened or closed as the unlocked markets are being relocked. Several markets are still closed and many of the channels are closed yet like malls and big showrooms among others. So the business we are doing at present seems to be 60% to 65% resumption and if seen from that perspective then the business is very good. Interestingly, one good message has reached to people amid this lockdown that the kitchen is a very important place and all the equipment that should be in the kitchen should be good and for our betterment.
Get Latest Business News, Stock Market Updates and Videos; Check your tax outgo through Income Tax Calculator and save money through our Personal Finance coverage. Check Business Breaking News Live on Zee Business Twitter and Facebook. Subscribe on YouTube.