This Diwali offline smartphone sales hit as e-commerce sites dole out discounts
Festive season buzz has failed to light up sales revenues of offline retailers on the back of lower smartphone demands.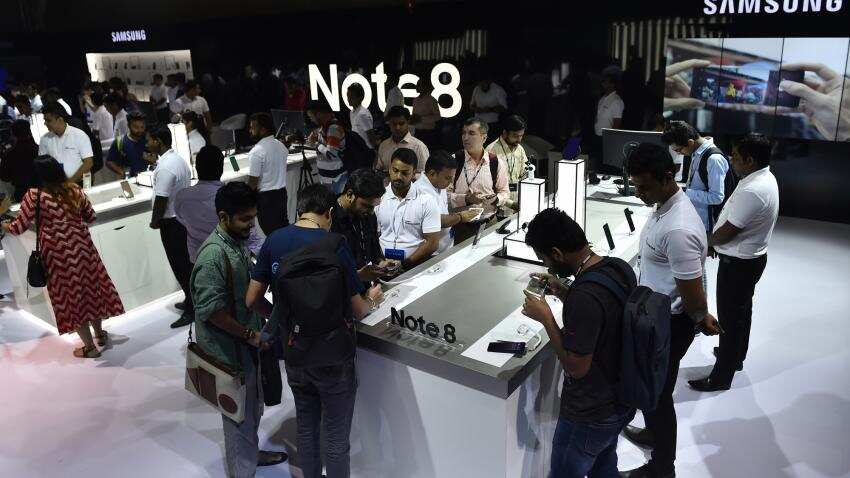 People examine the specifications of Samsung Galaxy Note8 smartphone during its launch in New Delhi. Image Source: IANS
Key Highlights

Festive season sale saw weak demand for smartphones via offline channels.
Brick and mortar stores tied up with mobile phone brands to offer discounts.
Sale of smartphones fetched a better bargain on e-commerce websites as revenues spike.
Discounting of smartphones by brands via offline channels did not do the trick as offline retailers anticipate disheartening Diwali season sales figures.
The festive season which begins from September is expected to generate higher smartphone sales for offline retailers has appeared to have missed the mark. Retailers suggest consumers have jumped ahead of the season sales to purchase gadgets, a report by Economic Times said on Monday.
"The two-month Diwali period used to account for maybe 35-40% of the annual sales in previous years for mobiles and consumer electronics, but today the same period would contribute to less than 30%," the report quoted Arvind K Singhal, chairman of Technopak Advisors.
However brick and mortar retail stores had reportedly tied up with smartphone brands to offer steeps discounts on par with e-commerce sites.
Brands like Xiaomi and Lenovo-Motorola were reportedly in talks with offline retailers to boost sales via these channels.
Lenovo was offering up to Rs 4,000 off on Motorola and Lenovo smartphones. Xiaomi also put up a 'Navratri' special offering up to Rs 2,000 off, another report by ET said on September 23.
Oppo's OnePlus 5 also went on sale in offline stores of Croma in mid September to reel in consumers.
However on one side where retailers anticipate a fall in contribution to revenues from Diwali sales, e-commerce websites said their smartphone sales went through the roof.
Amazon and Flipkart during their festive season sales offered customers steep discounts on phones including the iPhone 7, Redmi 4A and other exclusive deals.
Amazon said its sale of smartphones increased by three times in the five day sale while  Flipkart said it sold 13 lakh smartphones on its first day of its Big Billion Day sale.
 
Both sites hosted two rounds of festive and Diwali sales this year. Flipkart held its Big Billion Days sale in the last week of September along with Amazon's Great Indian Sale. And another round of Diwali sales began from October 4 till October 8.