The magnitude of fall in China is something that no OEM had planned for: PB Balaji, CFO, Tata Motors
New products will be launched with an electric power steering system (EPS), which has the potential for huge success. Besides, Evoque will be relaunched, said PB Balaji, Group CFO, Tata Motors.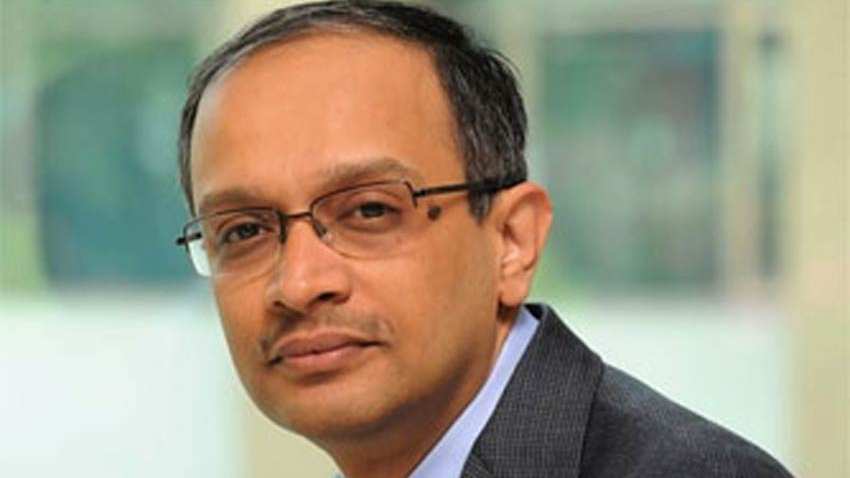 China's performance is a disappointing one for us but we realised that the market conditions are quite challenging at present due to diesel prices, diesel taxes, BREXIT, Trade War and consumer confidence in China among others, said Balaji.
PB Balaji, Group CFO, Tata Motors, exclusively talked about the company's plans related to pressure on Jaguar Land Rover (JLR) and bounce back in the business during an exclusive interview with Swati Khandelwal, Zee Business. Edited Excerpts: 
Q: Quarter results haven't met the expectations. We know that pressures from JLR and business environment mainly in China had an impact on the results. How do you gauge these concerns? Have these numbers been able to meet your expectations?
A: We are disappointed with China's performance, you said that explicitly. The magnitude of fall in the market of  China is something that any OEM had planned for and almost each of them is coming up with a warning or the other on that. It has been a sharp fall.
Interestingly, we have been able to meet the internal budget targets (we had for the year) in rest of our markets including the UK. 
China's performance is a disappointing one for us but we realised that the market conditions are quite challenging at present due to diesel prices, diesel taxes, BREXIT, Trade War and consumer confidence in China among others. 
The existing challenges indicate that the demand is going to be muted and that is why we came up with three points to meet the turnaround. The first points are always in a low demand environment keep the focus on innovation and grow continuing what may come on the way. We did the same in passenger vehicles even in India and have decided to launch four products in six weeks. The festive season of the month is not a great one but we will grow by 11 per cent. 
The second point is Cost and Cash, actually cost outs happens in the business, we save money, reduce the cash burn in the business, to ensure that we conserve cash that will come. 
The third point is that this crisis is an excellent time to go and fix the fundamental issues and capabilities so that we turn out stronger from the crisis. 
We have experimented these three points in commercial vehicles (CVs) and then will apply the same in passenger vehicles (PV) and Jaguar Land Rover (JLR). 
Q: You are quite confident with this turnaround plan, nicknamed as "Project Charge" and have outlined specific targets under it. My first question is related to the process that will help you to meet the targets? Secondly, do you have plans to pull back Tata Motors dependancy on China and its market at least when you are aware of the challenging environment in the country, where demand is going to be a muted one? 
A: First thing on China dependency, we operate in five regions, namely the US, the UK, Europe, China and rest of the world, and we have equal exposure in all these regions, .i.e. 20 per cent in each. Thus, we are not overexposed to China from the revenue perspective. But, profitability wise China is far more profitable than any other part of the business, therefore the dependency on China is better. 
With Project Charge, we are stepping on the profitability of the entire organisation and ensure that we are not overdependent on China. But it is a very important market for us, as it has a contribution of 20 per cent in our business. It even pays disproportionate profit to us and that's why we want to win over there. Hence, we have called for resonating profitable growth in China is a key priority. Issues related to the market include consumer confidence, which is low, market situation, which is challenging due to the tariff war and only way to address the problem is to keep innovating, designing exciting products, get your walk-ins, advertise properly, get your brand salient. 
Q: Is there any change in the product mix at Tata Motors?
A: New products will be launched with an electric power steering system (EPS), which has the potential for huge success. Besides, Evoque will be relaunched. This means, we will have a tight intensive pipeline of products going into China, that is what made JLR what it is today. Thus, exciting products and fabulous innovation, top-notch technology are certain areas where we will continue to invest in China. 
Our second priority is related to the profitability of the dealers, which has gone down due to the fall in growth. They have invested in the business and it takes the amount and to support them we have reduced our investment leading to a fall in inventory at the dealers' place, which is good for them as they will get back to return on investment which is better. Thirdly, their challenges in terms of profitability, discounting in the market will be helped by our transaction prices, which is going up and this is a good news. In fact, we are moving more towards a pull system in China instead of the push system in line which a premium OEM should be.
The last thing is related to the health of our brands, we are paying special attention to it so that they, the brands, continue to be healthy. 
This is our plan for China and we are confident that we will get growth coming back in the country winning on our partners over there. All these things were priority number one on the turnaround.
Second, we have given a very clear focus on business that we want to run. We want to run our business on two channels in which growth and innovation will continue to be what it is. The other thing is related to cost, capital, cash, Capex are an unusual business where we will assume mentally that growth is going to be extremely low and plan from the bottom, where you will be able to decide on the EBITDA depending on the cost that you have in your hand. This is Project Charge, which is taking out cost completely and we have specifically said that we will achieve it in the next 18 months. This process will include a weekly meeting with a lot of governance from here as well as the top management. Every two weeks will be for decision making and you will be able to find a rhythm of announcements coming in JLR  for every two weeks. 
Castle Bromwich was closed for three days, Solihull was shut down for two weeks every two weeks decisions are being taken as teams are working on it and coming up with suggestions and putting up for approval decided move. It is a rigorous activity and we have appointed BCG consultants to ensure that this business turns around. 
The third work is that we are looking back in the system, processes, product quality, everything for which you didn't have time to do that because you were growing so fast but this is a time that you can look into the house the rectify and repair things. These activities will help us to be much stronger by the time we will get out of the crisis. 
Q: You have also slashed the CapEx that was kept for different products. Do you have any plan to increase it once again in the recent future?
A: See, we have reduced the 4.5 billion CapEx, which was planned earlier, to 4 billion. The best part is that we are not touching any product all and it is being down outside of the product in different places like testing facility we don't need it and infrastructure investments among others. In fact, everything that is extracurricular is out as we just want to focus on the curriculum. This exercise will help us to conserve cash and 4 billion is good enough for us to keep our product pipeline firing. We have seen the next five-year plan and know about the kind of investments that will be made. We are comfortable over there and it will get 16 nameplates compared to 12 nameplates that we have today. So, we are still expanding our portfolio during the crisis. During a crisis never stop innovation and growth and at the same time take the cost out with the laser focus on any non-essential. 
Q: What is your view on non-core assets? 
A: Absolutely, whatever investments that we believe is not needed for us will be out and that is a clear work plan and we are evaluating everything. In the process, the balance sheet is being opened to evaluate every piece of investments that what is needed and what is not needed and as soon as we will keep on deciding will be announced. You would have seen that we have provided an update of week seven in it. Next Monday we have the next call and we will see what are the next set of decisions coming for it. We will decide on it and move. 
Q: Have you seen an amount that you can get out of the non-core assets?
A: Absolutely, we know where you are looking for, once decided I will share with you. The only thing that I want to give you the confidence that this is no more a business as far as JLR is concerned. We have a focus on the team and we had a good discussion with their union over there. The union and the management have said that they can wait for price and wage negotiations for next nine months because this is not a time for us to have wave increase conversations as the business is in trouble so let us work together to ensure that we come out of it. 
Q: It is a time to address the investors, who are concerned due to the fall in JLR. In fact, the negative sentiments in JLR are having a direct impact on the company as well as on DVR. Will you like to say something about this issue?
A: We have to do three things and they are we should be clear on strategy, which we are; we should communicate our strategy and we have done and we have to deliver on our strategy and the market will turn. So, when the market will start believing what we are saying is for the market to decide, I can just show track-record. We did in the CV segment (one year back), PV segment (six months back) and now we are saying on JLR. So, I can only deliver and talk but we want to be clear on what we are doing so if you like the story you will appreciate it and if they don't. This means, it on them to decide the share price, not for me. So, we are very clear on the way that we are going to work on this is crystal clear, communicated and executed flawlessly. As long as, we execute well and on the strategy that we have laid out, which as the board, management team and our people all of them (80,000 people are working in Tata Motors group) and all are aligned to this particular thinking. When these 80,000 people execute in unison you will see the difference. 
Q: Degrowth in China, which is more than 40 per cent as compared to industry, which is not so deep (8 per cent), is a big one. Is there any particular reason for this fall exclusively in JLR?
A: Two things are there, the first one is related to the inventory corrections that we have executed, we have done it all at once and we are not going to bring this news ahead. Because our fundamental focus in this scenario is to leave growth aside and focus on the hygiene factors like how to increase the profitability of the dealer, process to increase transaction price and improvement in brand health. Keep the focus on this, this can play itself for it because if you try to focus on the growth then you won't get this right particularly when you have no idea about the depth of the challenge. So, earlier, you solve the problem the better rather than the latter because in the mess is going to be even worse thereafter. So, we have taken the hard call and gone in and now, we need to ensure that our dealers are with us, get to the profitability and we grow together on that. We are working on it, at present, and we are hopeful that we will be back on track very soon. 
Q: You talked about the new markets, which will help you to reduce your dependency on China. Can you let us about such markets that seem to be lucrative for your business and have a growth potential? Also, tell about the kind of expansion plan in those markets?
A: Today, China is about 22 per cent of my total turnover and there are 20, 20, 20 remaining there. Overseas is a huge area for  20 per cent and the US is the large market. If you have a look at our shares in each of these market barring the UK and little-bit of Europe from a set up of a relative share perspective. So I think that the headroom to grow in these market is very very large and take the US which is coming quite strongly for us. We are a small player over there and that's why the headroom for growth is phenomenal. So keep the growth growing. I think, as long we are focusing on the product and the customer will win. 
Q: Lets talk about Tata Motors standalone related to Indian and domestic business as you talked about the CV and PV segments, which has bounced back meeting your expectations. Then, what is next?
A: It is more than our expectations, I will be unfair to my team if I say that it met our expectations. I know that I am a tough taskmaster but I will be fair to admit that Girish and Mayank and their team that we have achieved more than our expectations. But, I think that still there is a long way to go because the strategy is clear as far as CV is concerned, we decisively want to win on it. I want almost everything in the segment, may it be shares, profitability, cash-flow, I am greedy so we want everything there and we want portfolio because we have the way to do it and we need to live up to our own potential. This is the brief for CV as it is a very cash lucrative and profitable business. It is such an exciting business from so many aspects and we can actually change the livelihood of people. Thus, it has a brilliant purpose and this is why it is a sweetheart of the business in terms of what we have in our portfolio. 
Passenger vehicles are a business that is turning on very fast. It is an exciting business. I think nobody gave us an outside chance when I am saying that I will split the financial results of CV and PV. The only question that I faced was related to the losses and how to tackle with it. Interestingly, we reached the EBITDA break even and have shown the same to the public. However, EBITDA is not good enough and there is a need to go more on EBIT breakeven. Then take shares again, take on our dealers in a good way, we have about 11 products coming in. In fact, TATA Harrier is the best product in the group and we need to launch it very well. So we have a very exciting agenda in PV and we have grown ahead of the market in 33 months in a row now, which is quite something, in this kind of market situation. Take this month, the festive season that has not gone very well, but we have grown by 11 per cent because we went with four products and gave zero per cent discounts on them. 
We were placed in second positions in JD Power's rankings in terms of customer service, which is great. So, I think everything started coming together for the business and it is the power of a team when it puts its mind together. And this is something that happened in CVs a year back as the team put its mind together and this is what we are going to see in JLR starting now. 
Q: What are the targets in terms of numbers for the PV segment in relation to market shares (currently stands at 6.5 per cent) and gunning even profitability?
A: I am not putting a number to it because there is a difference. JLR has a very specific issue to deal with because of cost out, cash out - as the cash burn is unsustainable - and that's why we have put a number there. Rest is also market dependent and we have a fair amount of challenges to deal with here. So, we said that the strategy is winning decisively and winning sustainably, be on that journey. I am very clear that the EBITDA break-in has to go all the way to the cash break even. I am not putting a timeframe to it but we will do the earlier is better. This is a simple brief on this. 
As far as the CV is concerned for them the profitability and the cash generation was happening even during the downturn. So, I think the journey is on and we are not at all saying that we have arrived there in terms of domestic business. It is going to be an exciting phase for the next few years. 
Q: Do you have any plans related to discounting? 
A: Intensity of competition will always be there but as I said that we will talk with numbers, last quarter takes pricing, mix, cost inflation, cost saving, I improved profit if put the four together. That is how you run a business where you are managing cost and pricing. We have pricing ahead of the market and have managed to win very effectively and have ensured that we are actually driving value in the business by taking up profitability. And then top on it is my fix car operating leverage. So that is how the profitability has come with a fair amount of focus. If I take EBITDA in CVs in an environment of depreciating Rupee, huge inflation in steel, we were able to handle EBITDA steady for three quarters in a row. That tells you that this is not a discounting game that we are playing, it is far richer than that. 
Q: What is your outlook on stakes that you have in other companies?
A: We are still on that space, I think, we need to get a right value for that and we are very clear that it should be disposed and we will take on them after getting a right value. 
Q: What is your CapEx plan on Tata business? Also, let us know about the cash that is available with the company and the existing debt?
A: Total cash available for JLR and Tata Motors domestic business is around 45.3 billion pounds (about Rs 50,000 crore) Rs 4,800 crore respectively. There is sufficient cash in the business and there is no concern at all. We just refinanced our bond in JLR and took an additional standalone loan of about a billion dollars. So, the availability of money is the least issue for a Tata company. What we are saying is that we need to generate our own cash as borrowing is more for sudden trouble that occurs. Business has to stand alone and that's why we called it consistent competitive cash accretive growth that is a strategy. As far as cash is concerned, at Tata Motors domestic we generated about Rs 700 crores of free cash flows in this quarter and as far as the year is concerned, we will be able to generate positive cash flows. 
Tata Motors business is now steady in its loan of about Rs 20,000 crores, which is too high and that is the reason that we said that we will sell the non-core businesses to pay down the debt and we are on the mission to get that debt down, as soon as possible because we are paying a fair amount of interest. As far as JLR is concerned, I think they were cash accretive till last year. Last year was the first time when they went cash negative but now they will have to move into the cash positivity as soon as possible. 
Q: What is your Capex for domestic business?
A: In domestic business, we have a Capex of around Rs 4,000-4,500 crores.
Q: Let us know about the focus area in terms of international business for Tata Motors, not JLR?
A: It is a huge market for us and is growing strongly and we did a growth of around 38 per cent, which is a strong growth. Depreciating Rupee makes it even more attractive, so it is a key focus area for us but we will be choice full in where we want to play as we want to play to our strength rather than spreading all over.
Get Latest Business News, Stock Market Updates and Videos; Check your tax outgo through Income Tax Calculator and save money through our Personal Finance coverage. Check Business Breaking News Live on Zee Business Twitter and Facebook. Subscribe on YouTube.
Updated: Tue, Nov 06, 2018
01:04 pm
ZeeBiz WebDesk